Presto Change-o!
I have used these Vibrator Enhancers with so many toys, it's almost like having a whole new collection of anal toys. I have never had one of them slide or move on a toy. They seem very safe.

I really appreciate it when a company puts out something like this that can help you get more value from your expensive (and not-so-expensive) toys. Bravo, Evolved!
Published:
Pros:
Makes your vibes & dildoes into anal toys
Increased safety
Low price
Cons:
Silicone could possibly react with silicone toys
The Vibrator Enhancers, by Evolved Novelties, are small silicone ovals with a hole cut out of the middle. Their purpose is to slide onto a vibrator or dildo, and attach to the bottom of the toy in order to form a flared base, making the toy safe for anal insertion. The manufacturer also says they will "enhance external stimulation," which I'm not so sure about. It didn't do much for me, anyway. Even on vibrators, I didn't notice anything different with them on, except that my toys wouldn't insert any further than the new, temporary base. They did their job well in that area.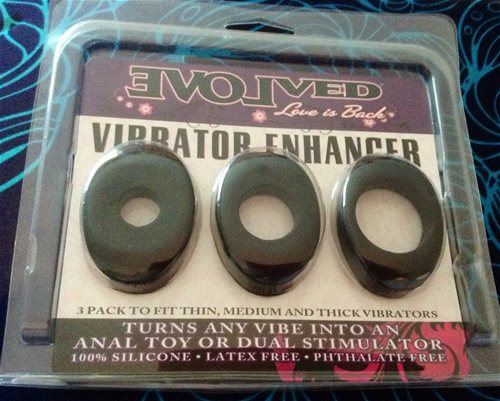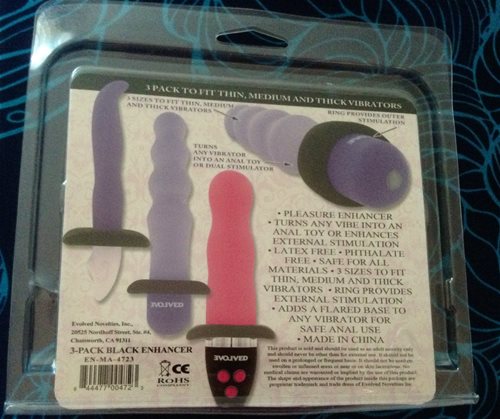 There are three different sizes of discs in a package, and they are available in black or purple. I chose the black. All three have the same external measurements; they are ovals of about 2 3/8" by 1 5/8". The interior cut-out is different in each, allowing each of them to fit different sized toys.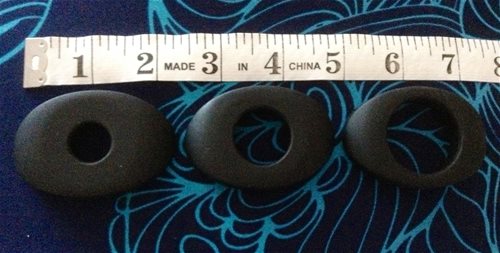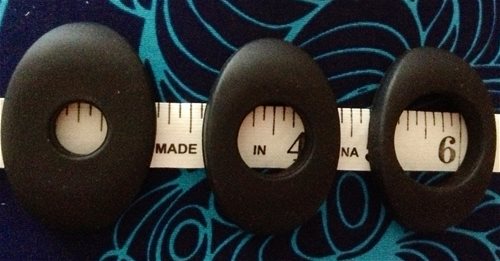 The smallest has a hole that, unstretched, is 5/8" across, and it fits my We-Vibe Salsa (circumference 2 1/4", diameter 3/8") perfectly. I was able to stretch it to fit a circumference of approximately 2 1/2", but that's probably as large as it will go. Also, it wouldn't work well for anything smaller than the Salsa, because it's important that the enhancer is stretched enough to stay firmly on the toy you are using, so you're not at risk of having it slide off, causing you to possibly lose the toy.
The medium disc's hole is about 7/8" across. I used it on my Mister Twister glass dildo, and it fit wonderfully at about the 4" circumference & 1 1/8" diameter mark. If I try really hard, it can be stretched to fit a circumference of 4 1/4", and the minimum I would use it for would be 3 1/2" circumference.
The large one has a hole that is 1 1/8" across. It worked nicely on my "Too Much" vibe, at a circumference of a little over 5". I don't have anything larger to try it on, but it feels like it might stretch a small amount more, maybe 5 1/8" or so, and I would guess at the minimum being about 4 3/4".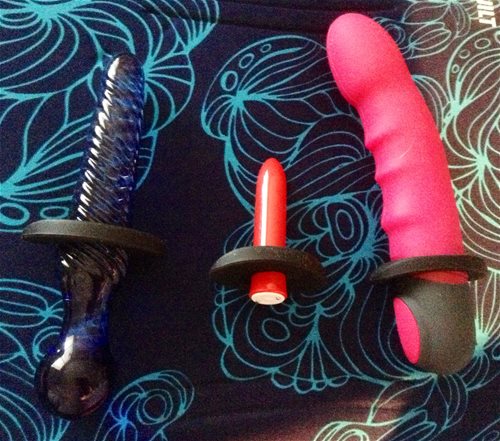 The Vibrator Enhancers are made of latex-free, phthalate-free, 100% silicone. They are quite firm, although there is some give when you put pressure on them or bend them. Their texture is velvety-smooth, and they are lint and dust magnets. They look like something a dog would like to chew on, so keep them out of sight if you have pets. You should not use silicone lube with these. The packaging doesn't give any warnings about using these with silicone toys (in fact, the package shows pictures of them ON silicone toys), and I have used them with several of mine, but I minimized the time that they were in contact with the toys, and washed them all thoroughly after using them. I haven't noticed any damage to any of them. Silicone toys can react with other silicone toys so it's always best to keep them separate.
To clean them, I use soap and water, and I remove them from the toy before cleaning both items. To disinfect these, you could use a 10% bleach solution, or, since they are silicone, you can boil them or run them through a hot dishwasher cycle.
The packaging is a plastic clamshell-type package, but it isn't sealed, so you can easily use it to store the Enhancers. It's compact and durable, and it's what I use to store mine in. No smell came from these when I opened the package, and they haven't acquired any bad smells. The front of the package is discreet, with the Evolved brand name and some other text, but no pictures to indicate that these are sex toys. The back of the package shows several vibrators with the Enhancers on them, so it's not so discreet, but it is tasteful compared to lots of other sex-toy packaging. This would make a good gift, especially for a bachelorette party or bridal shower where you know others will be giving risque toys.
Experience
Regarding size and safety, it is most important to make sure the enhancer is sealed with a tight fit to whatever you are putting it onto. If it slides or moves at all, I think it would be very dangerous to use the toy anally. Watch out for lots of texture on the toy you are putting it onto, because too much can cause the ring to slide. Also, use lube AFTER you put the enhancer ring on, and try to avoid the area at the bottom where the enhancer is on the toy. After using lube, test it to make sure it won't move more easily. I think these enhancers are a great idea (I love to use my toys anally), but caution is definitely called for before relying on these to keep you or your playmate safe. I did not use these with a harness, and I wouldn't rely on them to hold up to that much pressure & activity.

I've been eyeing these "Vibrator Enhancers" since they came in to Edenfantasys.com. At first they were sold in packages of one, for $10, which I thought was quite pricey, especially since I would have to buy more than one because they each fit different-sized toys. Then, when they arrived in a package of all three for $15, I got a little bit more serious! The reviews sounded good, so I bought some. I have not regretted that decision. If you like anal toys, you might want to try these too.
This product was provided at a discounted price in exchange for an unbiased review. This review is in compliance with the FTC guidelines.

Thank you for viewing
Vibrator enhancers
– vibrator accessory review page!