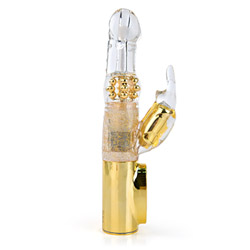 Platinum jack rabbit
Rabbit vibrator with rotating beads
by California Exotic
Shiny Rabbit, Your Tricks Are For Me
Oh you shiny rabbit. You are so pretty to look at. I am so glad you are not just all looks because that would make me sad. Instead you rock my world. You're better than that guy that leaves chocolate once a year for sure.
Published:
Pros:
Lots of variety in function, beads won't jam, strong, pretty.
Cons:
Lint magnet. Like with all rabbits - may not fit all women
USE:
Well now this is what I am talking about. A super shiny and sparkly rabbit. The Platinum Jack Rabbit is girthy, rumbly, and rotates to hit all the right places.
The rabbit is made to bring the female to a perfect dual orgasm and this one did it just right. The vibrations it gives off are not too high pitched so you do not go numb. The rotation has just the right amount of movement to hit the G-spot. It is powered by 4 AA batteries and running both motors at the same time does not drain the power in the least.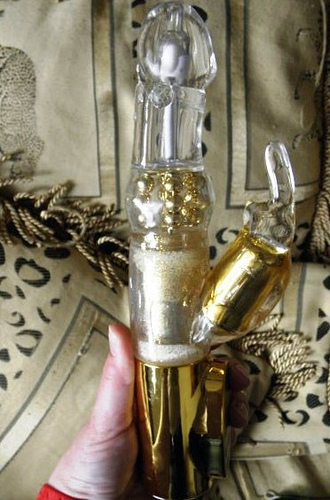 MATERIAL/TEXTURE/DESIGN/SHAPE:
The Platinum Jack Rabbit is made of TPE.
TPE
is somewhat porous so if you intend to share this toy should should consider covering it up. It does have quite a bit of drag but worry not, it is compatible with both water and silicone based lubes.
It is shaped like every rabbit out there, except this one has shiny gold accents. A lovely shaft and a nice rumbly rabbit portion. The shaft is clear so you can see the pretty gold beads turning about in use. The beads are wired together to make it so that they do not jam up in use. The beads are 3 per row and 6 rows total.
The specs for the whole thing are 10 inches in total length, 4.5 insertable length, around the head it measures 4.5 inches, around the shaft is 4 inches, and around the widest point of the beaded portion is 5.5 inches.
FUNCTIONS:
The plastic base is home to 5 buttons. One side is labeled ROTATION + OR -, the other side labeled VIBRATION + OR - and the last is labeled OFF which can be pressed at anytime to shut the whole thing down in a hurry. Unfortunately it has no memory so when you turn it off you start back at the lowest settings.
The rotation only goes clockwise. Pressing the rotation button starts it at a slow speed and can be increased up to 6 speeds. Although the rotation is one that does not angle out much, it is felt very well because of the size.
The Vibration functions are 3 steady modes (low, medium, and high), and 4 pattern modes. The first pattern goes from low all the way up to high, stops, and starts again at low. the second is a high, slow pulse. Third is the same as the second but faster tempo. And the final is 3 short pulses followed by a longer pulse.
The whole thing going on high is surprisingly quiet and can barely be heard from under the duvet. It is also waterproof so if you want to hide out in the shower or tub with it for a while, you can do that as well.
CARE AND STORAGE:
This one is a lint magnet so you will want to wash it down well with toy cleaner or soap and water and store it either in its original packaging or in a baggie. Leaving it loose in your toy box will have it covered in dust bunnies. You also do not want to risk it melting with anything. I find giving it a quick rinse before use is the best way to ensure the dust bunnies are not playing with you.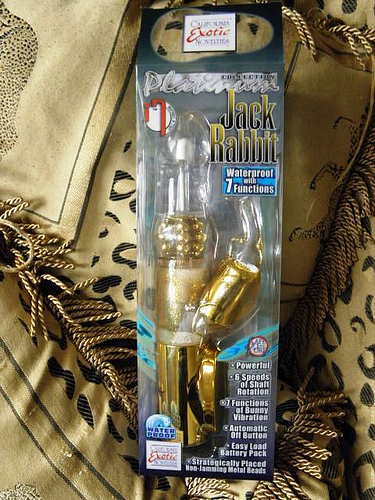 HOW DID IT WORK?
This toy is awesome. The ears are firm enough to transmit vibrations and the rotation of the shaft and beads are amazing. Great power, perfect girth. It is sure to please most women out there. And even if it doesn't, watching the ears dance away while it is on vibration mode will surely keep you entertained.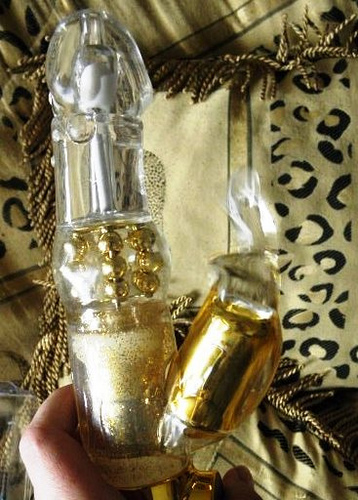 This product was provided free of charge to the reviewer. This review is in compliance with the FTC guidelines.

Thank you for viewing
Platinum jack rabbit
– rabbit vibrator with rotating beads review page!