Smart and Sexy Luxury
With its lightweight and well designed handle, safe materials, decent range of vibration levels, SenseTouch setting for muscle massage and quick two hour charge time; The Lelo Medium Smart Wand works well as both a clitoral vibrator and back/shoulder massager. Designed for ease of use, it is sturdy but light with simple controls and many functions to explore and enjoy.
Published:
Pros:
Safe materials,2 hour charge,range of vibration settings,suitable for sexual and non-sexual massage.
Cons:
Not one for serious power queens.
Packaging:
When the Lelo Medium Smart Wand arrives it is as well presented as you would expect from a luxury Lelo product. Its lightweight but sturdy white box is simple and elegant looking and inside it the Wand sits on a layer of protective foam. Included with the wand is a delicate gold coloured pin-on brooch which is classic in design and looks completely innocent unless you are very familiar with Lelo toys.
In a separate section of the wands packaging you will find its charger, user manual and included satin drawstring bag for storage of the wand. The packaging of the wand is easily opened and reclosed making it suitable for long term storage of the wand too but if like me you are short on storage space, the drawstring pouch is ideal.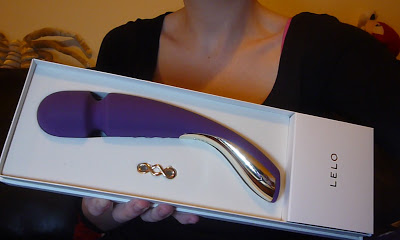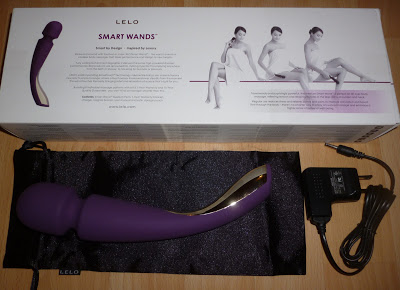 First Impression:
When taking the Smart Wand out of its packaging, the first thing I noticed was just how lightweight it is when compared with other wand type vibrators of its size. With slightly more weight at its head and a surprisingly light handle, its lack of weight was slightly concerning at first but it feels as though it would be easy to hold onto for longer sessions because of this.
The silicone of the wand is soft and velvety without having that feeling of 'drag' that I associate with silicone toys. Running fingers along it you will find it smooth and sleek with no feeling of stickiness, drag or imperfection. The gold section of the wand is made of light plastic so is not cold or heavy. Available in three colours (Black, Ivory and Plum) the Plum option is a beautifully deep shade of purple.
In terms of shape, the handle of the Wand is well designed with a level of curve that allows you to lay back and use the wand clitorally without needing to stretch or strain. This shape also works well when using the wand for shoulder and back massage allowing you to reach further than you would first expect.
The full length of the wand is just under nine inches with the head of the wand measuring just two inches long. The head of the wand is flexible and the sturdy and the lightweight and curved handle of the wand is easy to grip and comfortable in the hand.
Measurements:
Total Length: 8 ¾ Inches
Length of Head: 2 Inches
Circumference of Head: 5 ½ Inches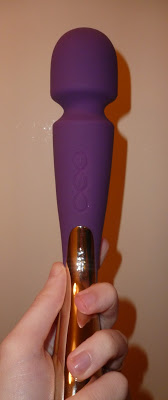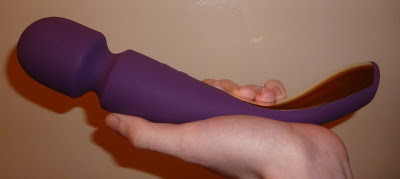 Controls:
Featuring just three simple control buttons, the Wands controls are easy to get familiar with. With self explanatory plus and minus buttons which scroll up and down though its levels of vibration and then a button which controls the function of vibration; it takes no time to get used to these simple controls.
To switch the Wand on, the plus button should be pressed. To switch it off the minus button should be held down for three seconds. Each time a button is pressed the control panel will light up.
Holding down both the Plus and Minus buttons together for three seconds will travel lock the wand and doing the same again will unlock it.
In Use:
Needing a two hour long charge before its first use, the Smart Wands lights will flash when it is charging and then stay on steadily to let you know when it is fully charged. Timing the first charge; it was pretty spot on that at the two hour mark its lights stayed lit up indicating a full charge.
Switching the wand on by pressing its plus button, it lights up for a second and comes to life with a mild level of vibration. On this lowest setting it is almost silent. Pressing the plus button and running through its several levels of steady vibration they may vary from weak to quite reasonably strong but they feel rumbly rather than buzzy.
Holding the handle I noticed that surprisingly little vibration manages to carry through to it so there is no hand numbing during play if held this way, though I did find myself holding the handle further down so as to get more control over the wands pressure. The flexible head can take alot of pressure so if like me you are a fan of really pressing vibrations against the clit tightly then this won't affect the strength of vibration at all (in my experience most wands can't take this pressure without losing some power)
Features:
Rechargeable
7 levels of steady Vibration
7 Pulsing/Escalating Functions
Exclusive SenseTouch setting
Apart from having seven steady levels of vibration which range from quite mild to quite reasonably powerful, the Smart Wand also features seven different pulsing and escalating settings which cover a nice range of patterns. I particularly enjoy some of its slow building escalation modes.
Experience
SenseTouch:

One thing I hadn't known about before the Wands arrival was its SenseTouch setting which is exclusive to Lelo Smart Wands. The SenseTouch setting is activated by holding down the function button for a few seconds. Once switched on this function is ideal for back and shoulder massage as it is designed to sense when the head of the wand is in contact with skin and to build strength for deeper stimulation of muscles.

SenseTouch will only work when the wand is in contact with skin giving muscles a strong level of massage, when not in contact with skin it will simply decrease power until it is at a low setting meaning that battery charge isn't wasted.

While attachments from other brands of wands may fit the Medium Smart Wand (Lelo haven't released any for the Wands yet) care should be taken to ensure that the SenseTouch setting is switched off when attachments are used with the wand. The technology that senses contact with your body can easily mistake the pressure from attachments for skin contact and this can quickly run down the wands charge.

Specs:

Materials: ABS Plastic and FDA Approved Silicone

Weight: 155g

Charge Time: 2 Hours

Use Time: Up to 2 Hours on a single charge

As with alot of Lelo products, the Medium Smart Wand has a 1 year warranty and even a 10 year quality guarantee with product registration.


Material/Care:

Made of ABS plastic and FDA approved silicone, the Smart Wand is skin-safe, non-porous and free from both latex and phthalates. I would recommend using water-based lube if needed (It is generally recommended that silicone based lubricants should not be used with silicone toys as over time they can cause the silicone to break down)

The silicone used has a relatively 'drag free' finish for silicone so I find that the smallest drop of water-based lube really lasts. The wand can be washed with mild soap and warm water or specialised toy cleaner. Care should be taken around the uncovered charging port which is luckily well out of the way at the wands base. Extra attention is needed if the lightweight ABS plastic (gold section of the wand) comes in contact with bodily fluids as fluids can get trapped between the plastic and silicone; luckily this section of plastic is out of the way enough that this shouldn't be too likely to happen.
This product was provided free of charge to the reviewer. This review is in compliance with the FTC guidelines.

Thank you for viewing
Smart Wand medium
– sex toy review page!