Want a Power Rocket in Your Pocket?
This is a fun, powerful little pocket rocket with surprisingly strong vibrations and interesting patterns, including 4 different "roller coaster" functions is a good basic toy for any toy aficionado or even any beginner. Waterproof, easy to operate, 10 functions and quiet, strong vibrations make this a winner. Its 4 accessories may please many, but it's power, small size, and quiet function will make this a bedside toy in many homes.
Published:
Pros:
Powerful vibrations, interesting patterns, small, quiet
Cons:
on going "roller coaster" pattern alone would be good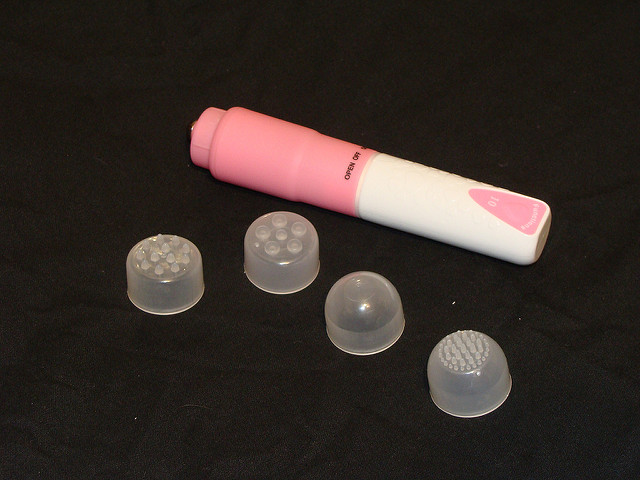 I did a lot of research before purchasing a pocket rocket, and this one seemed to have the best collection of top quality functions and accessories for the price, as well as a lot of power. It provides 10 interesting functions and 4 different plastic caps in addition to the standard 3 metal ball power tip.
The Ultimate Massager looks like a standard pocket rocket.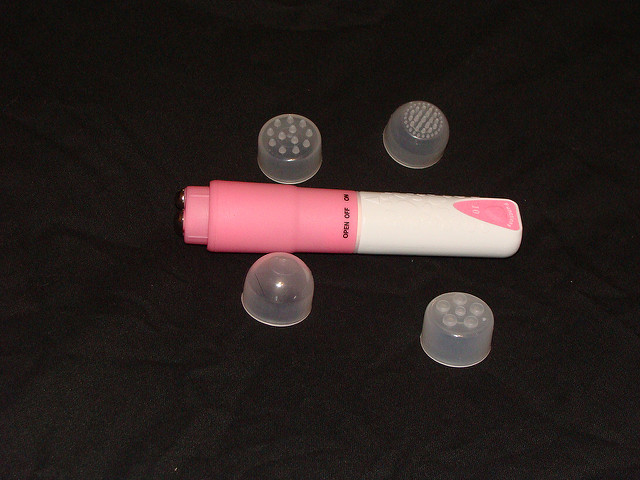 It has a small flat tip, with 3 metal ball which transfer its astoundingly strong power well.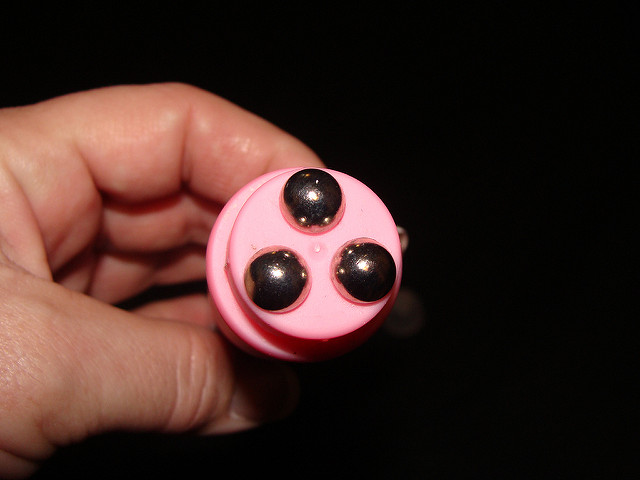 The Ultimate Massager Pocket Rocket is about 5 inches long and only about an inch across and fits nicely into the hand. It comes in either purple or pink with white handle and clear plastic accessories. The entire toy is made from plastic, with the exception of the three metal balls, on the end of the toy. The colored part of the toy is a velvet coat, which is very comfortable in the hand. The white part is of slick plastic and has a pattern of tiny raised hearts on it, there are ridges on the back of the cylinder behind the function changer to improve the grip. The accessory tips are cloudy white plastic that can be seen through.
The shaft of the toy rotates and an arrow will point to either
open
(for installing and removing the one AA battery)
off
or
on
.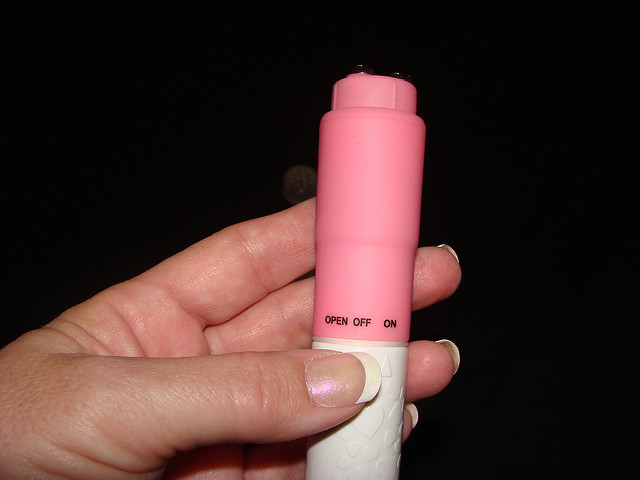 When the unit is turned to
on
one moves to the power button to move through the 10 functions.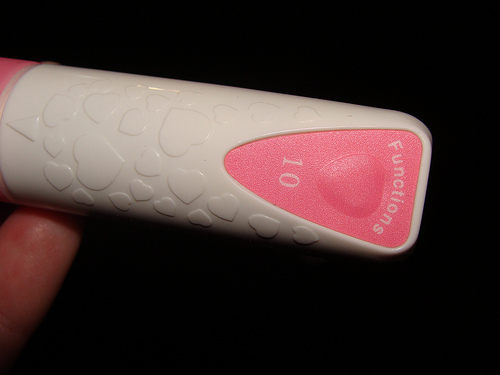 The functions are varied:
1~ low (for this toy) steady vibration
2~medium steady
3~high, low register rumbling
4~one quick - one long pulse
5~one quick - longer pulse
6~two quick - long pulse
7~low, throbbing roller coaster pulsations ending in 5 short pulses
8~
very
low register throbbing roller coaster pulsation and 2 short pulses
9~even
lower
register throbbing, stronger roller coaster pulsations and 2 short pulses
10~3 low pulses then low register strong bumpy vibration pattern
These patterns are very unusual and very arousing. I have not seen these types of patterns in a toy of this price range.
I have not seen a toy with only one AA battery with this type of rumbling low frequency, high power before.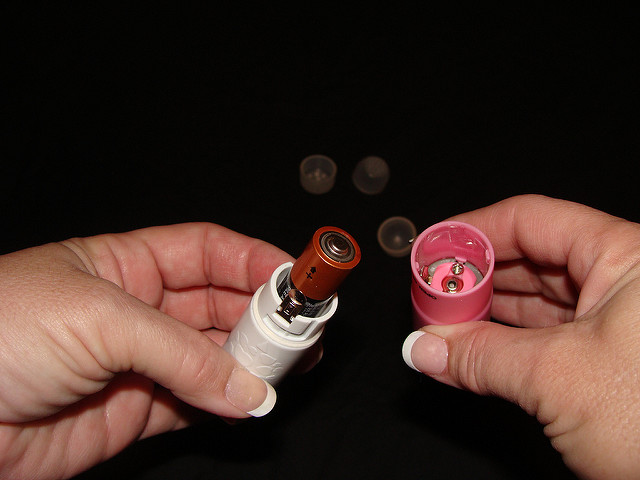 The vibrations are focused in the head of the toy, although they do travel through the body of the toy as well.
I am not usually a big fan of patterns, preferring either steady vibrations. However, the "roller coaster" vibration, with it's low register, throbbing sensation had me hooked the first time I used it.
My only regret is that the roller coaster function changes into a series of pulses before going back to roller coaster. I think a steady roller coaster function would be absolutely amazing and probably could get even me over the edge. (Not that I will stop trying with this pocket rocket.) I have become a fan of "roller coaster" vibration, because of this little toy.
The toy can be twisted into an "off" position at any time; there is no reason to cycle through all the patterns to turn the toy off, if sudden interruption happens. However, the toy does not "save" you place and you will have to start at the beginning at the cycle patterns when the toy is turned back on.
This Rocket, in addition to the standard triple metal ball top, has four attachments. These do have the effect of muting the power of the machine slightly, but this toy is so powerful some people may decide to use one of the texture caps simply to prevent becoming numb from the strong action of the vibrations.
The caps are 1~a simple rounded top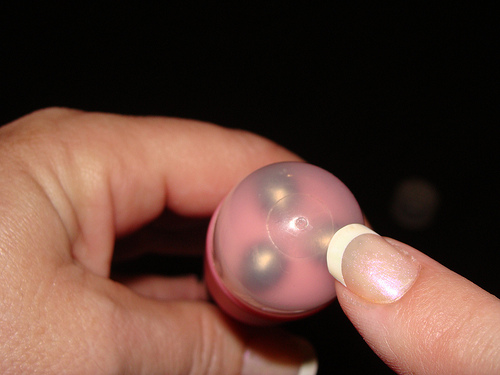 2~pointed protrusions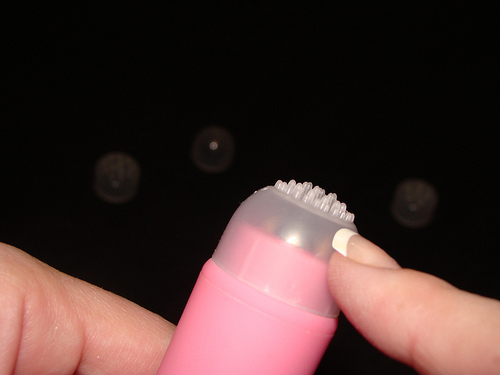 3~a smaller number of less pointed protrusion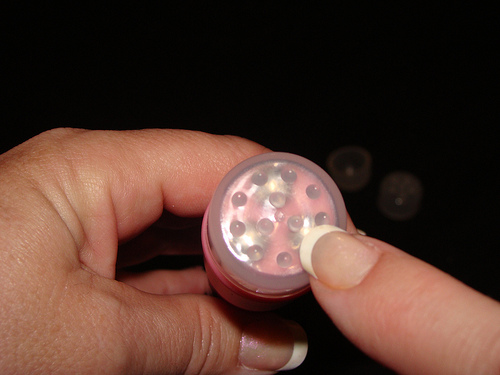 4~flat protrusions (lower right)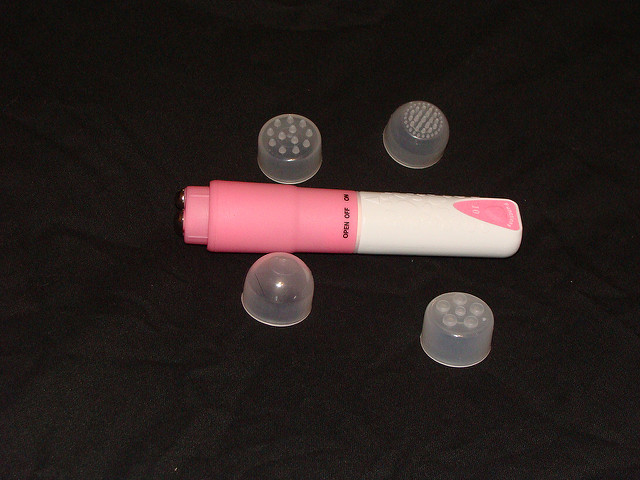 I did not, personally, find any of the caps irritating, but those with a more sensitive vulva and clitoral area may decide to stick with the metal ball cap or the simple rounded cap to avoid irritation.
The accessories simply pop onto the top of the end of the Rocket, there is no snap or locking mechanism. This toy is for external use in most cases. The tip of the rocket could be inserted, if a cap is not being used, but because of the way the vibrations travel to the 3 metal ball tip of the toy, it is really more effective for use as a clitoral vibrator or massager.
The Rocket is also waterproof and can be used in the shower or bath if one desires. It is also very very quiet. It can barely be heard while in action. A blanket or duvet over the body while using the toy should cancel out all noise and certainly the toy cannot be heard through a closed door.
Experience
This toy is small and is not difficult to store or hide. It comes in a clam shell plastic container, which one may use for storage. I chose to store mine in a black and pink Eden storage back with a drawstring. This takes up less room than the presentation packaging, and looks nicer too, as well as keeps the accessory tips in one place.

The entire toy, along with any caps used, should be cleaned thoroughly in hot running water and soap after every use. Remove any caps used and wash separately and dry carefully before storing. A toy cleaner may be used, if one is going to wash the toy in soap and water asap.

This toy is for external use only. It is usually meant to be used on the clitoris and the vulva area. It can also be used on the nipples or the scrotum or even the tip of the penis of a man. As the plastic is slightly porous, I would not suggest using this for anal stimulation, unless a condom is placed over the toy, and even then insertion anally is not recommended.

It is easy to use this toy during PIV or anal intercourse, and many women may find it helps bring them to orgasm while not being obtrusive or interfering with most sexual activities. It can be operated one handed, and is small, quiet and strong. A perfect toy for use while making love to an other, or simply while alone.

I am enjoying the Ultimate Massasger Pocket Rocket by Nasstoys. We have not used the toy as a back or body massager, as of yet (we have a Wahl and a Hitachi, so there is really no need) but it is powerful enough to give nice spot treatment to individual sore or spasming muscles if desired. Although other gave the toy a 4 out of 5 in power I was a little skeptical. One used proved these ratings were appropriate.

This little Rocket has earned a prized place right next to my bed, resting in it's little Eden bag. Not many toys have that honor, and it is there for a quick warm up, while waiting for My Man to arrive for some fun, or for some interesting alone time. The battery seems to last a long time, and the power is incredible. I give this toy a 5!
Follow-up commentary
2 months after original review
This is still one of my favorite warm up toys, and I love it as much as when I first reviewed it. Although I use it for warm up, I continue to think most women could finish from this toy alone.

I have found the perfect setting for my needs, the second or third "Rollercoaster" setting. That seems to be as close to oral sex, (not exactly, but it warms me up similarly) as any toy I have tried has done.

One caveat; the batteries on this toy will last and last, and you may be losing power and not realize it. I replaced the batteries a few days ago and was flabbergasted as how much stronger it was with a new battery! It took a while to lose power, but did it so slowly that I didn't realize it until I put the new battery in.

How they got this much power from one AA battery is a mystery to me. But, I am certainly glad they were able to.

I have found I rarely use the plastic caps now. I mainly use the metal balls on the tip without covering them. This works the best for me, but I know I have the tips if I get a little itchy from this toy's immense power.

I love this pocket rocket. It has a coveted spot in a small Eden bag between my night stand and my bed, so it can be grabbed and used whenever I feel the need. It has held up through regular use and shows absolutely no signs of wear. I would, however, replace it in a heartbeat if something happened to it.

The Ultimate massager is by far one of my favorite toys in my collection. I would recommend it to anyone who likes deep strong vibrations and wants some interesting patterns.
This content is the opinion of the submitting contributor and is not endorsed by EdenFantasys.com

Thank you for viewing
Ultimate massager
– pocket rocket with attachments review page!