Okay, okay, everybody can rest easy now (especially Tommy Lee) because Sea World does not—we repeat, does
not
—use cow vaginas to milk semen from killer whales.
Before anybody thinks we've lost our minds—Yes, Tommy Lee of Mötley Crüe fame did, in fact, send a letter to Sea World regarding the orca Tilikum.Tilikum has reportedly killed three people this year including his trainer, which is distressing enough, but
somebody
told Tommy Lee that people are still in contact with Tilikum because Sea World staff harvest sperm for their whale donor bank by masturbating him with a
cow vagina filled with hot water
.
Mr. Lee, who typed up the letter in a
very professional Papyrus font
, comes representing his "friends at PETA," and states that "Even during my wildest days with Motley Crue, I never could've imagined something so sick and twisted."
Sea World has responded to Tommy Lee's letter by saying the allegations are "
beyond ludicrous
," while staff members quietly stuffed the special bovine Fleshlight under a pile of stray wetsuits. Don't worry, Sea World; we won't tell anybody.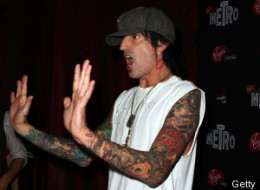 Tommy Lee to Sea World: Hands off the whale dick.