Dr. Dick on Demand—Eating Out at the Y: The Finer Points of Cunnilingus
April 12, 2010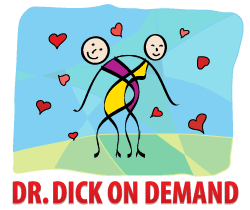 Many women prefer oral sex to intercourse, because it has the potential to give them exceptional orgasms. And for those of you who need loads of direct clit contact to get off, mouth-to-clit stimulation is one of the easiest, most enjoyable ways to get make that happen.
EDITOR'S NOTE: Can't get enough of Dr. Dick? Then head over to SexIs Facebook page for an exclusive Q&A! He's the subject of this week's Spotlight on...
Unfortunately, for many gals, like Carol here, her man's oral skills simply aren't up to the task.
I like oral sex, but my new BF doesn't know what he's doing down there. He's really sweet and I like him a lot. Unfortunately, he thinks he this really great lover when actually he sucks…and not in a good way. I know he reads your column, he was the one that turned me on to your site, so could you give him some pointers on how to orally pleasure a woman? He doesn't listen to me.
Now, despite being a big fat homo, I am regularly quizzed on the art of muff diving. I'm always happy to oblige, but I'm bound to say that everything I know about cunnilingus I've learned from my lesbian friends. Instead of me—who has no pussy—pontificating on the joys of orally pleasuring a woman, I turn to my #1 friend of the lesbian persuasion, Joy. Not only does she have her very own pussy, she also knows her way around other pussies as well.
I shared Carol's letter with her, and asked for her thoughts. I figure, if you wanna learn how to do something right, ya talk to a pro. Simply put, no one sucks cock as good as a queer; no one gobbles clam like a dyke. Enough said! Joy's first comment was…and I quote, "What's this chick doin' with a dude? If she wants good head, she should bed a dyke. Once you go lezzie, you never go back." Ahhh, Joy is such a joy!
Okay, so giving oral is about the most perfect sexual thing you can do for a woman. It makes her feel special. What woman doesn't groove on knowin' her partner finds her finger-lickin' good? And maybe that's a good place to start this tutorial. If you don't like the taste or smell of pussy, give up on the idea that you'll be a fabulous lover. However, if you want to give this whole muff diving thing a try, but you don't know if you can handle the flavor or aroma, or if your chick's unsure about you being down there,
thinking
she might be unsavory; you could start off by showering or bathing together.
The novice pussy lapper would do well to approach this amazing piece of human anatomy very gently…at first. If the woman you're eatin' out wants more vigorous attention, she will ask for it. So relax and enjoy! (Note: If all this licking and sucking isn't a turn on for you, it won't be much of a pleasure for your partner, either. So, if your heart's not in it, you will have to find other ways to please her.)
Don't make the mistake that Carol's boyfriend makes. Listen to the feedback you're getting on the job you're doing. If you're not getting any, ask for it. (Just don't talk with your mouth full.) Once you hit on something that works for your gal, stick with it for a while—unless of course, you're trying to drive her wild with some tongue teasing.
Joy says that the biggest no-no in pussy divin' is divin' in without knowing your way around. Like I always say, ladies, it's completely up to you to introduce your partner to your particular pussy. Remember: Just because he's been with other women, don't make him an expert on your parts. Get it? Got it? GOOD!
Finding just the right position will eliminate the fatigue factor and neck strain. Have her lie across the bed (or the sofa, kitchen table, whatnot shelf) with her ass situated just at the edge. With her legs apart, knees up and her feet resting on the edge of the bed/table/whatever, take a comfortable position on the floor between her legs. Here's a tip: The more muscle control she has to exert to maintain her position and balance will often lead to a stronger, more pleasurable and intense orgasm, because a thunderous orgasm is all about muscle tension.
Joy insists that a soft tongue and a relaxed jaw work best. And holy cow, she knows of what she speaks. She always starts out licking her pal from vaginal entrance up to her clit. She follows the outer edges of her pussy along both sides. Slowly at first, then more rapidly. Sometimes she'll even throw in some raspberries. You know, the vibrating sound you make when you force breath through lightly closed lips. Joy stands by this technique, don't cha know! Sounds like so much fun, I kinda' wish I had me a pussy.
Don't let your hands be idle when you're eating out at the Y. Gently press the two outer vaginal lips together, then run your tongue between the inner and outer labia one side at a time. Try poking your tongue into her vagina. The majority of a woman's vaginal nerve endings are around the opening and within the first couple of inner inches. Target them with a darting tongue motion. Insert a hardened tongue into her hole. Try moving your tongue in and out, as well as in circles around the inside of her opening.
Spread her outer vaginal lips with your fingers. With your tongue pointed, gently flick your tongue around her clit. Feel free to roam around in there, but keep coming back to her clit, because it is the most sensitive area—just like your dick head, you dickhead! Be careful though: some women find the direct approach too intense. If this is the case with your woman, blow a stream of warm breath over and around the clit. This lighter, breathy touch might do the trick.
Keep your tongue and hands busy flicking and massaging, poking and prodding lapping and kneading. In other words, find out what she likes and how she likes it, and let her have it just that way. Again, be sure to ask for feedback—and then do
precisely
what she says.
Once your partner is good and hot and juicy wet, Joy suggests you kick things up a notch. Spread her lips, expose her clit and give it a quick little suck. If this hits the spot, you might want to lightly pull back her clitoral hood and repeat the quick sucking motion. Joy assures me that this feels incredible, and it's just the thing to do if you feel like driving your partner crazy with ecstasy. Now take her exposed clit into your mouth and gently suck on it, simultaneously flicking your tongue over and around it. This combined with fingering her hole will usually produce a stunning orgasm.
Finally, Joy suggests you surprise the little woman by having a mint or an ice chip in your mouth while you eat her out. These can create a very intense tingling sensation and will enhance your performance—and her pleasure—immeasurably.
Good luck!
Continue Reading "Dr. Dick on Demand—Eating Out at the Y: The Finer Points of Cunnilingus"