Married...With Sex Toys: He Plays, She Plays
December 17, 2010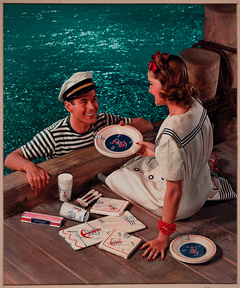 Ever hear that phrase: "Can't find your arse with both hands and a flashlight?" That may be true for some folks, but if they're looking for the clitoris, the Extase Liberte has both a light and a user-friendly design that will help even the uneducated find their way.
Alan:
Michele and I had been together for years before I happened across a magazine article that said that a fair portion of women are unable to have an orgasm from penetrative sex alone; that clitoral stimulation was the only way to make it happen.
Whoa!
Now that's the kind of stuff they should tell a guy in high school, instead of all the preaching about not poking your princess until marriage. Unfortunately, they don't, and I'm pretty sure that the bad back I complain about these days has something to do with all those years I spent humping away like a madman trying to "do her better," which I never could since I wasn't polishing her pearl in the process. I've since learned to pledge allegiance to the clit, which is lot easier to do with the Extase Liberte.
The first time I used it on Michele was the day it arrived—one of the few times I've been lucky enough to get the mail before she did. Luck was also on my side when I figured out that she was outside, and had no clue that I was sneaking a sex toy into the house to charge it.
Two hours later, the vibrator's fully charged and Michele's under our camper in the carport trying to take something apart, with her bottom half was sticking out from under the back bumper. What a great set-up for a sexual ambush!
Michele:
When I saw Alan trying to put some sort of light under my waistband, I thought he'd gone frickin' crazy. It took me a second to figure out that the light was actually the back end of a vibrator. I just about knocked myself silly trying to get out from under the camper when I felt it vibrating on my clit. He wouldn't let me move, though!
So I'm lying there while he's having his wicked way, hoping that nobody walks in on us and at the same time thinking,
Wow, feels soooo good!
in spite of myself.
Alan:
Just proves that there's more than one way to restrain and arouse a willing woman. Silk sashes, leather cuffs, full-sized campers… Hey, whatever works. And I didn't even have to take her pants down to accomplish my goal, because the Liberte is one of those toys you can angle in "the general direction" and it still hits home. Damn useful when you're working in such cramped quarters.
Later that afternoon we took the toy to the bedroom, and I did discover the one and only way that the Liberte is not so easy to use: That little sucker is as slippery as a minnow once it's lubed, and it hit the floor several times before my wife got around to informing me that it felt fine without any. I think she was just getting a kick out of watching me have to retrieve it and clean it so many times.
Michele:
Of course I was. Just because a woman gets off doesn't mean she isn't entitled to a little payback when her partner has taken advantage of finding her in an awkward location! Even if she liked it.
I think most couples will find the Liberte much more appropriate for the bedroom though, where it can both only be easily manipulated between two bodies, and it won't be heard by anyone. It
is
a little louder than what I'm comfortable with for true public play, though it can get me off pretty much anywhere.
Alan & Michele:
So there you have it folks. That's the story of how pleasing your lady's clit can definitely lead to orgasm, though it may not get your camper fixed. And of how the Liberte is a great tool for getting the job done…on the lady, that is.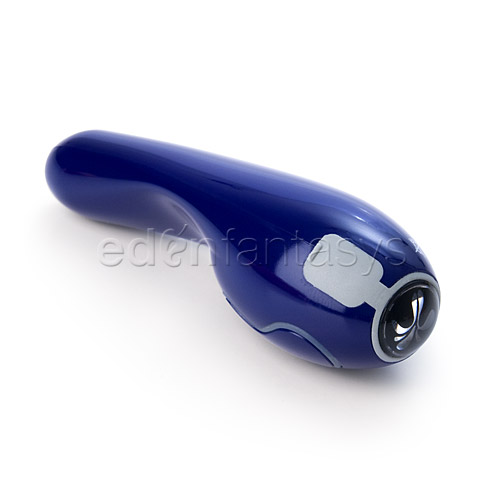 The Extase Liberte. (Click image for more info.)
Continue Reading "Married...With Sex Toys: He Plays, She Plays"