Across Mexico, a crackdown on abortion has many pregnant women reluctant to get proper health care for fear of criminal prosecution.
Mexico City legalized abortion three years ago but other Mexican states
have intensified the enforcement of anti-abortion laws
, creating an environment that critics say casts suspicion any mother who's pregnancy does not end in a healthy baby. Miscarriages and stillbirths have similar potential to land Mexican women in jail, leading many to rethink their trip to the doctor even in light of complications.
As Dr. Luis Alberto Villanueva, adjunct director of maternal health for Mexico's Health Ministry, said, "The intentional search for 'proof' in women with bleeding in the first half of pregnancy diverts health workers from their task and drives women away from medical facilities, even at the risk of placing them in conditions of high risk to their health or their life."
***
The lawsuit against Winnipeg Judge Lori Douglas—who was found to have racy photos of herself posted on an interracial sex website—has been dropped. The claimant, Alex Chapman, abandoned the charges against Douglas after stirring up a bit of
a sex scandal
. He originally asserting that Douglas' husband used those same racy photos to convince Chapman to have sex with her. That's all over now; Chapman's lawyer acknowledged a lack of evidence to back up the claims.
As Lori Douglas' lawyer said, the suit, "… simply wasn't well-founded at all in law." Because, apparently, suing a
judge
over something as silly as racy photos is a bit more difficult than it looks. Who would have thought?
***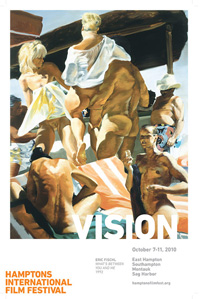 The Hamptons International Film Festival has designated Eric Fischl as its poster boy this year—
erotic poster
, that is. A scene of nude, wealthy folk engaged in crotch-grabbing fun will grace the streets this October, advertising the highbrow movie fest.
Fischel's nude paintings and sexually-themed sculptures draw high bids from collectors, and he's no stranger to controversy. His sculpture commemorating the World Trade Center tragedy had to be
removed
due to complaints. But its looking like Fischel's newest work won't need to be covered up—the director of the Hamptons International, Karen Arikian, is thrilled to have Fischel on board. "His work is bold, controversial, and provocative, and we are honored to have him as this year's poster artist," Arikian says. And such a startling, saucy poster is going to be plastered up and down the streets of Long Island! Wow. We never knew the Hamptons were so cool.