It's been 10 years since
ASCNYC
launched the writing program that is now funded by a grant from the Ryan White HIV/AIDS Treatment Extension Act of 2009, and a grant from the Phil Zwickler Charitable and Memorial Foundation Trust. Award-winning poet Gerry Gomez Pearlberg, who has been leading the group since its inception, meets with members weekly, to offer education about poetry, and instruction on finding their own unique poetic voices.
"'Poetry is not a luxury,'" Pearlberg decreed, quoting famous author/poet
Audre Lorde
, who, as a self-described "black, lesbian, mother, warrior, poet," believed that for some, poetry is a necessity that promotes health on every level.
The result of a decade of collaborative effort in education and exploration was showcased in the special 13th edition issue of ASCNYC's literary magazine,
Situations
, this year titled,
100 Poems, 100 Poets, 10 Years
. This event afforded participating poets the opportunity to come forward and present their published work, and let supporters add their voices to the celebration as well.
"Where would I be without poetry?" asked Iris Elizabeth Sankey-Lewis, who, since beginning with the group, has written more than 7,000
haiku
verses. Sankey-Lewis read her piece, "My Reservoir," and talked openly about how poetry has not only helped her find a fresher meaning to life, but allowed her to discover the larger role she plays in relationship to humanity.
The emotionally charged performance continued as participants spoke about their fears, their dreams, their pasts and their futures. Actress Lili Taylor (pictured top right) read "Ode to Freedom" by recently deceased poet Erik R. Nusom, followed by contemporary poet and playwright Nick Flynn reading an expert from his memoir,
Another Bullshit Night in Suck City
.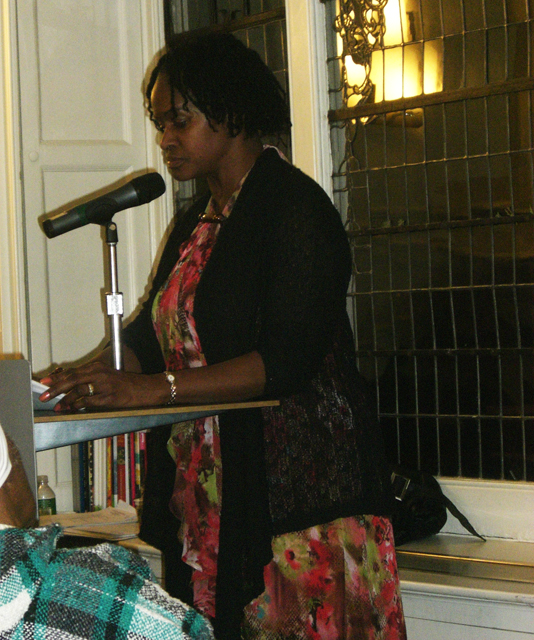 ASCNYC poet Elizabeth Sankey-Lewis reads, "My Reservoir."
Once the readings concluded, the poets mingled, signed one anothers' copies of
Situations 13
, and welcomed the New Year over deep conversation and heartfelt congratulations. ASCNYC's Executive Director Sharen Duke noted that the evening was about empowerment and humanity. "Poetry helped these people magically find hope through hardship," she explained. "With everyone coming together as they did on this night, [we hope] the healing and the poetry will continue for another 10 years."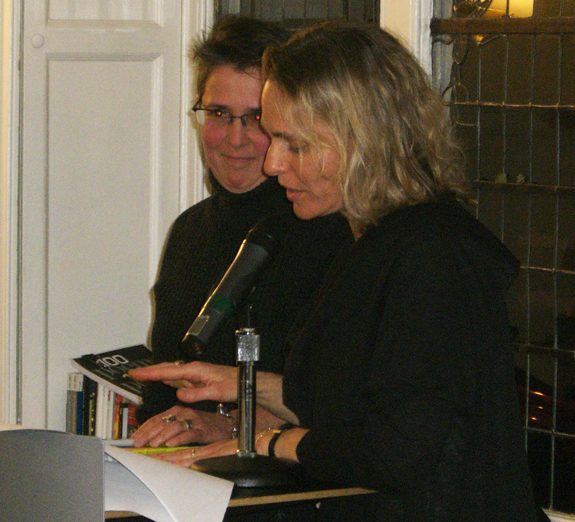 ASCNYC Executive Director, Sharen Duke (right) with Gerry Gomez Pearlberg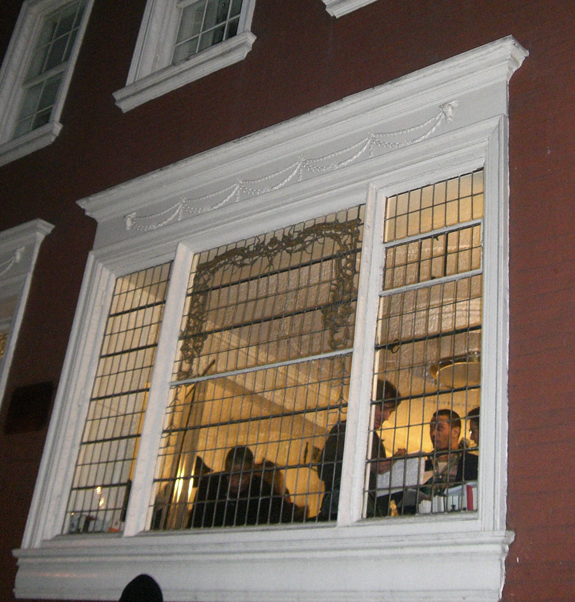 NYU's Lillian Vernon Creative Writers House