The night I visited the Bijou, they were celebrating the 40th anniversary of the theater — it was also my first time at The Bijou. Inside, '70s gay porn sets the mood; tan muscles and gold body hair were projected huge on the screen. A live band played porno-music and an ejaculating cake (penis shaped of course) exploded with sparklers. But the real party was upstairs in the infamous sex club, where guys pass in and out of dark rooms with glory holes and catacombs.

Milling around the party, very aware I am a woman and not a gay man, I learn how the theater not only has an exciting past, but how it's earned a place in LGBTQ history.
In the '70s, Chicago was rough. Most of the population had moved to the suburbs en masse, back then the neighborhood wasn't safe. "If you wanted to find out where the (gay) bar was, you had to go down an alley, there was no sign," says Richard, a Bijou employee. The Bijou became a safe haven for gay men in the city. "Here, you came into a movie theater at a time when everyone was telling you being gay was bad, sick, crazy or whatever, and you had these guys here, being gay! Good-looking blue-collar types, mechanics, laborers, convicts. They were guys you would run into everyday, and if you were lucky, in the '70s, had sex with everyday," says Richard.

The Bijou began in the golden era of porn and theater owner, Richard Toushin quickly began producing his own porn, making some of the most iconic '70s gay smut. During the party, classic Bijou films play while Richard provided commentary: "Adam and Eve, this was the last time we got to see Greta Garbo on film. They were filming in Paris and she walked out of a restaurant and right into the scene. I don't know if she knows she's in a porn film... but she is!"


In the 1980s, as the AIDS crisis swept across the nation, most gay adult theaters and bath houses shut down. This was a political climate in which the President refused to address that AIDS existed. "In 1987 there was a huge hearing about the AIDS epidemic and the Catholics turned up. They argued that giving out condoms (and promoting safe sex) would promote homosexuality. The right wing really came out against condoms when it should have been Condoms 101," says AIDS and condoms researcher, Paula Triechler.

Illinois was one of the only states that delved into a more progressive approach. "A group called the Gay Community Task Force had really great pamphlets and the Congress people from Illinois went for their ideas," explains Triechler.

Bijou began passing out this literature and providing condoms, promoting AIDS awareness and safe sex. In other U.S. cities, places like Bijou began to die, but in Chicago, the party just grew. Next to the Bijou was Carol's, a beloved neighborhood gay bar. Another gay bar, Touche's, provided a party bus with a keg. People funneled back and forth from Bijou to Carol's to the bus until seven in the morning.
Jeremy Weinberger, was an employee of the Bijou. He never missed a shift, was never late and his friends were all co-workers. It was at Carol's Bar, one evening after work, that he met a guy he liked. Weinberger introduced him to other employees of Bijou, who described him as "good looking but nondescript," "conservative." This was the same way others described this man, Jeffrey Dahmer.

Jeffrey asked Jeremy to go back to his home in Milwaukee for the weekend. As Toushin wrote, no one has asked Jeremy to do this before, it was new and exciting.

Jeffrey Dahmer, as wiki can tell you, was a serial killer and necrophiliac. Weinberger would go with him to Milwaukee, but would not be back on Monday for work. Weinberger was one of Dahmer's last victims, and Bijou employees helped in tracking down Dahmer and putting him in jail. This shook up The Bijou and Carol's Bar never recovered, closing soon after the incident took place.
While Dahmer had been freely murdering gay men, Toushin was in prison for making consensual, artful gay and BDSM porn. He was arrested on dozens of occasions for obscenity charges and after several long trials, spent time in prison. This long fight for gay porn has since earned Toushin honors with AVN and The Life Time Achievement Award at the GayVN awards.
As the '90s arrived and the Internet exploded, being online helped Bijou, at first. More people could find the club and while the establishment's seediness and raunch remained, the Bijou became more accessible. This gave Bijou a kind of chic — perhaps best exemplified by an art show at a respected gallery, dedicated to The Bijou.
But in the 2000s, things began to die off. People could get porn online. There was a new generation of gay men and they didn't need sex clubs to meet men. Toushin switched it up. "I started a live sex cabaret of short vignettes. One featured Gregorian chants and a 'priest' walking up on stage while a 'choirboy' sang. Then one of the choirboys came over and lifted up the priest's frock to perform oral onstage." It brought out a younger crowd and Bijou was still making headlines for things like bomb threats and a patron who suddenly dropped dead in the middle of a film.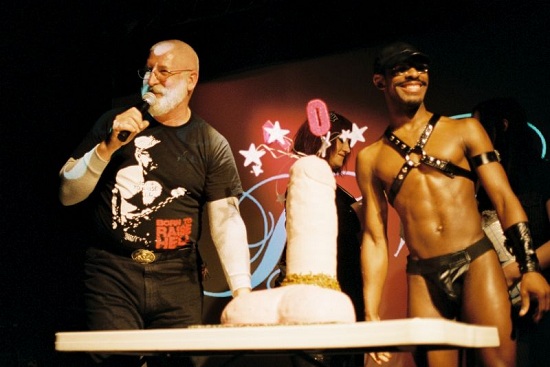 At the anniversary party, hunky strippers took the stage while people milled around eating cake. As I move through the audience, meeting the men who have been coming here for decades, the words that stayed with me were Steven's: "Bijou never did well. Never did a young crowd. You have to know who you are sexually, to come here. If you don't, you are going to be eaten up alive by these men."

Peter Lambert, a party-goer who offered to give me a tour of the upstairs sex club, agrees. "The funny thing about the Bijou is the audience hasn't changed! The men that frequent the place are the same men who have been going when they were 25. It is an important piece of gay history. Young men no longer have to seek out a stranger in the dark if they are looking for a casual encounter, there is the Internet and in some ways, that's safer. But to older men who have built their sexual identity around these places, there is no other alternative."

One man I met, Roger, has been coming here for decades, "I came out a little bit before Stonewall and back then they told you what to do: When you go to a gay bar you need to tip the bartender $5 the first drink you get, you need to sit with your back against the wall and know where the front and back door are, in case you get raided. If you are going to sit at the bar, you need to sit at the front so when you get put in the paddy wagon you get a seat. Because if you don't get a seat, the police take every possible turn between the bar and the station just so you will get the shit beat out of you." Men stand around as he tells his story, nodding, or adding things in.
The upper floor of the Bijou is a dark maze of glory holes and catacombs for sex. Lighting the way are dim signs that read "Big Dick Boulevard" or "Back Alley Crevice." Jazz music plays while bodies move in and out. "This was where the tubs used to be, so you could get urinated on," says Peter.

There's a dungeon in the back area and a station that once sold condoms and poppers with a sign advertising a third floor with a prison cell and military bunks. "There used to be one more floor, which was military style with lots bunk beds to have sex in." Peter shows me the outdoor patio with a large garden, where in the summertime people smoke and hook-up.

I find myself beaming, as we head back down the spiral staircase. "This place is a dinosaur, I am just so glad it still exists," I say. It's a bit of a time capsule, gay history frozen in time. A 40th birthday usually signifies being over the hill. But it seems Bijou has gotten over more hills than anyone could have expected. Here's to this birthday and many more.