Why the tease is more enticing than plain old, garden-variety nudity
Editor's Note: Today marks the debut of SexIs in print. Yes, you can get a copy of your very own to hold in your hot little hands. Either order
one free online
, or pick up the current
Bust
magazine, where it's at the gooey center of their special Valentine's Day issue. We thought this story—featuring the art of the tease—would be a perfect fit for both our readers and theirs. Enjoy!
In the heyday of Burlesque, performers such as Gypsy Rose Lee, Little Egypt, and fan dancer extraordinaire Sally Rand were world-renowned. Even the famous Ziegfeld Follies Girls, though not strippers,
per se
, wore gossamer ensembles that left little to the imagination. But with the advent of movies as entertainment, Vaudeville and Burlesque fell on hard times. Venues dried up. Theaters converted to multiplexes or eventually closed. Burlesque all but died out, living on only in the memory of its retired performers, and the fans who adored them. Recently, however, this titillating form of terpsichore has seen a major renaissance. The most recognizable face of Neo Burlesque, as the movement is called, is ecdysiast extraordinaire Dita Von Teese, but from New York to California, Florida to Toronto, burlesque troupes are once again staging shows that put the heart back into the art of stripping.
Planting heirloom seeds of classic theatrical tradition in the strange, new soil of 21st Century sensibilities, Neo Burlesque has mutated to include a wide variety of performance styles that encompasses everything from standard musical comedy, to experimental performance art to slapstick farce. Burlesque audiences and performers have evolved, as well. On any given night, both onstage and in third row center, you are likely to encounter humanity of every gender and sexual identification.
"At the Slipper Room (in New York City), we have lots of young people who live downtown, a table of suburban housewives from Jersey, a table of tourists from Germany or Japan, a table with a couple in their seventies who probably haven't been to a nightclub in years, but saw burlesque back in the day and are curious," notes founder, Artistic Director and "Boylesque" performer James Habacker (a.k.a. Mel Frye and GoGoatboy). "Because it is both highbrow and lowbrow, and just plain good entertainment, it attracts people from all walks of life, all social strata."
Coco Framboise, a Toronto-based
danseur
and the proprietress of The Coco Framboise School of Burlesque, explains, "There are classic burlesque acts that feature large-scale props and vintage glamour. Other styles may be more satirical, surreal, or fiercely challenging—New York burlesque artists are well known for having a flinty, performance-art edge that makes them particularly exciting—[while others] may incorporate a sense of the sideshow macabre." (Framboise recounts once seeing a fan dancer suspended over the crowd by a hook through the flesh of her back.)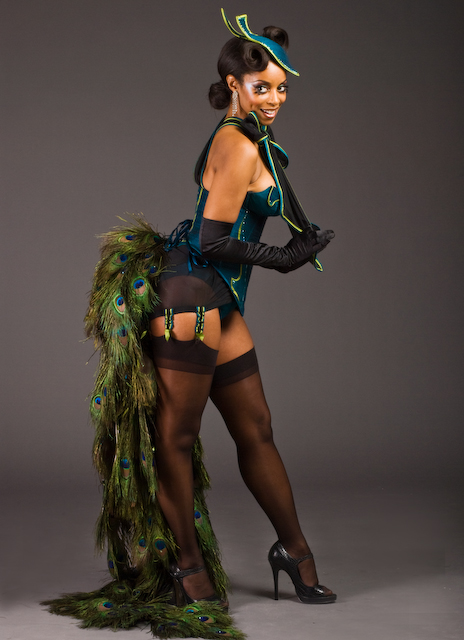 Framboise is also a huge fan of Boylesque. "It's wonderful to see what men can bring to the genre," she says, "and how hilariously they often lampoon burlesque itself."
"It's true that the burlesque scene is mostly women," Habacker admits, "but there are more men involved than you might think, and their contribution is significant. Most of the
compères
(think of the emcee in the film or stage version of
Cabaret
) are men, and on any given night of burlesque, the
compère
is expected to make up half the show, drive [it] along with his monologues, and backstage, to organize [the order of the acts] and the music, the lighting and curtain, etc."
In addition to embracing a myriad of genders and ethnicities, Neo Burlesque breaks ground by showcasing a variety of body types, however, burlesque queen Angie Potani (Miss Exotic World 2008) isn't concerned with deconstructing stereotypes in her act. "I don't think that affects my performance at all," she says. "I have what a lot of people consider to be a bit of a big derrière. I'm not going to change that—it's genetic and I like it—but I'm not going to let that derrière drop or swing. I like to be in the best shape possible when I perform because that's what makes me feel fabulous. The reality is a true performer can transcend body type and ethnicity. You can have the body of a
Playboy
model, but without the heart of a performer, it's not going to carry through to the audience."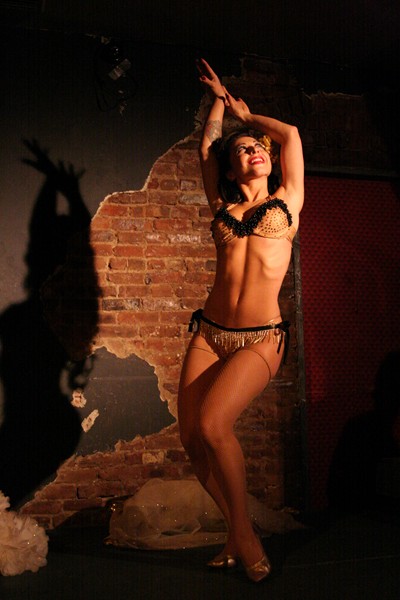 Another vestigial Wall of Jericho currently being laid to waste by burlesque's current crop of performers is the outdated distinction that separates contemporary exotic dance from burlesque. "Quite often the perception emerges that one is good and the other is bad," says Framboise. "Both genres have performers known for inspired mastery and innovation, and both have acts that could do with more work. Sometimes adoring audience members at burlesque shows will approach performers and gush about how much better the burlesque show was than watching a stripper, but what these [fans] may not realize is that some of the performers they're attempting to compliment [might] also be exotic dancers. While I recognize that many people have a disdainful view of contemporary exotic dance, I could never dismiss any of my burlesque colleagues and heroes who are, or have been, exotic dancers. Many of these same colleagues are on the leading edge of excellence in burlesque."
At the end of the night, while Neo Burlesque serves as a vehicle for entertainment and titillation, like all good theater, it's also an engine (albeit a sexually charged one) for social change. Says Habacker, "The audience needs to leave with something to think about; that's the true essence of the high brow/lowbrow dichotomy of burlesque. We may get naked, we may make fools of ourselves, we may turn you on—or gross you out—but in the end the question is: Have we gotten you to think a bit about the bigger questions?"
Well, have we?