As
reported earlier
, Alicia Keys, Swizz Beatz, Kim and Khloe Kardashian, Lady Gaga, Justin Timberlake, Ryan Seacrest and Daphne Guinness all pledged to kill off their online alter egos on Facebook and Twitter in an effort to raise a million bucks in much needed funds for the AIDS charity, Keep a Child Alive.
Trouble was, donations were trickling in at an alarmingly slow rate, so unlike the undead heroes and heroines of fill-in-the-name-of-your-vampire-epic here, these dearly departed do-gooders showed no signs of rising up from their self-imposed Internet graves. Oh, the horror!
Fortunately, rigor mortis had not set in to their speed dials. According to a report in the
New York Post
, a well-placed phone call induced Brooklyn-born billionaire pharmaceutical executive
Stewart Rahr
to donate $500,000, so the now moldering superstars could meet their charitable goal and rejoin the ranks of the online living—proving yet again, that there is no life after Facebook and tweeters ever prosper. (Thanks. We'll be here all week. Try the fish.)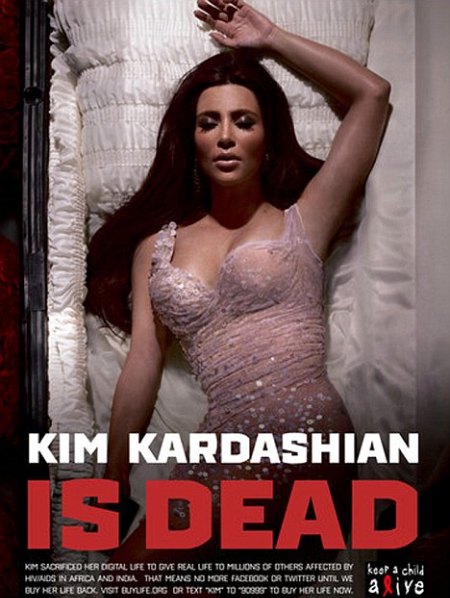 She's alive!
(More
Sex Feed
)