Lady Gaga seems to be going back to the aversion to pants that helped make her famous in the first place—in order to announce her new album to fans, she tweeted a picture that has her wearing
nothing more than a denim jacket
. And baring her assets.
To ring in the new year, our Lady of Perpetual Cool revealed the album cover of her new production to fans via Twitter, where more than one celebrity has posted links to photos of devastating import. (Katy Perry
without makeup
anyone? And Kayne West's
nether regions
?) The Gaga presented the album cover to "Born This Way" which involves a shot of the singer wearing nothing from the waist down.
The Grammy Award winner also tweeted that the first single would be out on the day after Valentine's Day, 2011, and the album itself would be released on May 23, 2011—and, never one not to attempt to top herself, the Lady of All Things Meat Dress-y recently told concert goers in Europe that, "I promise to give you the greatest album of this decade." As long as it doesn't involve pants.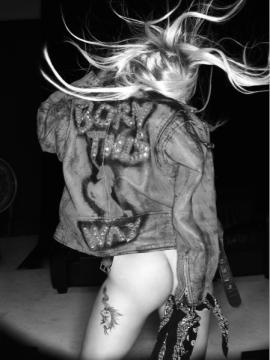 Born this way ...