Toronto.
Every minute someone is raped, someone is beaten by his or her partner, someone is brutalized in a violent crime. Victims are often left vulnerable, fearful, and alone. Violence that exploits and violates intimacy and sexual trust can leave people isolated, confused and exposed to further victimization.
What can one person do to bring both safety and support
and
break bad patterns? Throw a really wonderful, sexy party, of course! Dance, flirt, dress up, shag, laugh, cruise, eat, drink and play—all to make the world a sweeter place.
That was the mission behind the three-day
Kinkalicious
festival in Toronto recently. Kinkalicous—a sensual celebration of women and all who love them—is the brainchild of the erotic impresario, Viktoria Kalenteris, a local sex educator and sex toy aficionado. Instead of doom-and-gloom messages or blind male bashing, she's taking the positive position to create a world with healthier sexual attitude and empowered women, one party at a time.
Kinkalicous serves as a fundraiser for Victim Services Toronto, a
"non-profit dedicated to helping victims of crime and/or sudden tragic circumstance. [VST] provides responsive, accessible and accountable programs and services. [Their] focus is on restoring and enhancing victims' quality of life and preventing re-victimization."
Every aspect of the event is designed to commemorate the empowerment of women, to lift the veil of sexual shame and instigate fun. A kaleidoscope of activities at several venues across town provides entertainment for all manner of sensual appetites and comfort levels. I had the pleasure to attend and participate in both this and last year's events.
The first night was a unique celebration of erotic art and fashion, hosted at North Bound Leather, one of the finest leather fashion shops in North America. Professional fashion photographers set up temporary studios around the spacious and elegant shop, closed to the public for this occasion. Participants could try on anything in the shop, and have saucy portraits shot to take home.
It's pretty fabulous getting to play dress-up with the best naughty fashion, have a personal photographer to catch your hottest wicked looks and not having to buy any of the garb! Food and drinks flowed, and sexy photos decorated the walls while footage from fetish fashion shows played in the background. I didn't get to enjoy this as much as I would have liked, as I was teaching upstairs in the private social space.
Presenters, including yours truly, provided the Sex Ed series over the three days. Our topics ranged from "Bedroom Body Moves," "Women's REALISTIC Self-Defense," "Wrapped for Pleasure: Sex Bondage," and the much-needed "Healing from Sexual Trauma."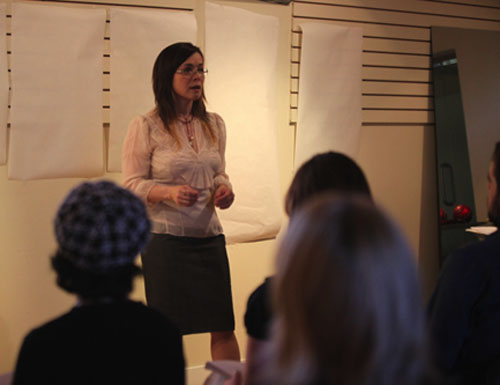 Cabaret Night the following evening was my favorites. Once my classes wrapped up, I snagged the best seat in the house at M4, a lovely swinger's club on the western side of Toronto that Kinkalicous had taken over for the night. Last year the incomparable "Wet Spot" duo had us doubled over in laughs as they crooned, with the best finger-snapping velvety lounge voice, wicked lyrics like: "I wanna fuck you in the ass."
This year's Cabaret showcased local talents, including belly dancers and a pervy folksinger singing a ballad about "everyone's kinky folk." For me, the best act of the night was "Dick & Flo's Dirty Show," a country ma-and-pa duo singing oddly dirty songs about rescuing wet cats that need a lot of petting.
The weekend climaxed with an erotic masquerade ball. Everyone in their finery, full bar with sexy bartenders, front rooms full of scandalously clad couples and threesomes dancing to the DJ's ministrations. All the while, the backrooms were busy with couples and threesomes dancing horizontally.
The world could stand to be a better place for healthy sexual attitudes and personal safety. Sex negativity, shame and guilt, sexual misinformation, failure to teach the young about body awareness, consensual limits and personal boundaries, all contribute in many ways to misery and stunted lives. But it seems such a daunting task for one person to affect change in the world around them.

We could sit back, gripe about it and wait for someone else, the government perhaps, or someone famous, or the next generation, or the older generation, to do something. But that's a sure set-up for disappointment. Or we could take the cue from people like Viktoria and her friends, and other regular folks all over, and figure out a fun way to combine parties and social change.

But here's the downside: If your sensual tastes run to the less mainstream consensual adult sexuality—whether swinging, SM, fetishism or the like—don't be surprised if various anti-rape, anti-domestic violence, women's support services or other aid and charity organizations and their members find what you enjoy offensive, unnatural or contributing to the exploitation of women. Some of these folks will blame you as part of the problem—as the perpetrator or the victim of oppression. They will say you are in denial. Some will even come after your events, venues and legislate against your fondest activities.

I've seen it happen all over the United States. Most of these folks genuinely want to protect people, and yet they learned about sex and what's deemed decent from sex-negative and shame-laden sources. With the exception of the most hate-fueled and bigoted, they mean well and are goodhearted, but they're misinformed and fearful of what's outside of their worldview.

We could hide from them, or try to shout them down, but that only creates greater conflicts, division and enflamed desire to shut down non-normative sensual expression, and it isn't productive. Instead, by reaching out to the local shelters, victim services, police, spiritual and religious leaders, charities and do something for them—no strings attached—people will come to know your goodness as well as your unconventionality. Make allies among those who could have persecuted you. Get your friends together, focus on a cause you're passionate about and throw a rocking amazing sexy party! You can make the world a little bit better than it was yesterday—and better moving forward.