Ah, pandas. Those endurably cute black-and-white teddy bears with a horrible reputation for low libidos. For years, zookeepers have struggled to get panda bears in captivity to mate, but these days they're trying something a little bit more raunchy than usual—yes, they're using
Viagra and porn
to get the bears going.
A new BBC documentary,
Natural World Special: Panda Makers
, looks at efforts in China to repopulate the wild with more snuggly bamboo snackers. Where it was once thought that breeding pandas in captivity was impossible, wildlife activists and scientists were undaunted. They've tried plying their pandas with those little blue pills originally meant for humans and "panda porn," videos of other pandas mating.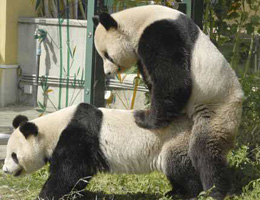 Poor pandas. Among their woes: Males have proportionately short penises, meaning pairs must adopt a very exact position in order to mate. Which sort of limits the porn possibilities, right? And: During their observations, researchers found that pandas demonstrated poor knowledge of this position. (So we need sex education for pandas.)
But before you collapse with laughter or outrage, be aware that all this experimenting has led to a critical breakthrough that "
should lead to the first panda being reintroduced into the wild within 15 years
."
Though we still feel bad for the pandas. The next time we're not feeling particularly in the mood, we're going to remember those poor panda females who are in heat only 72 hours in a year. That really puts a bad date in perspective.
(More
Sex Feed
)