If you don't have to have a heart attack to be a cardiologist, do you have to have sex to be a sexpert? Not really, as one Polish priest claims—and he's become a
very popular sex advice columnist
amongst the faithful.
Father Ksawery Knotz has been publishing on the Internet since 2003, building a large European following for his holy insights and sometimes explicit recommendations. Despite his reputation, Father Knotz says he doesn't consider himself a "sexpert."
"I don't give out actual sex advice. Today, people have plenty of technical information on the Internet and don't need to talk to me about it. I help people understand sexuality."
His most recent book,
Sex is Divine
, just hit bookstores across the pond, and is being called the "Catholic Kamasutra." It's like
Everything You Always Wanted to Know About Sex
—but were afraid to ask God.
***
All's well that ends well for a lesbian couple who were ejected from a Raleigh, North Carolina shopping center for displaying too much public affection—the couple now has met the manager for a friendly
hug and a kiss
.
Last week, Caitlin Breedlove and her partner were asked to leave Cameron Village shopping center by a security guard who felt their behavior was inappropriate. Since then, George York, the president of York Properties, which manages Cameron Village, has met with the couple and apologized, while asserting that additional sensitivity training is planned for the security personnel.
"We welcomed the opportunity to sit down with the women and offer our sincere regrets over last week's incident," York said. His company also issued a statement that said it believes that "all people deserve the right to be treated fairly in their work, homes and daily lives." And also in their PDA.
***
Over a thousand women bravely took the streets this week to protest sexual violence in the Democratic Republic of Congo, where rape is systematically used as a tool of war.
The demonstration was led by DR Congo's first lady, Olive Lembe Kabila, who heralded marchers carrying signs and banners that read "
No to sexual terrorism
," according to AFP. Over 15,000 women have been raped in eastern DR Congo last year, according to UN Estimates, and last week Congolese government troops were accused of raping an entire village of women and children after rebels had performed the
same atrocity
in July and August.
Nene Rukunghu, a doctor at a hospital where rape victims are treated, said that the international community finally seems "genuinely interested in our problems."
***
Why was Kanye West's album cover banned? Was it because of the interracial couple engaged in a naked bedroom romp? Was it because of the single, exposed nipple? Or horrible art featuring an armless female monster with wings and a polka-dot tail? Wait—the cover
wasn't actually banned?
Oh, never mind.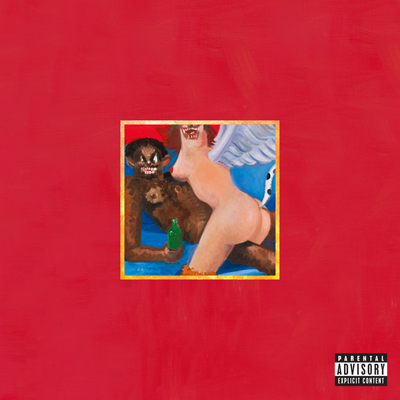 Banned? Not banned? Kanye West CD art: You decide.