"Okay, I'm going to need you to leave the room," Susan said. That was how our first session with the
LELO Smart Wand
started. I laughed it off, but before my chuckling ceased, I realized that she was serious. For the first time ever, she wanted a toy all to herself. I wouldn't say I sulked out of the room, but I certainly didn't skip. I looked at her one more time when I got to the door. Her eyes made it clear that I should pull it shut.
"I really don't know what came over me," Susan says. "I'm not a solo sex person at all. Yes, of course, I masturbate, but I'd rather have Rydell lying next to me for that, too, if possible. When I put the Smart Wand between my legs, though, I just went flush and instinctually needed some
me
time. As soon as the door clicked, I felt like a woman in some stereotypical movie scene, like I should light some candles, run a bath, and pour a glass of wine.
"Unfortunately, it was the middle of the afternoon so the candles wouldn't have done anything, we don't have a tub in our bathroom, and I'd rather drink whiskey. So, instead of all that other stuff, I stripped down and climbed onto the bed."
The Smart Wand is a massage-style vibrator so the business end is more mushroom-y than phallic; the handle has a comfortable, easy-to-grip contour. There are eight vibration patterns – from constant to quick bursts to a rolling wave to a crescendo – and various levels of intensity for each.
"The quick little bursts are pretty nice, but I always end up liking the steady hum best," Susan says. "I pushed the plus button a couple times to turn it up and then started moving it around my pubic bone. I've never felt that much anticipation during a solo session. I kept thinking
do it, do it,
but I held off … for a little while at least.
"As soon as I put it on my clit, it didn't take long before I was on the verge of an orgasm. I didn't want it to end so quickly, though, so I pushed it further down and traced my lips a little, and then went back to my clit. I repeated that a few times, until I just couldn't take it anymore."
After Susan's initial experimentation you might be surprised to learn that we've actually never given any of the popular wand-style vibrators much consideration. "They just don't seem all that sensual," Susan says. "I don't need – or really want – an ultra realistic vibe, with veins and a big cockhead or anything like that. But I want it to have a certain degree of sensuality."
I think what she's getting at is that wand massagers are typically so utilitarian looking – like if you want to buy one, you should probably head to the small appliances section at your local Target – that it kills the mood.
LELO's
version is different. It's subtle and understated. It doesn't necessarily scream sex, but it has very nice, feminine lines.
"And it doesn't plug into the wall," Susan adds. "That's something else about the other wands that I have a real hard time getting past mentally. I want my sex toys untethered."
Untethered, but with enough power to make an impact, which is apparently what happened after I charged the Smart Wand that first time and handed it over to my wife. "I wasn't expecting it to be as powerful as it was," Susan says. "It's not industrial strength like some of the other products, but it might surprise you."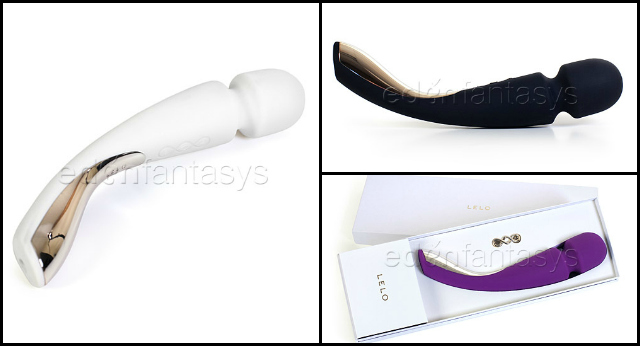 What surprised me is the Smart Wand's capability to multitask. One evening after a particularly intense cross-training workout the day before, I was describing the extent of my soreness to Susan (she might call it complaining, but that's all semantics). She listened patiently and then suggested I give the LELO a go.
"Really?" I asked. "It's my lower back and the muscles along my spine. Will you run it?"
I laid facedown and Susan got on top of me. One of the coolest features of the Smart Wand is what's called SenseTouch technology, a setting that allows the device to "idle" at a very low rumble until the bulbous end makes contact with the intended massage point. Susan turned on SenseTouch and then proceeded to run the wand up and down my spine. Each stroke started gently and then revved up to full throttle. When she lifted it off my skin, the pulsations waned – until she set it down again.
You know the joke about people reading
Playboy
for the articles? Sure, it still gets a few hearty laughs, but the fact remains that the pages are typically home to at least as many talented writers as clothing-adverse young ladies. In other words, there might not be anybody who buys the magazine
just
for the articles, but there are plenty of us who do actually enjoy them. I came to a similar awareness about the LELO massager after about five minutes of the SenseTouch working out my lower back.
"When I suggested it, I thought he was going to laugh," Susan says.
I almost did – I mean, it's a
vibrator
, meant for
vibrating
one's clitoris – but as knot after knot of deep tissue eased, I realized that it really is a bona fide massager, too. Yes, an innocent massager, and similar to
Playboy
, while the fundamental purpose might be a certain amount of sexual satisfaction, the auxiliary features have the potential to be equally gratifying.
And, once my back relaxed, Susan turned the Smart Wand on herself, positioning it for its primary function … and this time I didn't even have to leave the room.
Hey readers! Have we got a deal for you! Buy the LELO Smart Wand at EdenFantasys.com and use promo code SEXISTOYS at checkout for 15% off! You're welcome!