Candy and Vodka are worth $3 million, Porn is worth $9.5 million, but Sex tops them all at a staggering $13 million—and it's just been bought. Sadly, that doesn't mean anybody's going to buy our beat up Club magazines and leftover Mallobars for that much cash; we're talking domain names here.
Proving again that the Internet can make buckets of money on intangible concepts that exist only electronically, Sex.com has now
sold for $13 million
. The highest bidder was Clover Holdings, a mystery company registered in the Caribbean and the last owner, Escom, reportedly paid $12 million. Escom's plans for the the site never really materialized and the company declared bankruptcy earlier this year.
There's hope for the losing bidders yet—the sale has to be court-finalized before it becomes the most expensive domain name ever. Sex doesn't just sell, apparently; it sells for a lot.
***
Early reports are in, and so far it's looking like the quarantined adult film performer has not infected any partners with HIV. The AIM Healthcare Foundation told
AVN
news that everyone has been tested once, and
nobody new has turned up positive
.
"Everyone is still continuing to test negative," said AIM Healthcare administrator Jennifer Miller. "We're confident that we have all the partner information and that we have contacted all the partners and done all the [initial] testing. So we believe that everyone's been notified and everybody is continuing to test negative—all partners involved." Even though the final testing results won't be available until the first week of November, Miller says as of this moment, it's "great news."
***
Here's a sex survey that may save lives—recently, researchers have found that sex hormones in women may be linked to their ability to
survive traumatic injury
.
The findings were published in
The Journal of Trauma
published by Johns Hopkins University School of Medicine, and covered national data of over 48,000 patients who had suffered severe trauma. The data showed that women aged 13 to 64 were 14% more likely to survive than men thanks to their higher levels of estrogen. Study leader Dr. Adil H. Haider says that this information could be used to help everybody live through their bad accidents.
"Female sex hormones appear to give women better resiliency to extreme injury, while male sex hormones seem to worsen their survival after trauma, and if we can find a way to manipulate those hormones in men … we may be able to improve their survival."
***
It's not often that "
Penis Delight
" appears in the headlines, but today it has—a giant bronze statue of a naked man has been getting attention at the Time Warner Center in New York because shoppers can't keep their hands off the goods.
The statue is one in a voluptuous Adam and Eve bronze couple, and at first glance it seems odd that the artist decided to cast Adam's nethers in gold. But, the reason for the color change is not the artist's intent, but because of "
extensive handling
." Adam's man parts have been rubbed so much they've turned shiny.
As Christian Rosario, 16, a student at Manhattan Theater Lab High School, said, "It's a penis, like, in the middle of a mall, just out in the open! It should have a sign on it saying 'Touch me.'" It also sounds delightful.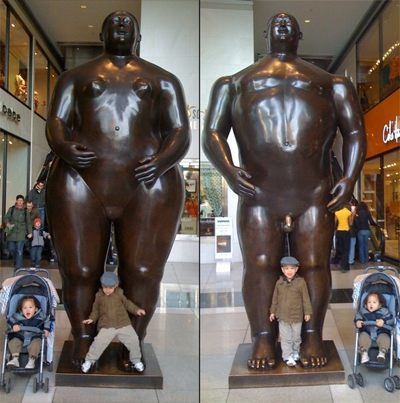 "It's a penis, like, in the middle of a mall, just out in the open!"