"Sparks" and his girlfriend, Ava, are doing a
zentai
walk-about. It's Halloween morning in Chicago, and the neighborhood is littered with hungover hipsters and families bustling through the farmers market. The two look alien, their entire bodies: faces, hands, feet are covered in stretchy fabric. Sparks rubs his spandex-coated body against Ava's, and electricity shoots between them. "See?" he grins. "Sparks." The smile beneath his faceless suit is barely traceable.
A mariachi band plays on the square, and as Ava and Sparks pass, each member turns with wide eyes. People in cars mouth, "Oh, my god." Others give a look of recognition, nodding, thumbs up. It's no surprise some people are familiar with
zentai.
It's been popping up everywhere—from sports games to TV shows.
Zentai
, a Japanese invention of the '80s, quickly entered the fetish world and slowly made its way West. Many enthusiasts who attempt to describe the fetish talk about the feeling. "For me, the arousal comes from the smooth anonymity the suit provides," notes Ben, a moderator on
ayus-zentai
forum. "It distills your body into this 'other,' it is a trans-formative effect that lets you be someone or something else, not necessarily human."
This description is not rare. Some
zentai
wearers describe becoming a character, complete with backstory. "I also feel free," Ben adds. "This is what I want to look like. This is my fetish."
Sparks stumbled across
zentai
seven years ago online. When he ordered a suit, he was hooked. "You have the awareness of being naked, but you still feel completely covered, so it's like your whole body is being cuddled, and you get a little bit of static. It touches every nerve at once," he says, slowly running his hands up and down his limbs to demonstrate the effect.
But Sparks had a problem. For him this was sexual, but he knew his long-time girlfriend, Ava might not find it so appealing. After hiding it for months, he came out to her.
At first Ava balked. "It totally creeped me out," she confesses. "It's the whole faceless thing."
But, together, they worked toward incorporating it into her comfort zone. "We've even had
zentai
sex," Sparks says. "There are anatomically placed zippers."
Ava shrugs. For her, the sexuality didn't stick, but she's latched on for different reasons: "I like the costume side of it, I like the attention."
Ava's not the only one. An increasing number of websites selling "root" or "morph suits" are popping up.
Zentai
-clad fans—with coordinating team colors—are becoming commonplace at sporting events. You also see the colorful faceless figures at art performances and festivals, all without ever using the word "
zentai
."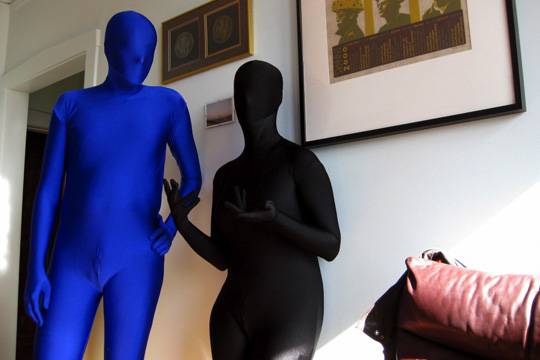 Sparks and Ava at home
More and more people are getting into the suits, perhaps without knowing whole story. As the mainstream appropriates
zentai
, its sexuality is getting a little lost in translation. And the
zentai
-enthusiasts seem just as lost: "A guy leading a girl around by a dog chain would not be socially acceptable," says Daniel, a
zentai
fetishist, "yet for some strange reason, this is."
"It's hard to say that
zentai
is in the mainstream," says Ben. "The term
zentai
is practically unknown. When I hear
zentai
, it usually is within the context of the fetish. When I see the name divorced from the suit, then I know it's coming from a mainstream angle."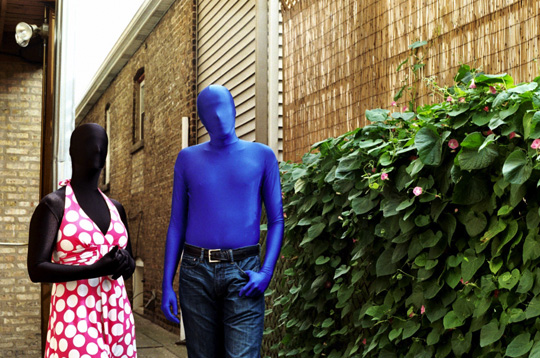 The problem Sparks sees is that people are being introduced to
zentai
without knowing what it is. They aren't being introduced to the community, and as the community is lost, so is the deeper meaning. "It does make things a little worse," Sparks admits. "The suits are getting more exposure, people are going to run across the fetish and start calling us out as freaks. The comments on the
Daily Beast
are a good example. It's easy to see that the "morph suit" people are in it for fun, and the
zentai
people are in it for fetish. So when
zentai
people mingle with morphsuit people, it starts getting awkward."
Rather than pushing for the fetish to be visible and understood, the
zentai
community has at least in part tried to police itself a bit—arguably helping further erase the sexuality of the fetish. "The forum is an attempt to be as inclusive as possible to all people who wear
zentai
or show an interest. As a result we tend to tone our language away from the adult on the forum," Ben explains. "I would say we diminish the fetish side of
zentai
as a way to make it seem more acceptable when we talk about it. I certainly don't want my 'normal' friends to find out I wear these suits as a fetish, as I assume a person who regularly goes out in a
zentai
would diminish it's role as a fetish in public."
Ben also tells me the
ayus-zentai
forum was founded after the collapse of another forum,
suya-zentai
, a site that described
zentai
as a fetish, whose forum was skewed toward sexuality.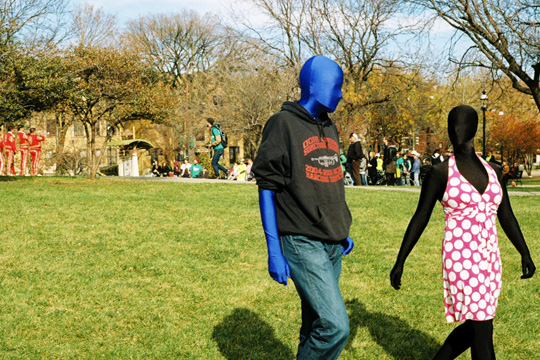 Zentai goes "walk-about."
But there are forum members who don't shy away from the fetish aspect. One explains: "Yes, it has gotten more mainstream, but that is good because I get to see people in
zentai
more often!" Daniel agrees. "I mean, there's always gonna be a fetish aspect," he says. "If anything, who's to say that the couple who goes online and buys a couple of suits for a sporting event might not come home and then y'know, get into it in
that
way."
There is a little crossover between
zentai
and other fetishes: Some BDSM enthusiasts like the restrictive feeling of the suit. (There are even mummy suits which restrict hands and legs.) There is also a slight intersection with fans of PVC and rubber. But for many,
zentai
is the one and only, a fetish all of its own.
Daniel describes
zentai
versus other fetishes (like PVC or rubber) as purely aesthetic. "It's like, whether you like the Sox or the Cubs" he says. One of the main differences, according to Daniel, is that fans of comic books are likely to get into
zentai
. "Going for the Spiderman thing is obvious," he explains.
There also just seem to be facets of
zentai
that tight clothing alone does not provide. "
Zentai
is a portable safety blanket. You feel covered and protected, yet you're fully able to go and interact with the world around you," says Ben.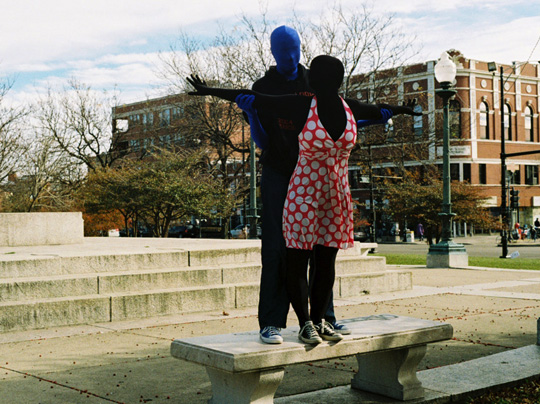 Zentai
is a unique fetish in that these two components—one sexual and one not—can each exist so strongly. "They just don't overlap," Ben says. "But, there's a sense of loss on my part. I'm afraid people will see the
zentai
fetish as some freaky perversion of something fun and normal, not the other way around. Seeing all the morphsuit stuff on Facebook and the random sports articles only serves to make me feel isolated."
As I walk with Ava and Sparks toward the car, we recount the different reactions we've encountered.
"There was that lady selling squash who scowled and yelled, 'You're scary!'" Ava Laughs.
"But most people—like 95 percent—were just smiling and laughing!" notes Sparks.
Much of activism within marginalized sexualities has held to the idea that coming out helps. It seems, as people begin to recognize the suits more, it might be easier to come out as a
zentai
enthusiast. But, when I ask Sparks and Ava give the same answer: "Why come out? What's the point?" And for a fetish about anonymity, I suppose it could ruin all of the fun.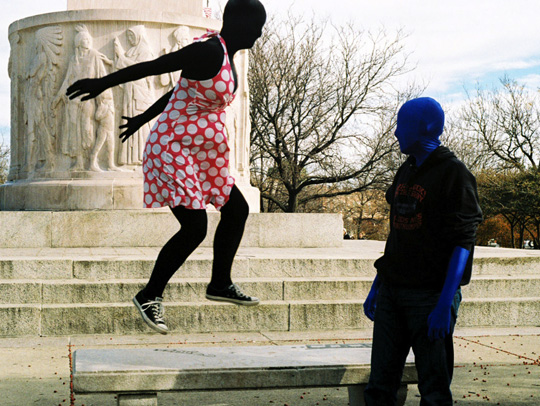 The joy of Zentai