Best Dildos You'd Love To Ride
When it comes to orgasms, there's nothing more reliable than betting on a good ol' dildo. Functional design, grand size range, even revved up vibration - you're bound to find a hot best dildo on our list below to get your ride to the O! station.
The G-spot
Hunting Dildo
Not only does this supreme beaut offer a body-friendly curved shaft that's perfect for leg-trembling G-spot Os - it's features are a blast! When you push the button, this monster dildo literally comes to live inside of you, massaging every bit for explosive sensations.
Sensualist rotating realistic vibrator
Sensualist rotating realistic vibrator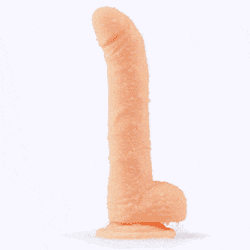 Very seldom does any toy rock me on the first use. This super whirling dildo is a "twice a weeker"!
The Dil-Wizard
Of Os
Can you see those delicious nubs at the base? Oh yes, they're there for delivering sublime clitoral stimulation while you go to town with that flawless realistic dildo shaft, elegantly curved for precise G-spot hit.
Feel The G gyrating silicone vibrator
Feel The G gyrating silicone vibrator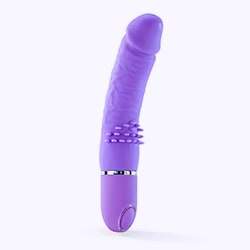 I NEVER thought something so quiet could be so powerful! It's like a magic wand and realistic dildo in one.
The Unicorn
Willie Ride
Doesn't this dildo look like it came straight from a fairy-tale? That swirled texture of the magic beast puts out for out-of-this-world pleasure, while the amazingly strong suction cup enables you for some wild hands-free fun.
Mr. Sensation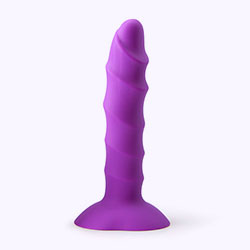 ... if you want a fun, textured addition to your dildo collection. It is easy to maneuver, and the ridges will make your eyes roll into the back of your head.
The Big
Gamer Dong
If you find yourself craving more stretching, or even want your A-spot tickled, this big boy of a dildo is your cup of tea. Extra-sized for deep penetration and full satisfaction, it also packs a realistic detailing and amazing flexibility for many-angled pounding.
Emperor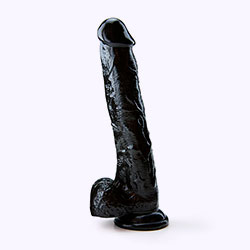 My jaw was on the floor. It's everything you can imagine about an oversized toy! This is the first toy to be able to make me squirt, so be prepared!
The Orgasm
Bender Dildo
This amazing bending double ended dildo is super flexible, so you snatch your DP experience in a super realistic and very creative manner. It's also long and girthy enough for couples to enjoy it, too, by riding both ends simultaneously.
Double ender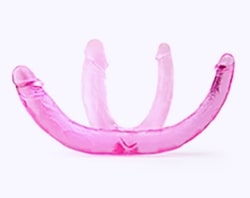 It is easily bent and twisted, which should help with positioning logistics. It is a great toy for any experience level.
The Joyride Willie
If you have a burning desire to try pegging, nothing would suffice better than this peg dildo. She can squeeze one shaft with her PC muscles, while its curve massages her G-spot, and direct the other shaft on to his prostate for a helluva ride for both.
If you are looking to ease into pegging or toy insertion of any kind with a partner, this is a great option.
The Thruster
Lust Dong
With supercharged motors in each realistic shaft, this strap-on dildo is a dream come true for pegging lovers. The adjustable straps that fit any shape and size are a wonderful plus, especially when you need a steady dildo to penetrate.
Double strap-on set
Both dildos vibrate, giving powerful sensations, and they both are realistic... the cock is so big that it just gives you mind-blowing orgasms without the vibrations.
The Bliss
Kiss Dildo
Sensuous curves of this state-of-the-art glass dildo are designed to effortlessly hit the G-spot, with a pinpointed end aimed directly where you want it to be - because that tentacle-like handle makes controlling the penetration abreeze! And look at those nubs and ridges - enhanced stimulation is yours, all the way.
French kiss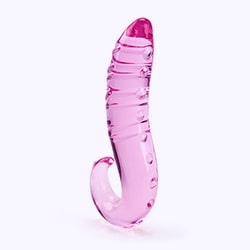 The design of this toy is artistic and beautiful, orgasmic to the touch. Holding it in your hands, you'll quickly become transfixed on the texture, it's truly a work of art in itself.
The Bum
Hum Dong
If you were looking for a safe and too-good-for-words anal ride, this dildo is your A-list choice. Safe base and a flexible shaft for an amazing experience, along with revved-up vibrations in the tip to supercharge your bum - this dildo is all-around ASSgasmi.
This toy is a good medium size, great texture, long-lasting, and both thrusting as well as vibrating are easy to control. I enjoy it very much.
Thunder Wonder
Willie
When you know you're craving for something more, it's time to have a taste of e-stim wand magic. Tingling electric impulses of this beaded toy tease and caress, inducing a powerful and super long-lasting climax. Care for mixing business with pleasure? This E-stim dildo also prevails at Kegels training because of the great muscle contractions it's provoking.
Tingle e-stim wand
This non-phallic shaped dildo will provide vaginal or anal stimulation like you never felt before.