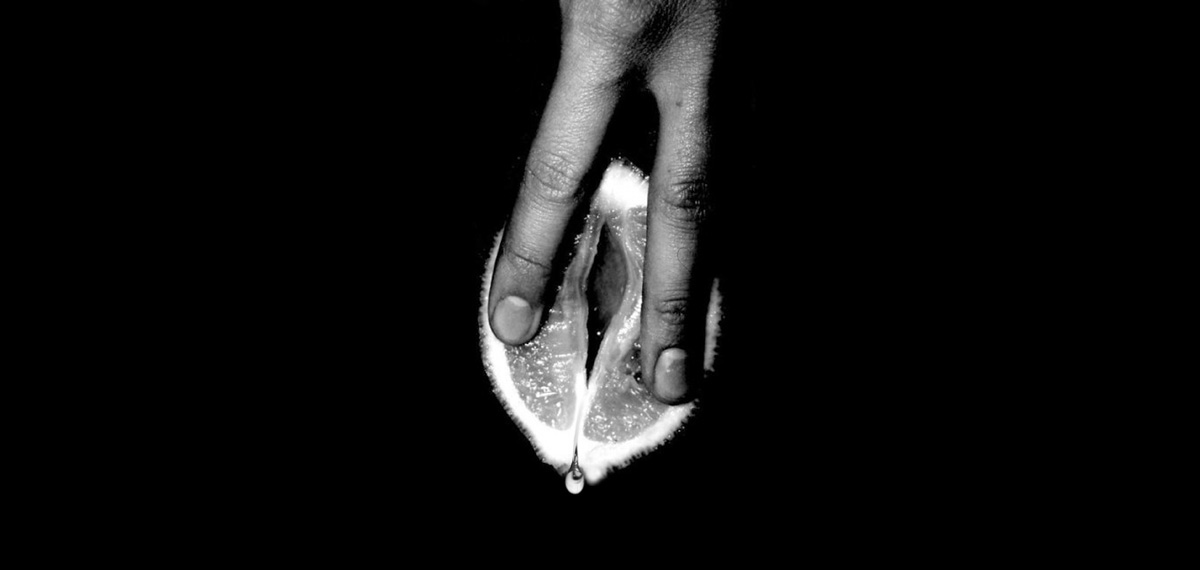 Orgasm At Your Fingertips: Handy Fingering Techniques My Hubby Uses To Make Me Cum
No doubt, the penis is the king of her Orgasm Land, but using your fingers the right way can multiply your chances of making her toes curl by ten. This guide will show you how to sway your nimble digits in time with the rhythm of her ecstasy.
Orgasm At Your Fingertips
When my husband and I first got together, we were young and inexperienced. His idea of fingering was groping my pussy, followed by a little in and out with his fingers. He couldn't understand why his unschooled efforts didn't have me rolling in an orgasmic frenzy. Silly, right? He simply didn't know any better, and if I was ever going to be satisfied, I realized it would be up to me to help him with the finer points of fingering.
Bottom line: We women have learned from fingering ourselves what works and what doesn't. Teaching my hubby the kind of "hands-on" tactics that could bring me unforgettable pleasure took time and practice, but it was definitely worth it. Today we're going to share our collection of fantastic fingering secrets so you too can discover which techniques will turn you into a true "Wizard of Os."
Why Finger Your Girl?
Fingering allows you to directly stimulate the most important female erogenous zones - the C-, G-, A-spots - providing intense, targeted stimulation that leads to powerful orgasms. An added bonus to the fine art of fingering is that once you know your strokes, you can change up techniques for combined stimulation of several spots simultaneously, which is sure to deliver the delicious, blended full-body climaxes that every woman dreams of experiencing.
You have only one penis but you have ten fingers. Use them!
Is Fingering Considered Sex?
Yes! And it's one of its most pleasurable forms. Sex doesn't require penetration with a penis. All you need are your precious digits, determination and some imagination. Though we gals can practice fingering during masturbation, there are many techniques only a partner can pull off. Even if your lady is an empress of self-gratification, the fingering you give her will be icing on the cake.
Long story short: If you're one of those guys who think the penis is king and fingering is a waste of time, you probably aren't satisfying your woman in bed. Hell, for all you know she might be faking her orgasms! If you want her to cum hard and cum often, fingering is essential, so quit slacking. It's time to roll up your sleeves and get down and dirty with fingering techniques that are going to deliver the kind of screaming, squirting female orgasms that can't be faked.
Fingering Foreplay Quickstart
1. Prepare The "Tools" For The Job
Before your fingering session, wash your hands in hot water and make sure your nails are trimmed. Nothing feels better on sensitive bare skin than the caress of warm, tidy male hands.
2. Build The Atmosphere
Be confident and relaxed. Tell her how attractive and sexy you find her body, and how much your hands yearn to touch her most intimate places. Describe how you plan to finger her. She'll be aroused and flattered, longing for more.
3. Arouse Her
Treat her to some sensual foreplay. Make out with her. Give her neck hot hungry kisses as your fingers flick her clit. It's a great way to get her juices flowing, and will also "whet her appetite" for more audacious touches to cum.
Explore The Five Orgasmic Hands Positions
Every woman is different. Something that turns one on can be a turn-off to someone else. To appreciate your honey's preferences, try different hand positions, and mix them up to find which one pleases her the most.
The Teaser
The Teaser position is an appealing intro to fingering. It provides smooth teasing movements and is perfect for prepping her lady parts for more intense stimulation. The straight index finger is all you need. Slowly insert the finger into her vagina, making smooth teasing thrusts in and out. Do this for a minute or two, then move on to another position. To impress her with your fingering skills bet on a finger vibrator - it's thrilling texture and powerful vibrations will show her - your hands know how to bring Os.
The Pleaser
A classic fingering technique, The Pleaser is excellent for finding and stimulating the G- and the A-spots. The unity of two long fingers allows you to produce deep focused thrusting that provides the all-important pressure especially needed for G-spot stimulation. To get a better grip on the technique, you can read more about it in this guide to G-spot.
To enhance The Pleaser, straighten your thumb as you continuing gliding in and out with your middle and index fingers. The arc you create with your hand will provide extra stimulation to her clitoris. Of course, a little vibration on her love button will make your fingering session even sweeter. BTW, clitoral stimulators will complement your fingering fun perfectly, so grab one and direct its pulsations on her sweet button to make her explode with fantastic Os.
The Shocker
With this great technique, one of your fingers will be playfully knocking on her backdoor, while two others are making happy headway through her V channel. Use your middle and forefinger together as you would with The Pleaser while simultaneously inserting your pinkie into her anus. A beautiful anal plug would be a nice next step after your gentle finger dig and will make your other fingers feel much more satisfying.
The Spocker
If you want to make "The Shocker" even more exciting, transform it to "The Spocker", holding your fingers in the symbolic "V" sign. Simultaneously thrust one pair of fingers into her vagina and the other pair into her anus to deliver a blended orgasm that will give "live long and prosper" a whole new meaning. If your fingers\re feeling sore, try a DP toy instead.
The Show Stopper
While "The Shocker" and "The Spocker" require equal doses of dual fingering, with "The Showstopper", you'll be using three fingers at once, for three times the pleasure. Hold your pinky, ring and middle fingers together, keeping the index finger separate. Now decide, which of her sweet holes deserves to get the triple poke, and dive in with your thickly bunched digits. Use the index finger to plunder her other orifice. To stretch even further and bring more pleasure, opt for a relatively girthy dildo while placing your fingers in another hole.
Five hot scenarios to master and make her happy
Make Her Beg For More
Start teasing her labia and vaginal entrance with the fingers of one hand. Use your index and ring fingers to play with the labia, while your middle finger teases her honey-hole in a come-hither motion. Stimulate her tenderly and gently until she's writhing with desire and begging you to penetrate her.
Signs you're doing well: Her clit is hardening and glistening with natural lubrication, her labia are swelling.
I Recommend
Complement your digital massage with the "come hither" motion: Start in one spot, and then simply drag your finger in a stroking movement, as if you're luring her orgasm in. Or use a rabbit vibrator with a finger-like motion instead - it'll definitely bring her through the roof.
Building An O-Algorithm
Insert your middle and index fingers inside her ("The pleaser" position), gliding in and out for several minutes, then spread her juices all around to help your fingers slide more easily. Juxtapose 30 seconds of fast, energetic thrusting with one minute of slow swiping in a windshield motion. Repeat.
Signs you're doing well: Grunts, heavy hot breathing, she's getting very wet.
I Recommend
Master the windshield wiper motion: Swipe across the G-spot, mimicking a windshield-wiper, back and forth, back and forth, thoroughly massaging her pleasure zone. When you feel she's ready for more pressure, whip out a non-vibrating dildo, preferably a rigid one, to press the buttons of her O.
Non-Stop Kissing
What's better than having your fingers on the inside? Having your fingers on the inside and your tongue on the outside. As you're fingering her vagina, start teasing her clit with your warm, wet tongue. Change it up using slow circular tongue strokes and long licks that travel from her opening to her clit. Pay attention to how her body reacts. When you find the combination and rhythm that drives her crazy, keep going and don't stop until she's cumming hard.
Signs you're doing well: You can feel her vaginal walls tightening, her moaning becomes louder, she meets your thrusting fingers with thrusts of her body.
I Recommend
Synchronize your fingers with the movements of your tongue. Move the inserted fingers in a circular motion, trying to keep lots of pressure around the area you're working on. If you feel a bit awkward or wish her to experience more stimulation, replace your tongue with an oral imitator - it's so intense she'll arch her back in mere minutes.
Knocking On Her Back Door
After you've fingered her clitoris and G-spot, and she's well aroused and lubricated, it's time to expand your play inside the backdoor ("The Spocker" technique). Smear the pinky finger with her natural lube, or use one from this comprehensive list, then slowly insert the finger into her bum. Just a tip at first, then inch in slowly until you feel her relax and let you in further. When the pinkie is fully inserted, stimulate all her inner hot-spots with the pressure of your hand. You can take the experience to the next level by inserting an anal plug in her booty (you'll find some amazing goodies for anal play here), freeing your fingers for G- and C-spot stimulation.
Signs you're doing well: Her rectum is relaxed and "opened up."
I Recommend
Consistent fingertip pressure against the G-spot from the rear provides more focused contact and makes a G-spot massage much more intense. To make said pressure even more pronounced and satisfying, choose a plug that will restlessly massage her inner O-zones.
Making Her Squirt With A Snap Of A Finger
One of the reasons why manual stimulation is such a rush for women is that nothing delivers a squirting orgasm better than your fingers. (You can get the scoop on gushing climaxes in this guide to squirting.) Use your middle and index finger to produce hard, uninterrupted thrusting, pressing the front of her vaginal wall where you'll find her G-spot. While you continue to please her with the one hand inside her, use the other to create pressure against her pubic bone to stimulate the G-spot from the outside. This combination creates the perfect equation for a big, fat, gushing O.
Signs you're doing well: You can feel her pelvic floor contracting, and when she cums, she's gushing a pure, odorless fluid.
I Recommend
Find her favorite style of thrusting: While sliding your fingers in and out, change the rhythm and pressure, and experiment with different angles of penetration. Choose a glass wand with voluptuous texture to bring your thrusting experimentation up a notch.
Handy Tips:
Get Feedback From Her Body. Keep an eye out for anything that deepens her breathing or makes her moan. If she pushes against your hand, it could mean she wants more pressure, speed, or more direct contact on her clitoris. If you're touching her clitoris and she pulls back, try caressing it more gently. Dial it back.
Make A Collection Of Her Favorite Techniques. Remember what she likes (you can even write things down) and the next time next you're fingering her, give her what her body craves. Not only will it bring her closer to orgasm, it will also show that her pleasure is very important to you (a huge turn-on for us girls).
Follow The Rule Of 20 Minutes. Don't hurry her or try to pressure her into having an orgasm. Practice fingering for about 20 minutes. That's plenty time for her to become relaxed and receptive to pleasure.