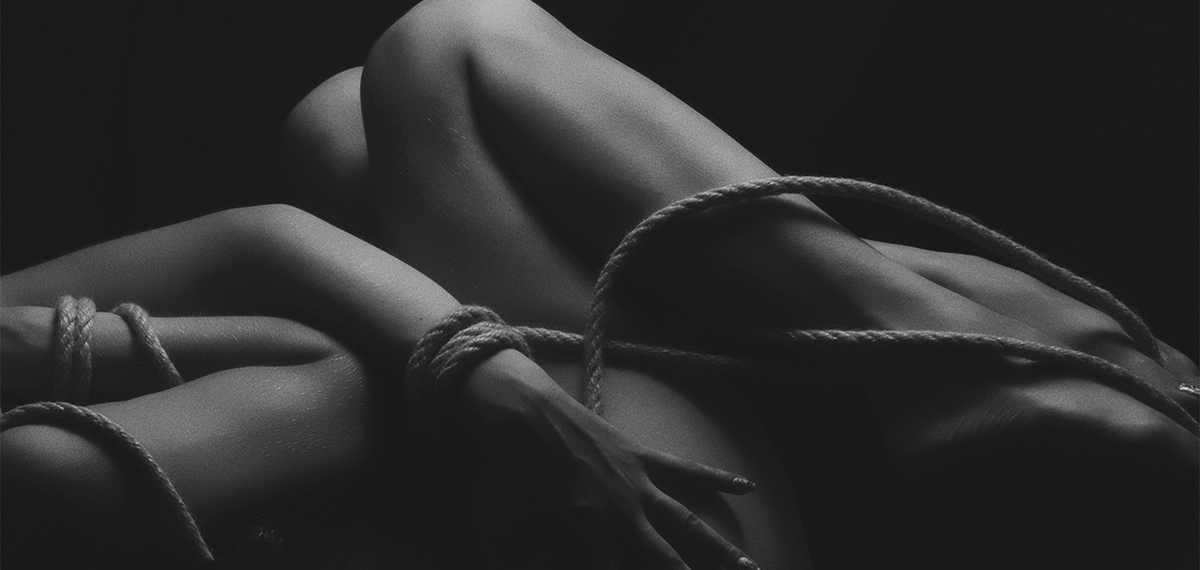 Knotty Tips On How To Do Shibari
Welcome to the world of sexy Shibari! Rope bondage (otherwise known as "Shibari") opens new doors in intimacy and is a super-exciting way to restrain your partner. If you hang around sex-positive spaces, it'll only be a matter of time before you see photos and videos of people engaging in rope bondage - and we promise, it's going to look amazing enough that you'll want to dive right in yourself!
Guide to Shibari
Shibari can be a life-changing erotic experience for couples craving new sensations; it can also be a significant level-up in BDSM play. But you should know that it is an advanced method of bondage that requires some practice to learn. Shibari isn't something you can just jump into on a whim.
Wanna tie all those beautiful knots you've seen on the pictures? Learning is the key. Spend two or more hours of practice on basic ties and several hours of educational reading.
Emergency Situations
More than anything else, you need to prepare for any emergency that might happen - and ensure your bound partner will still be safe.
The first step in doing this is by having safety shears nearby. Safety shears are a pair of scissors that have a blunted end which avoids harming the person while cutting off things. Primarily used in first aid, these shears are cheap. Just make sure they can cut your rope of choice - and once you know that, make sure you keep them within arm's reach during any scene.
Secondly, you should ensure you do a thorough negotiation with your partner before practicing rope bondage. Know their basic health issues and how it might affect their experience. Have they eaten today? What about sleep or stress? How are they feeling today? Knowing such things can be vital if you want to ensure safe and pleasurable play.
Use Rope Meant For Sex
Yep, rope from the local hardware store is cheaper. There's a huge reason for that: rope from the hardware store is bulk crafted for industrial purposes. It's always at hand, but it's not what makes Shibari sexy - it feels bad against the skin, can scratch, burn, and even cause an allergic reaction. The knots made from the industrial rope can be too thin and difficult to untie, which is dangerous for rope bondage.
Why not choose a rope that's designed for Shibari? It is safe, soft, durable, feels and works great for this purpose, and it certainly looks sexier!
Temptasia bondage rope 32 feet
Temptasia bondage rope 32 feet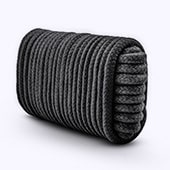 Check In Often
Throughout the scene, check in to see if they're still feeling good - a slight angle adjustment might make the difference between "tolerating some light discomfort" and "being entirely focused on the pleasure".
A simple "How are you doing?" or "Is this too tight?" while tying can make the difference between a neutral experience and a great one.
Know The Nerves
One thing you should always care about in Shibari is your rich with nerve endings skin. While most of us never think about nerves in day-to-day movements, too intense tying and using an unsuitable rope can irritate those sensitive nerve endings. Opt for a rope made of soft natural material to protect all the sensitive areas and do not tie the rope too hard.
Start Small To Go Big
We know it can be tempting to try some of the kinkiest, sexiest stuff you've seen - especially when you're inspired by some hot photos and videos of tying the ropes. Knowing your skill level - and where you can safely play - is a large part of Shibari. Play within your realm, and any risk of danger is drastically reduced. Be cautious, be safe, and be aware of your own knowledge.
Now you know exactly how important safety is. With safety in mind, we're ready to get to the fun stuff: the knotty tips on how to do Shibari in BDSM!
EdenFantasys recommends:
Before anything else, pay attention to the safety of your ropework. If you're iffy on whether you tied it correctly or if your partner seems uncomfortable, untie immediately. You can always retie later - after your partner is safe.
Start With The Basics
Now you are ready to learn the basics. "The basics? What? How boring" - this is what you may say. But this is where the fun begins! There are two basic techniques that make up the start of most more-complicated ties. And they also are so functional that you might not need to learn another tie once you master the basic ones.
That is - the single-column and double-column tie. Tieable in less than a minute once you learn them, these two basic ties allow you to simply restrain your partner to anything.
Single-column Tie
Essentially, a single-column tie is a "cuff" you can put anywhere on your partner's body. This "cuff" will allow you to use all of the leftover rope to tie the "cuff" to anything. It's entirely flexible bondage. Whether you choose to tie that cuff to a chair leg, table, or anywhere else, you'll have a simple, safe tie that can be used to accomplish virtually any basic bondage ideas you have in mind! Tie your partner's hands, put a ball gag in their mouth, put a blindfold on their eyes - now, when their body is fully yours, you have the power to make them love Shibari even more.
Kinky lust kit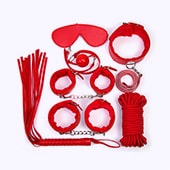 Double-column Tie
Now when you know how to tie a basic single-column tie, it's time to double the fun - and learn the ropes of a two-column technique. It's basically used for tying together two hands, two wrists, or a hand with a wrist - the effect is similar to the sensation when you wear a pair of cuffs. If you are a beginner it's a good idea to start with classic handcuffs to get a grasp of how it feels. As you become more experienced you can combine tying legs with a rope while wearing cuffs on your hands.
Wanna get some extra practice in Shibari? Get a bit creative and try to tie yourself. Self-play ensures you know what you're doing long before you ever ask your partner for a bondage session with you.
Tie me softly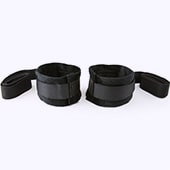 Learn Tension
One of the biggest mistakes that newbies to Shibari make is inconsistent tension. If you aren't careful about managing the tension on your rope, some parts of your ropework will be tight enough to be painful (and that's no fun!), and other parts of your ropework will be so loose that they'll slide off your partner as soon as your partner moves. Learning proper tension is one of the first things you can do to improve your ropework.
As a general rule, your ropes should be tight enough that you can only comfortably slide two fingers underneath them. As mentioned above, make sure to check in with your partner too. While the "two-finger" rule is a general rule, your partner's comfort always supersedes that.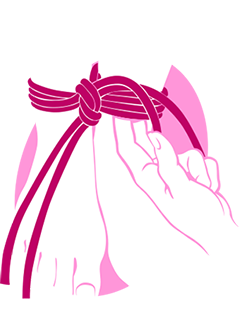 Think "Cause And Effect"
As you get used to tying, spend time thinking about the cause and effect of the rope. Much like a lot of BDSM scenes, you can really improve your scene if you think ahead. More rope means you need to spend more time thinking about it - because more rope requires more experience. But it also offers more possibilities!
First off, think about the tie you want to put your partner in - then think about how your partner will be positioned from there. For example, any bondage harness that has your partner's hands behind their back will be uncomfortable (and dangerous!) to have your partner lie on their back for play. If you have your partner standing with their arms tied above their head, keep blood flow in mind because sooner (rather than later!) your partner's arms will start to lose blood flow and give that uncomfortably painful tingling. Planning ahead for these things and choosing ties that work well for what positions and activities you want to do is a large part of getting good at Shibari.
After you've sorted that out, think about where else the scene might go. Will you want to move to sex? If so, will your current tie be comfortable for sex, or will you need to untie or retie? Should you tie your current planned tie in a different way in order to make it easy to accomplish this transition?
When in doubt, just use the bed! A spread-eagle position, with single-column cuffs on each limb that are attached to the bed frame, is a very comfortable rope bondage position that can be held for hours for many bodies. More than that, it is very sexy and so you will have easy access for teasing all their sensitive hot spots.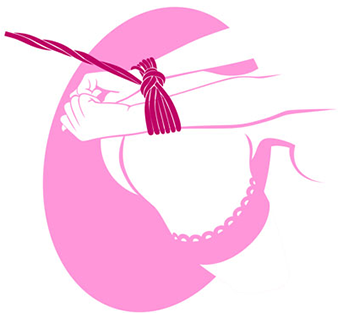 Remember Rope Doesn't Have To Be Binding
While a lot of us get into rope for the idea of restraint, that's not its only purpose! In fact, rope can be used for a lot of things - including decoration. Every piece of rope you slide against the skin doesn't need to have the end-goal of "restraint". In fact, a lot of people just enjoy the sensation of rope fibers against the skin - like a comforting hug made from rope. Plus, a lot of decorative rope ties can be used for under-the-clothing public play purposes! Tie a cute rope corset on your partner before they get dressed to go grocery shopping, and no one in the store will be any the wiser! Or just imagine how steamy can be your foreplay - with a rope corset on her breasts and sexy fishnet stockings on her legs. Isn't that hot?
Lace top fishnet thigh highs with backseam
Lace top fishnet thigh highs with backseam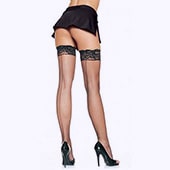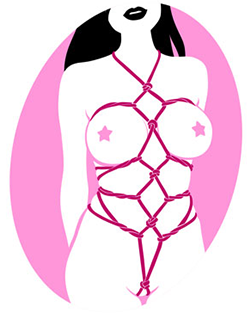 Practice With Decorative Ties
A lot of people love Shibari because of the beautiful designs that strands of rope can make. After all, just look at some of the most-popular Shibari photography out there. It's almost a form of art all to itself. For that reason, a lot of people resonate with the beautiful, artistic look of rope bondage.
Learning Shibari is, well, learned skill! The ropework you start with is probably going to look like a beginner's work. It might be functional, and it probably ties up just fine, but learning the finer points of Shibari and rope handling slowly will begin to elevate the visual beauty of your ties. To practice this, you can spend some time on decorative ties or even sashes - and focusing on making them look good.
When a Shibari tie's purpose is purely ornamental, it will force you to pay attention to rope spacing, rope tightness, and handling in order to make the final product look as best as possible. Plus, a lot of decorative ties can be entirely self-tied - which means you can tie them on yourself!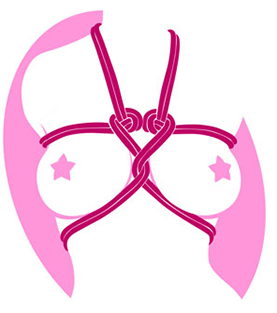 Experiment With Other Sensations
Especially when you're new to rope bondage, you might assume that "rope" needs to be the focus of the scene - or feel bad that you didn't spend more time with the "rope" part. Remember that rope is just a tool we're using for our scenes. The rope doesn't necessarily need to be the center of the scene at all! Enjoy using rope for its intended purpose (binding, decorative, or otherwise), and allow yourself to move onto other delightful activities.
All of my heart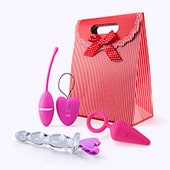 This is where your "Cause and Effect" thinking will really come into play. After all, we want our partners to be comfortable while we're playing with these "other parts" of the scene, so make sure your rope bondage is conducive to that.
A lot of activities lend themselves well to the enjoyment of rope bondage. Sexual pleasure is one. If you and your partner have negotiated sexual pleasure in your scene, don't feel shy about including that pleasure once your partner is tied up! This can be a great time to pull out favorite sex toys and ensure they don't have any "choice" but to indulge in pleasurable sensations. (In fact, consider a single-column around your partner's waist and then tie the ends onto their favorite wand massager to keep in nicely "in place" for pleasure! Told you, single-columns are useful!)
Rechargeable Hitachi style wand
Rechargeable Hitachi style wand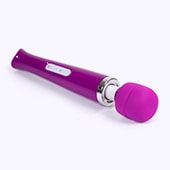 Sex isn't the only option, though. Rope bondage lends itself to impact play (like spanking!) and wax play as well! It's also a great chance to tease them with some sensation play - like blindfolding your partner and using various sensual objects (ticklers, ice cubes, feathers, etc.) to completely sensitize your partner's skin. Wanna make Shibary even more ecstatic? Explore this guide to sensation play to awake all your senses.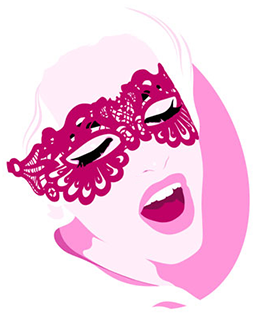 Find A Group Or Education Base
If you find a passion for Shibari, you'll likely thirst for more. Lots of people have been in your exact same spot!
The best way to learn more, by far, is by finding your local rope bondage group. Quite a few areas have meet-ups of riggers (people who love tying rope) where they come together to learn new things, discuss things, and practice some gorgeous ties. This is where you find a group of people who will understand your passion and help you learn all of the things to ensure you have fulfilling (and safe!) rope bondage scenes in the future.
However, not everyone finds themselves within driving distance of a rope bondage meet-up group. If you find yourself in that category, visit all thrilling discussions of our forum where our smart contributors share their insights on Shibari. Either of these options will provide a decent base of knowledge that will allow you to practice and grow.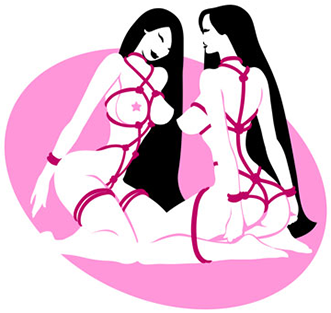 Either way, with a basic grasp on Shibari, there's no reason you need to do more unless you want to. Shibari can become an all-encompassing kink if you want to put in the time, but it also can be a very functional tool for bedroom play as long as you master the basics.
Experiment with Shibari, figure out how much it speaks to you, and don't be afraid to delve in if you find it's a good fit for you - and don't be afraid to just leave it at a single-column and double-column tie if that speaks to you too!