Have you seen what new, sexy products have hit our virtual shelves this week?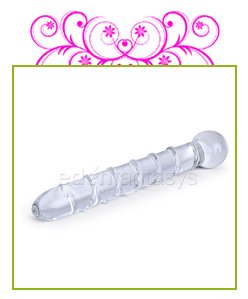 First off, the
Icicles No. 1
is here to astound, amaze, and excite you. This glass, double-ended dildo features a swirl texture along the shaft with a bulb on the end of this 9" toy for easy handling. It comes in beautiful packaging, and this body-safe dildo is Number 1, so see if it brings that much pleasure to you!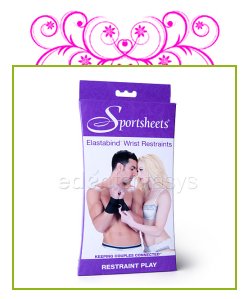 The
Elastabind Wrist Restraints
were also released this week. Sportsheets manfactures this large cuff that fits both of your wrists together to hold them in bondage. These elastic and nylon cuffs make bondage extremely easy to do.
cherryredhead88
reviewed the cuffs and says "I must say these are much more comfortable, and they absolutely drive my nuts when paired with a blindfold."
MegaMeggs
also throws in her review and says "I VERY, VERY much enjoyed the feel of the cuffs on my wrists; unlike other cuffs, these ones actually felt like someone was grasping my wrists, the fit was so tight."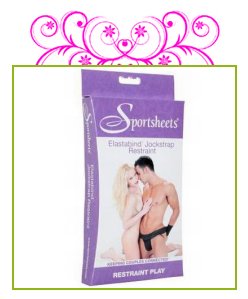 We're also carrying the
Elastabind Jockstrap Restraints
now. These restraints feature wrist bondage holds on a jockstrap made of elastic and nylon. People seem to be excited about this one, and if you're curious about some of the fun ways to use it,
Madeira
gives a lot of great suggestions in her review: "It can be used several ways: you can restrain the partner wearing the jock strap in the cuffs thus preventing them from getting handsy (for about 5 seconds should they wish to escape), or you can restrain the partner not wearing the device with their arms around the wearer forcing them to hug/grope the ass of the wearer, or my personal favorite - you can restrain the other partner behind the wearer, buy ten of them and get a bondage conga line started. Seriously though, with a little creativity you can come up with something."

Does Sex in the Shower sound like a fun time to you? Sportsheets just made it even easier to have that fun time with the five new products that are on our shelves this week! There's the
Waterproof Mini Massager
, the
Waterproof Silicone vibrator
, the new
Knee Pads
,
the Double-Sided Suction Cup
, and the
Vibrating Mesh Sponge
. With all of those new ways to enjoy your shower sex (along with the products we already carry), bath time may never be boring again.

What other fun, sexy toys do we have coming out this week? The
Soft Blindfold
is now offered in a pretty bright pink while the
Soft Cuffs
are now available in a baby pink. The
Bound by Diamonds Ribbon Eye Mask
is now available, and the
Tantus Little Flirt
is now available in red now too. Along with that, we're now carrying a unique male masturbation sleeve called the
Si-X Type H Sleeve
.

One
EdenLink
company this week added some upcoming products to their profile. While you can't purchase these quite yet, you can definitely add them to your wishlist and keep an eye out for the future sexiness. So who uploaded products this week? It's Liberator! I know you guys were really excited about upcoming Liberator releases last week, and this week Liberator put up the
Pulse
, the
Whirl XT
, and the
Jaz
. Lots of new ways to enjoy sex positions are coming here to EdenFantasys soon!
So which one of these sexy new releases are you excited about?