EdenCafe is having a great giveaway this week! Have you ever wanted to try our Liberator shapes? (of course you have!) Well, we're giving away three of them on
EdenCafe
! Not only that, but we're letting you choose between three different shapes! How amazing is that? You get to choose from the
Liberator Wing
, the
Liberator Axis Hitachi
,
Liberator Pulse
, or the
Liberator Bon Bon
. Such great choices!
Why should you enter the contest? Well, the first place winner will get their choice of TWO of the
Liberator shapes
for toys! That's right: two! Second place gets their choice of one Liberator shape, and third place gets a $25 EdenFantasys giftcard that they can put towards their purchase of whatever they'd like. I definitely think this is an amazing giveaway that you need to enter at
EdenCafe
!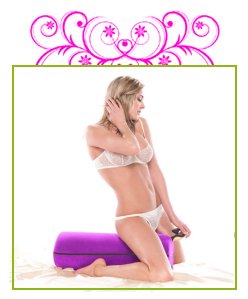 The
Liberator Wing
is supposed to be the ultimate in support for hands-free pleasure. This Liberator shape is a long, cylinderical shape that features a vibrator and dildo slot on one end for pleasurable riding while the opposite end includes a slot to slide a vibrator in to make the entire mount vibrate.
The descriptive review of this unique shape gives an interesting viewpoint and says: "I know I've said it over and over again but The Liberator Wing really is just amazing. Anyone can use it, male, female or other. It lets you enjoy some of the things you sometimes miss out on when playing solo and couples will delight in living out DP, threesome fantasies or just including The Wing in a foreplay performance."
Sydvicious
gives it a pretty high seal of approval and says "I L-O-V-E this wing. It has to be one of my top 3 most used toys for solo play and one of the top 10 for partner play. I am in love with the fact that I can make almost any toy hands free. With a partner I use the shape to help prop myself up. It's the very best liberator shape!"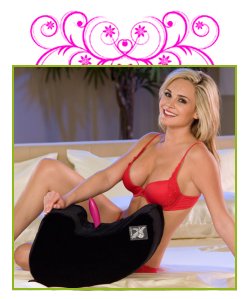 The
Liberator Pulse
makes it easy to enjoy dual stimulation with a rocking motion! The mount provides an easy space to prop up toys for riding use while the curved bottom of the Pulse provides a way to rock up against the shape during use. The Pulse has two different clitoral vibrator pockets that allow you to switch up which way you ride this shape, and it also offers a deep and wide insertable pocket that lets you put in flared base and non-flared base toys!
BigDaddy10
talks about this sex toy mount and says "My wife loves this; she is able to straddle her toys with no problem and it feels like real sex to her. This toy is also good for her to rest on, and we use it together. I suggest that if you are looking for a new way to enjoy your toys hands-free this is the one to get."
LadyA
gives the Pulse a 5-star review and also adds "The Pulse is a perfect addition to my sex toy collection and my Liberator stuff. I am now the proud owner of another Liberator product that wows me every time I use it. I recommend it to all the ladies who want to ride the night (or day) away with ease and hands free fun and don't worry fellas! The Pulse can be used for you as well. If you like to ride, well you just have to spoil yourself with the Pulse."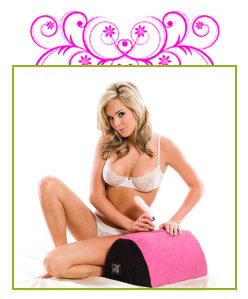 The
Liberator Bon Bon
is a half-circle sex shape that features a strong, firm core that doesn't bend under weight. This shape includes a hole to insert your flared-base dildos or vibrators for easy, hands-free riding. With all of the colors that the Bon Bon comes in, it's easy to find one of these candy-colored shapes that appeal most to you. Whether you are male or female, if you enjoy straddling and riding toys, the Bon Bon makes it easy!
Girl With Fire
gives this Bon Bon a 5-star review and says "I absolutely love my BonBon! My absolute favorite way to use it is to straddle it on the floor and use the edge of the bed to support my upper body when needed."
Passion QT
gives the Bon Bon a good score and says "Whether you want to use it for solo play along with your favorite toy or with a partner to make select positions more comfortable, the BonBon is a sweet treat for either sex to use. Its soft, faux suede cover gives it a luxurious velvety soft touch to the skin."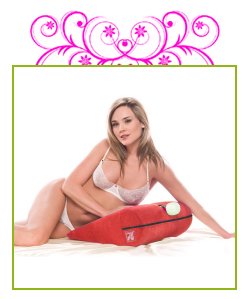 Last but not least, we have the
Liberator Axis Hitachi
. This sex shape was especially created in order to hold the Hitachi vibrator for optimal, hands-free use. The Axis Hitachi even includes an exit hole for the cord as well as a vinyl window to allow you to easily control the vibration speeds of the Hitachi! What a great idea for hands-free fun with this classic vibrator!
Darling Jen
gives the Axis Hitachi a great review and says "This little shape is pure genius! You know how truly awesome the power of a wand is, right? How about you try encasing it in a Liberator shape for some positioning creativity! This shape may not be very discreet if left out for company viewing, but it is multi functional in its lounging support. I absolutely love it!"
So did you enter the
Liberator Shapes for Toys
giveaway? You totally should. In the mean time,
which one of these Liberator shapes for toys would you like to make sweet love with?