I feel so stupid posting this here - but here goes.
As many of you know, I'm 51 and I live in a small conservative town. Up until a few months ago, I always thought that showing ANY cleavage was "indecent" (I was brought up by a very very strict mom).
I would love to wear some of my corsets, etc. that I've gotten on here - but not as they are. They don't fit me well enough to wear them "as is" and I feel like I either need to wear something "over" them like a shrug (only with a bit more modesty) or something under them. But I have no idea what to wear with them.
My daughter loves her velveteen one from Coquette and wanted to go with sort of a steampunk look (which she hasn't quite achieved yet) - but here she is trying it on with a blouse.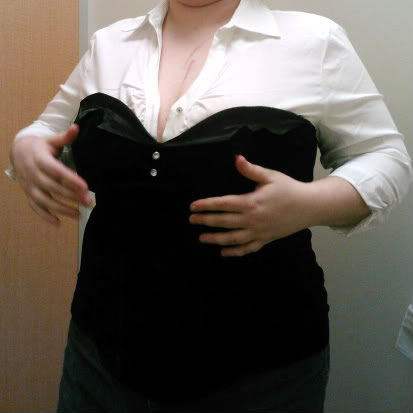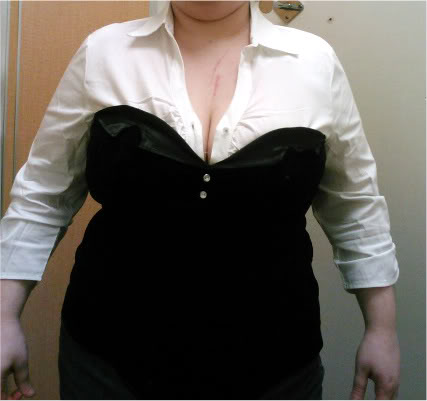 I think I need something like this - but I don't wear white because I'm warm-toned (she's cool-toned like her dad) so I tend to wear creme and ivory. I do wear a lot of red and purple, etc. but don't know what to put with my corsets.
The ones I'm talking about in particular are:
link
link
and this one I'd love to be able to do something with:
link
I also have these on order and due in on Thursday:
link
link
link
Is there some way I could wear these and still be "modest"? I don't want to wear them JUST in the bedroom....
Please - when making recommendations - be specific. I'm a size 18/20 in the top (used to wearing 22/24 to "hide"). Should I have a collar? v-neck? (a crew neck looks horrid on me).
Should I be looking for a t-shirt type material or dressy? (I hate dressy).