(3x/4x) Bombshell or Bombed? I can't quite decide!
Why am I linking to a Coquette item at the bottom of this review? Because the fabric of the two pieces (this and the Coquette piece) have exactly the same feel on my body. This piece has GREAT cup support and wonderful padding.

For the price, it is a great value and worth the risk - IF you have someone to help you hook it up in the back. .
Published:
Pros:
Very comfortable fabric
Great cup support
Cons:
Needs hand washing
17 hooks
G-string
I fell in love with this piece from the first moment I saw it. It reminded me of a friend who participates in Roller Derby and it looked like something she (or one of her teammates) would wear. It was bold and purple (I can't resist purple) and just screamed "notice me".
But it was from a company that I knew nothing about. Would it run small? Large? What was the quality like? Even after I found their size chart on their website I wondered just how accurate it was.
When it came time to do my
buyout reviews
this month, I decided that I HAD to have it. I figured that at $25.99 it wasn't that bad of a price but at $18.19 (my price for the buyout) - it was a steal. Since Eden Fantasys has a wonderful return program with awesome customer service - it was worth the gamble.
What this is...how to wear it
I decided to go to
wikipedia
for tips about wearing a bustier. I wasn't exactly sure how to wear it. As it turns out, it can be worn as a bra under a dress, as a slip or as a camisole for outer wear. You could also take this and use it as part of a costume or simply wear it to seduce him at bedtime.
Materials & Care
The tag on this item is so cute! It is made up of two pink ribbons that are about 3" long. One states the brand name and the second tag states that this is 90% polyester and 10% spandex. This item needs to be hand washed in cold water. The tag says "Do not bleach. Do not iron. Line Dry."
This is one item where I think I'm going to follow the instructions and not wash it in the washer. I suppose that it could be done but I'm not sure if I would want to risk it with the ribbon bows on it.
Design
It is so hard to describe this because there are so many parts to it. First of all, this bustier has a halter top which is formed by 1" wide ribbons that tie behind your neck. The ribbons are almost 27" long.
It has padded cups that have underwire support. The cups are actually very comfortable to wear.
There is plastic boning in this and I hope that the picture below will show you the distance between the boning in a way that you can understand it. Please feel free to ask questions if you need more help!
The total width of the corset unstretched is a tad bit over 39" but I was able to stretch it out over 45" with one hand.
Between the cups, the length of the corset is 18". From the top of the cups to the hem it is about 20". The back is 15" long of which 3" is the skirt portion.
Down the back, there are 17 hook and eye closures with three settings so you can adjust them. The total adjustment area is 1" wide.
The garters are detachable and adjustable. At full length they are approximately 11" long with an additional 3" where the purple ribbon is over the part that attaches to stockings.
Clear as mud?
Close-ups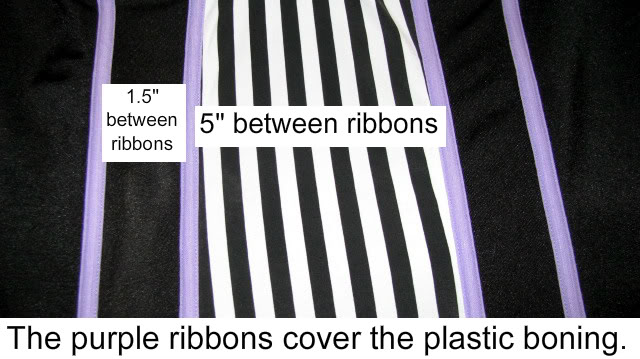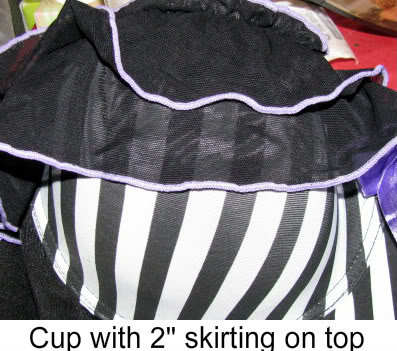 Front: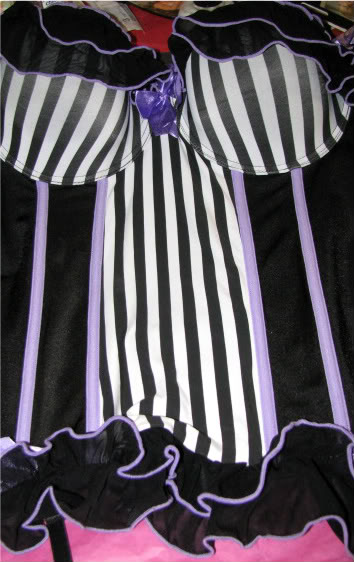 Lined insides: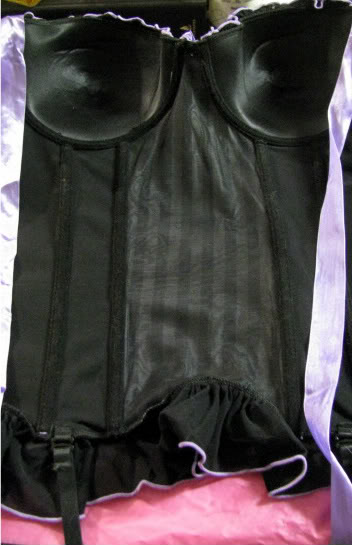 Self-explanatory: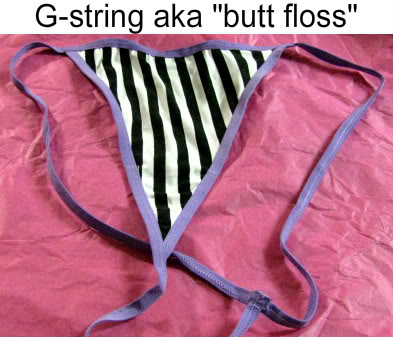 I thought the tag was so cute I just had to share it.

Sizing
According to the company's
size chart
on their website, to wear this size I should be able to wear size 18-20, have 48-54D or DD breasts, have a waist of 40"-44" and hips of 50"-56". I've recently discovered I was wearing tops that were too big for me and I should move down to 18/20 tops so that was ok. My bra size is 44D so that would be a good fit. My hips are 57" which is 1" more than what they said - but I knew this had spandex in it. The big question was - could it stretch another 5" for my waist?
Pictures
Ok - here comes the scary part. For those who are wondering about the length, my torso is between 18" and 19" long.
Front: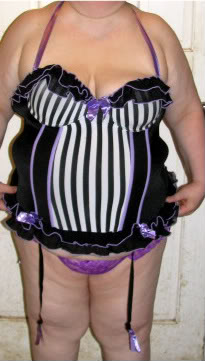 Back (he didn't tell me the skirt was up - he had other things in mind....last time I have the hubby help me photograph things!: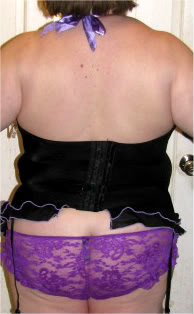 Side: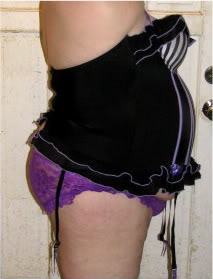 Close-up: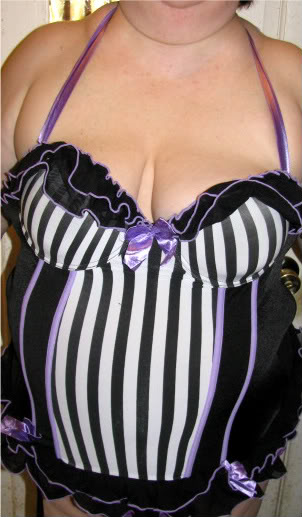 Experience
So am I a bombshell or did it bomb? In my eyes, it was a bit of a "bomb". I love it and think that with a loss of 20-25 pounds, it would look much better.

My husband felt like it was an 8 on a 1-10 scale. He loved the fact that he could untie the halter ribbon and expose my breasts.

The day this item arrived, I was able to wear it for a couple of hours because he wasn't around.

After he took pictures of it I was unable to wear it for long. For some reason, the ribbon just wouldn't stay tied and the hooks wouldn't stay fastened. My husband had turned into an international playboy - you know "Russian hands and Roman fingers". (You have to say it out loud to get it - and no offense is meant towards any nationality or ethnicity).

I would say that this 3x/4x piece fit about as well (ok tighter) than the piece I've linked to below when I got it in 1x/2x from Coquette - at least in the breast area. So I'd say this brand runs a bit smaller than what you'd expect.

For those who are wondering - the underwear is from Walmart - for $4.99.

I'm giving it 5 stars after lots of consideration about it. First of all, it is a good value for the price. Secondly - he loved it and thirdly - with a loss of 25 pounds (since I'm trying to start a walking routine and lose weight) - I should be able to rock it. So I was looking at its potential.

I'm dying to read everyone's comments.
This product was provided at a discounted price in exchange for an unbiased review. This review is in compliance with the FTC guidelines.

Thank you for viewing
Bombshell bustier and thong
review page!