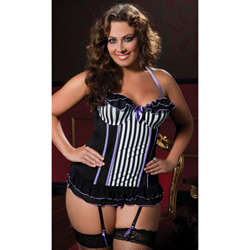 Bombshell bustier and thong
Bustier
by Seven 'til Midnight
This bombshell was a bust
If you are a plus sized woman STAY CLEAR. Otherwise, a wonderfully colored piece that would look great on a smaller woman.
Published:
Pros:
beautiful colors
Cons:
does NOT run true to size
I was completely excited to get the chance to review the Bombshell Bustier and Thong. I mean look at it, it's gorgeous! I checked the size chart for Seven Til Midnight on their website and saw that the 3x-4x would be the best choice for my sizes which are as follows:

Bust: 45in (C cup)
Waist: 41 1/2in
Hips: 53 1/2

Seven Til Midnight claims their 3x-4x has the following measurements:

Bust: 48in-54in
Waist: 40in-48in
Hips: 50in-56in

As you can see, my measurements clearly fit in those parameters.

Normally, I am able to comfortably fit in a 1x-2x so this immediately told me their lingerie runs small. Anyway, I placed my order and began the tedious wait for it to come in. I figured since it should arrive right after my 1 year anniversary, it would be a good 'gift' for my BF. Well, it came in and I literally ripped open the box, ran into the bedroom, stripped off my clothes and -attempted- to put it on.

There are 3 rows of hooks. I was attempting to put it on with the LAST set of hooks, making it the biggest it could be... I couldn't hook them all the way down. It took me almost 10 minutes to get it twisted around (if you've ever put on a bustier, you'll understand...). When it was in place, the plastic boning bubbled out in random places, it was so tight I couldn't breathe (mind you, I wasn't even fully buttoned!), and it just didn't look good.

Even the boyfriend who usually says everything looks good on me said it looked bad. I took it off (after taking the 10 minutes to get it turned back around) and tossed it frustratingly on the bed.

If my horror story hasn't turned you off from this piece, I'll give you some specifics. Here are the measurements of it laying flat.

From one side to the other it's 15 inches.
From top to the bottom without the ruffle it's 15 inches.
From top to the bottom with the ruffle it's 17 inches.
The ribbon straps are 27 inches long.
Garters are 13 inches long.
Thong is 18 inches across and 9 inches down the middle.

The piece (if it came in the size it claimed) would be a magnificent piece. The colors mesh so well together and I am sure it looks amazing on a smaller woman. On a woman of my 'girlish figure' however, it looks bad.

Final note, don't waste your time if you are over a size, oh let's say 14. Unless of course, you like looking at it hanging up on a hanger in your closet!
Follow-up commentary
2 months after original review
It still doesn't fit, even though I have lost a few pounds and sucked in my tummy as much as possible!
This product was provided free of charge to the reviewer. This review is in compliance with the FTC guidelines.

Thank you for viewing
Bombshell bustier and thong
review page!