There take, says Justice, take ye each a bombshell. (XL)
This set is really a great value. You'd be hard-pressed to find another item of this type and quality at this price. On top of that, it's super comfortable AND has good bust support! What comes to mind style-wise with this piece is, "If Tim Burton designed lingerie."
Published:
Pros:
GREAT value, Comfortable, Breast support, Flattering, Flirty, Detachable garters, Thong fits(me)
Cons:
Doesn't come in smaller sizes, Slight buckling, Difficult to put on
This is another piece I bought because of a Hot 'N Sexy TexasMama review. Once again, I was not disappointed, the woman knows what she's talking about. I wasn't a fan of it when I first saw it, but it definitely grew on me (as you have probably surmised, as I now own it and am giving it five stars).
Okay, so this set from Seven 'til Midnight comes with the following: One bustier, matching thong, and four detachable garters with matching purple ribbons. The packaging is standard enough: A snap-shut plastic hanger bag. I keep my items in these for storage whenever I get them (this is a hand-wash, line dry only item and the bag keeps the dust off).
This set is made of 90% polyester and 10% spandex. Here are the front and back views of the bustier, laid flat. The black panels of the bustier are only one layer of very stretchy, form-fitting, opaque fabric, while the striped panel is a layer of very stretchy material backed by a layer of very stretchy black mesh. THIS GARMENT IS VERY STRETCHY.
The cups, however, are not stretchy. They are honest-to-God, actual supportive cups. They are moderately thick but are not padded. They are fantastic.
Three rows of seventeen hooks. *sighhhh* Each row is half an inch apart.
I love the little matching ribbons on the garters. Also, the garters adjust to longer than any I've had. Hence, if your legs are five feet long, these garters have you covered.
I was expecting this thong to fit me (since the only other thong from a set that has ever fit me was from Seven 'til Midnight), and I wasn't disappointed. I guess that means all the women who can fit these ultra-long thongs won't fit this one.
The Seven 'til Midnight size chart isn't on Eden, so I've included it here.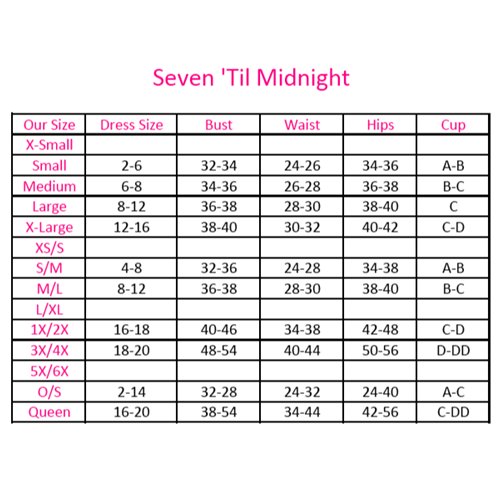 As you can see, the XL should fit:
Size 12-16
Bust 38-40 I'm two inches over and it's fine, so I'd say 38-42 is better.
Waist 30-32 I agree, but this could also fit up to 35 or so, but then you might as well order a 1X/2X.
Hips 40-42 I agree with this, give or take an inch or two.
Cups C & D Sounds good.
Me:
Size 16
Bust 42
Waist 32
Hips 42
Cups C
Personally, I love the way this fits, but I'm not trying to hide anything. This piece is going to hug any curves you have to offer, and the plastic boning isn't going to shape anything.
I love the bow that ties around the neck, and it provides a little extra bust support for those who want it.
I don't know if it's my special configuration of back fat or if it happens to everyone, but I've come to accept that hook-and-eye back = buckling. This has less than others I've dealt with, though. It's really not even as pronounced as it looks in the picture (it's not as bad when I put my arms down.)
Detail of the front: isn't it pretty? This is where I feel I should be writing more complaints, but I really don't have any (I wrote the experience section first, though that has more to do with hook-and-eye backs in general, rather than this specific piece).
Feel free to ask any questions in the comments, and I'll answer to my best abilities.
Experience
I was able to put this on like the
School Girl Bustier
(putting it on backwards, then turning it around), only this one was much easier, due to the stretchy material. Seriously, though, I want to know what's going on with all these kajillion-hook-and-eye backs that someone seems to think is a good idea. I can only imagine it went something like this:
Guy 1 (guy in charge of lingerie decisions):
"Well, women wear bras. Those have, like, two or three hooks in the back. If they can manage that, then they can manage HOWEVER MANY HOOKS WE CAN POSSIBLY FIT BACK THERE."
Guy 2 (useless assistant):
"That makes unequivocally perfect sense, boss."
Gal (useful, but ignored, assistant):
"That's stupid and makes no sense. Even if someone's arms could miraculously bend that way, the hooks you already have done would keep coming undone the higher you got up."
Guy 1 and Guy 2:
*Look at woman like she is a raving lunatic that is foaming at the mouth and yelling at them in Swahili*
Guy 1:
"So, the hooks, then."
This product was provided at a discounted price in exchange for an unbiased review. This review is in compliance with the FTC guidelines.

Thank you for viewing
Bombshell bustier and thong
review page!