(1x/2x) I wanted to like it...does that count?
When he sees it on me, his first thought is "sex". But this isn't an item that makes me feel sexy.

While it may be labeled "plus size" it is plus size in cup size only and needs to be lengthened about 2"-3" for larger women.

I really wish Coquette would learn more about the plus size woman. At least the quality is nice even if the style doesn't work for me.
Published:
Pros:
Love the colors and pattern
Nice quality of work
Cons:
Must be hand washed
No straps
Short length
I was very excited about getting this corset. I have their camisole that is made from the same fabric and love it even though it doesn't flatter my figure. So I thought I would buy this corset as a buy-out review with a 30% discount. It would still be expensive but I love red and I just HAD to have it.
I looked forward to it so much and I will say that it looks "ok" on me.
But it doesn't function the way it should and I don't believe it should be called a corset...which many other reviewers state also. It doesn't do enough to create the hourglass figure.
What it is … how to wear it
I googled some information on corsets since I wasn't exactly sure how to wear them and I found out a lot!
For one thing, corsets are often a favorite of brides on their wedding day to give them a better figure. They are also popular in the transgender community because they create a curvier, more feminine shape. They're frequently favorites of folks who practice BDSM because they constrict and can be used for domination.
They're worn as evening wear and to special events like class reunions. They're even used in the bedroom.
How you use this item is limited only to your imagination.
This item is currently available at Eden Fantasys in: S,M,L,XL, 1x/2x
Packaging
I must admit that I was a bit miffed when I paid as much as I did for this and it came with a cheap plastic hanger instead of the padded black ones I love from Coquette.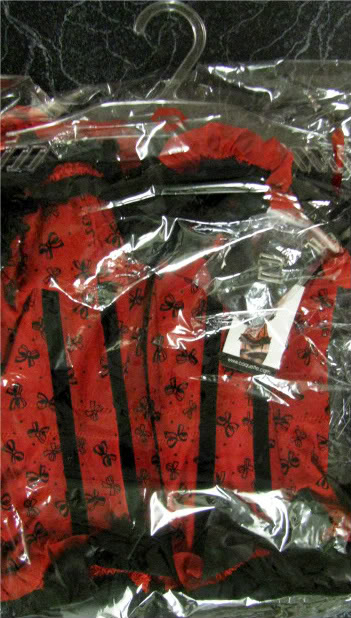 Material & Care
This is made of 82% polyester and 18% spandex and needs to be hand washed. Considering the boning and ribbons, etc. I think that is the way I'll wash it too - with most items I will use a lingerie bag in the machine on a cool delicate cycle.
Design, Sizing & Fit
According to Coquette, I should wear clothes that are sizes 18-22, have a bra size of 46-50D, have a waist of 38"-42" and hips that are 46"-52".
I wear clothes that are 18/20 and 22/24, have a bra size of 44D, have a waist of 49" and a hip of 57".
We can know right from that this is going to be VERY TIGHT in the waist if I can wear it at all.
But since I am trying to lose weight - I decided to try it anyway.
When you look at me modeling it, please remember that my torso is 18-19" and this item is 17" plus it is going to ride up a bit since I'm larger in the waist and hips.
Specific Measurements
center top of front to hem
17"
top of cup to hem
18" (because the hem rises up a bit)
width of front
19" unstretched
cup width & length
10" wide by 7" long
garter length
up to 6" long - stretchy elastic with METAL clips
There are 18 hook and eye closures down the back with two settings which gives you 1/2" for adjusting.
Close-up photos
Front boning with measurements: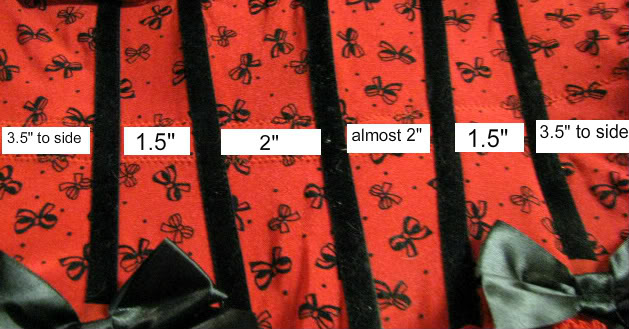 Close-up of boning and FLOCKED bows: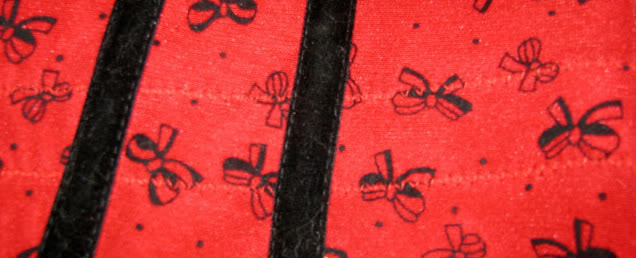 Close-up of cups:

Close-up of single cup so you can see lace: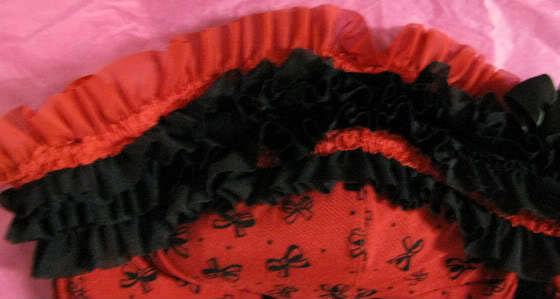 Looking at the inside as its stretched out: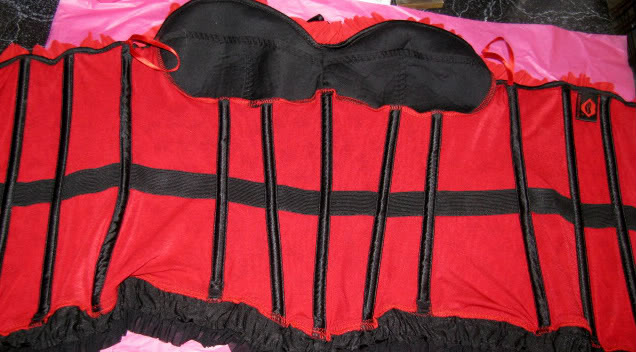 The bows are huge: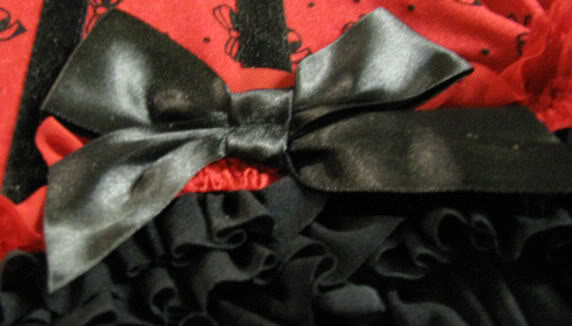 Close-up of the actual lace;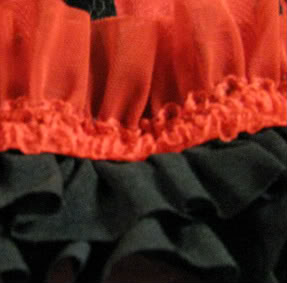 Close-up of the garters: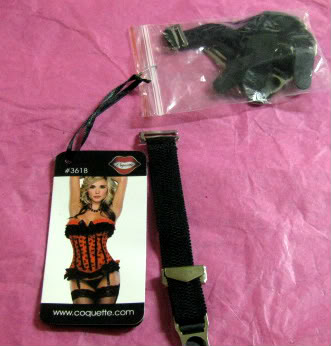 Modeling the Garment
Front: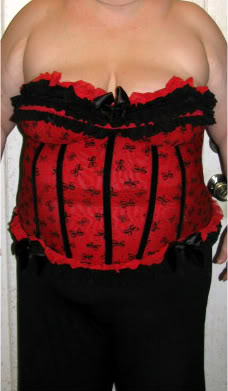 Side: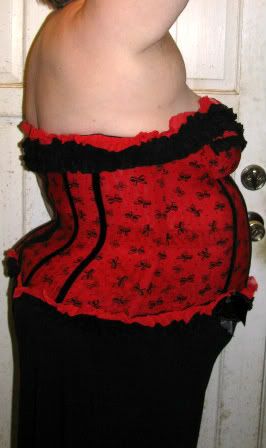 Back:
Breast Support: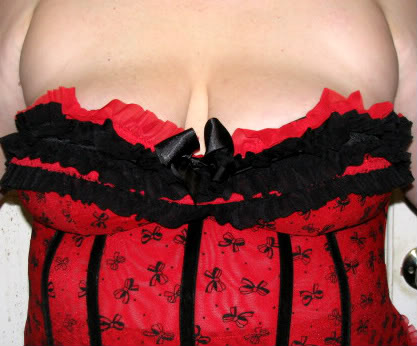 Experience
Comfort
On a scale of 1 to 5 with 5 being "awesome and comfortable to wear" and 1 being "itchy,scratchy and I hate it" - this would be somewhere around a 3 and I'm not discounting the score because it is tight on me. I knew it would be.
It isn't itchy and it doesn't hurt. But it doesn't feel comfortable to wear or like a second skin. Some of you may remember that the other day I reviewed the
bombshell bustier
by another company. Now THAT was comfortable to wear because it had a soft black lining that was close to the skin. If my husband and I hadn't been playing the "can he get it off while she tries to keep it on" game, I would have worn that all day.
I also want to point out that the bows on the fabric are flocked which means that they feel like velveteen. Some people may find this itchy on some items, I did not notice any problems with this.
Closing thoughts
I really wanted to like this item and in fact, I do like it. I just don't like it for me.
It isn't because of the tightness either - I can handle that.
I just feel sometimes like Coquette goes "oh...plus size - that means big boobs" and so they adjust the boobs or give us good support there but they neglect to remember that as a plus size gal, we may need a bit more length in an item.
If this were 19" or 20" and had straps - I'd love it. Even with the length it is now - if it had come with straps, I'd be much happier.
As it is, I feel ho hum about it.
If you have a short torso this would probably work well for you and I suspect that in the smaller sizes it may be more true to what a woman's body should be like.
I have no problems with the quality of the item - just the fact that it doesn't really feel like it was made for a plus size gal.
In other words -when he sees it - it might lead to sex - but it doesn't make me feel sexy as a woman.
This content is the opinion of the submitting contributor and is not endorsed by EdenFantasys.com

Thank you for viewing
Bow mesh corset
review page!