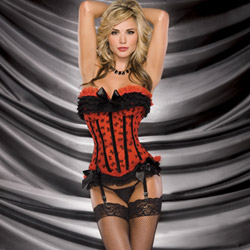 Bow mesh corset
Corset by Coquette
Bows Galore!
If you only read one thing from my review: get the next smallest size. This corset is beautifully made. It has a mesh body which allows for a lot of stretch. This is great for those who want to feel comfortable or need some extra room. But, it doesn't cinch the waist and make an hour glass figure because the material is a bit TOO forgiving. This corset is great for going out or for sex.
Published:
Pros:
Comfortable, well made, breathable material, sizing is forgiving.
Cons:
No underwire support, doesn't cinch the waist much.
I love corsets and have quite a collection of them. I also love the Coquette line because almost all of the pieces I own from them have fit like a glove. When I got my last Coquette corset, I was impressed with quality and wanted another one. I wanted a corset I could wear out doing what I do best, dancing! I chose this one because of the whimsical bow pattern and sexy accented colors. I didn't own any corset in red. I felt it looked a little less like bedroom attire than my other one and looked more comfy to wear out. I was able to do much more than dance in this corset.
You can read the review on that one
here
.
*Contents/overview:
This piece of lingerie is a plastic boned corset with garters. There are 11 pieces of boning and 4 garters. The garters are removable as well as adjustable. This was perfect for me since I wanted to be able to wear this out. The garters are easy to remove. They are also easy to reattach and adjust for wear with thigh high hosiery. Even though the pictures on Edenfantasys and the Coquette website show thigh high hosiery, it is not included with the corset. If you want to wear this with thigh highs, I recommend
these
or maybe
these
.
*Material:
This corset has mesh, lace, and satin pieces. It is made of 82% Nylon and 18% Spandex, which excludes the trim pieces. The boning pieces are covered in smooth black velvet which accent the vibrant red main body. The red has velvet bow decals and small polka dots all over. The mesh body is very stretchy and it breathes which is awesome for the dancing I do in it! The material is not itchy in any way. The insides of the bust cups also feel like a satin.
*Design/craftsmanship:
This gorgeous corset is boned with eleven plastic pieces each spaced apart to try and emulate the perfect hourglass figure. There are five in the front, one on each side and four in the back. The back has eye and hook closure for two different size settings, snug and snugger. The bottom and top of the corset have layers upon layers of black and red ruffled mesh. This helps to exaggerate the hour glass shape.
The brassier portion of the corset has two separate soft cups that are sewn into the corset. They do have padding, but nothing to provide extra boost. They also don't have underwire which is a drawback. The front of the cups has tons of mesh layers and a red lace piece across the cups.
In addition to the bow decals, there are three other large black satin bows. One is center, between the breasts. The other two are at the bottom in the front. They are positioned directly above the garters. I love these bows because I think they are super sexy, especially the ones above the garters.
Overall, the entire corset feel like it is made extremely well. I did not find any sewing mistakes, frayed strings, or loose ends etc. like I have on other pieces. In other words, this looks gorgeous! The tag says it was made in China.
*Cleaning/care/storage:
Caring for this corset is fairly easy. To clean, hand wash or bring to a dry cleaner. Use a non-abrasive, fragrance-free soap and water to spot clean the fabric. Air dry afterward.
Because it is not recommended to be machine washed. Make sure your hands are free of oils, lotions, makeup, lube etc. before handling it.
For storage, a closet in a cool and dry room, out of sunlight is your best bet for preserving this corset. Velvet easily traps moisture, so it helps if there is good air circulation in order to prevent mildew and mold growth if you don't plan on wearing this often.
Experience
*Sizing:
This corset is extremely comfortable! The stretchy and flexible mesh makes this corset perfect for extended wear. However, this is where it fails as a traditional corset. It doesn't bring in the waist as much as one should, but it still looks sexy and does retain some shape. If I were looking for a corset, by definition, I would have been disappointed at the performance of the boning, but since I wanted to wear this dancing, it was fine. It may not look like it in the pictures, but I could actually stretch this and fit an arm inside and still feel like it wasn't tight.
I got a large because my last corset by Coquette was a large and fit amazingly. This one ran big. I could have gotten a medium and I wish I had. I weigh ~150 pounds (~size 8); curvy but fit. The large says it fits size 12-14. This is true for non corset pieces by Coquette, but not for corsets. Their corsets usually run smaller by the nature of the product, but not this one.
I wore the corset on the smallest hooks because it ran big, but it was still too big as a corset. Again, still worked well for what I wanted it for though. It fit comfortably throughout, at the top, waist, and hips. The cups were a bit annoying though. They need underwire or firmer cupping, since there are no straps. Most corsets have a pushup to accentuate the hourglass figure, this did not. When I went out, I added a padded underwire bra for the support while dancing. It depends on the bra, but on average I wear like a 34 D.
I feel that the sizing chart for this corset isn't accurate due to the material. I re-did it as best I could for this size:
To achieve the best shape, the following sizes would be best. I am smaller than all of these excluding the cup size.
Large:
Dress size 12-16
C Cup
38-42 Bust
32-36 Waist
38-44 Hip
So, just add a few inches to each category in the size chart. Most likely, you will end up having a size smaller. If you have boobs that are larger than DD, I can't imagine this corset working in the non-plus sizes because of the lack of support. My boobs are still perky thank god, so I didn't minded the lack of support too much. I just needed it to go out. I also wish it was a tad longer. It measures 15.5" front the center of the breasts to the bottom of the last layer of mesh ruffles.
Here are some pictures:
*Conclusion: I'm giving this corset 4 stars because it isn't that great as a corset. It doesn't cinch the waist much at all. However, it is super comfy and is very sexy. It was easy to wear during sex as well. I could sit in it also which is a bonus, because usually corsets will cause a bit of discomfort in the ribs. The craftsmanship seems above average and the materials are nice. If you want a traditional corset that will hourglass your torso, move on.
Follow-up commentary
3 months after original review
I still love this corset! Again, it isn't the best corset in function especially since I'm even in better shape but I've worn it out once more and loved how breathable the material is even in humidity. It isn't the most bland corset haha so I can't wear it very often but I got many compliments and it matches my new black heels with red soles :). It has held up well and I don't see any seams ripping or lace fraying.

I wish they made this in more designs!
This product was provided free of charge to the reviewer. This review is in compliance with the FTC guidelines.

Thank you for viewing
Bow mesh corset
review page!