Can you love me forever?
I like to wear pretty things. They give such a boost to your ego. I think every girl should own one at least once in her lifetime. This corset may not be for everyone, but it sure did it for me. I'm proud to own this piece. I hope to have it for a very long time to come.

P.S.
I took pictures!
Published:
Pros
It makes me feel beautiful!
Cons
No strap option.
Sizing and Fit
I've had the chance to try on both a large and an x-large. As you can see on the table I've made, I fit on the high end of large. I must have ate a lot before I went to try it on, but for the life of me I could not fit into it. So I put it to the side. Now without having consumed a huge meal, I decided I'd try it once more. This time I managed to squeeze into it. I know corsets are supposed to fit tightly, it did just that, but I didn't feel comfortable in it. The bust was a tad bit too small, doing no justice for my boobs, making them look squished and stuffed in. The boning, which is lined in a black velvety material weren't as slimming as they could be. Most of the stretch will come from the side panels first, just because there's more fabric there.

After swapping out the large for an x-large, I felt so much better in it. My breasts were properly covered. The black lines covered a grander area, making me feel slimmer since I didn't have these huge disporportionate side panels. I have to do the hook-n-eyes up in front, then turn it around. When I did this with the large, it was a struggle to get it around. I'm pretty sure that over time, I would have ruined it due to frustration. Once turned around, I like to fix my boobs. I do this by grabbing them, pushing them up and pulling them to the center. I've gotten the best results that way.
Now there is a bit of padding in the bust area. Will this padding support or make the girls look perky? No, it will not. It's still nice to have though. Some people wish that this had underwire to help with support, but I'm glad it doesn't. One reason being that it gives easy access -- you can roll the top part down and
BAM!!!
your girls are free! Plus, I don't think it would fit as many body types if it had the underwire in there. If you want that added support because you plan on wearing this out, you can always wear a bra underneath. I would have loved it if this came with removable straps, but it doesn't. In the middle of the torso, they put an elastic band in, which makes it more form fitting by cinching in the waist.
What it Looks Like
What is that print covering this beautiful piece of art, you may ask? Well, my friend, the pattern in question is black bows and small polka-dots that actually have a velvety finish to them. As far as ruffles go, you have a top red row that points up, a layer of red trim, then two more layers of black ruffles, followed by a peek-a-boo of more red trim on the last row of black ruffles (only found on the bust area.) On the bottom and top back part, the the black ruffles are all sewn together.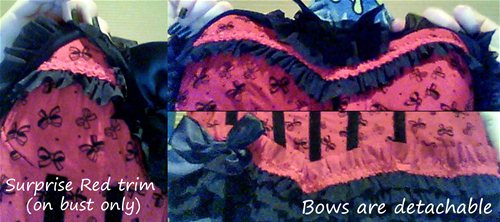 In the front you have 5 black lines that are boning in disguise. This same boning can be found on the back, two on each side of the hook-n-eyes. On the sides, you will find one more, but it isn't as noticeable since the same fabric as the majority of the corset is used to conceal them.
I know some of these aren't the average front on pictures, but if you were wondering what would I look like if I did this...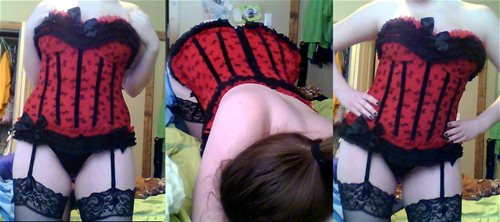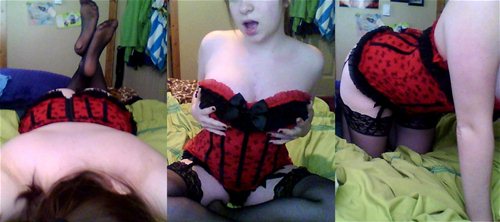 Note: those aren't the garter attachments that it came with. I lost one of the four before I had the chance to take those pictures. Stockings can be found
here
.
Other Notes
Optional Items Include:* 3 Black Bows * 4 Adjustable Garters
Hanger: With the large I got a plastic one, XL I got a nice padded one
Comfort: On a scale of 1-10 I'd give it a 9. I can walk, sit, bend and breathe with ease. Nothing pokes, prods or scratches me. I didn't find the ruffles to be itchy.
Random: The ruffles on this corset make it very difficult to hide under clothing. If you're wanting to hide it, over-sized, frumpy clothes work best. The boning is flexible, made out of plastic, maybe.
Cleaning: Handwash and let air dry, says the tag.
Materials: 80% nylon, 20% spandex
Was made in China
This content is the opinion of the submitting contributor and is not endorsed by EdenFantasys.com
Thank you for viewing
Bow mesh corset
review page!