Fun Factory Colore Moi paint brush - Brush from Fun Factory

Product Details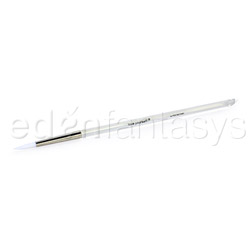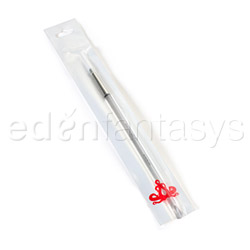 Summary:
This is a great brush to use for applying bodypaints and other products of that nature with a more artistic flare. The only trouble you may have is that it is completely clear with white bristles, so it may be easy to lose in a large toybox. It's recommended that you keep it in the original package it arrives in, both to find it easier and to keep the bristles in good shape.
Pros:
Light, easy to use, easy to clean, bristles are synthetic - won't stain.
Cons:
Bristle material is not listed.
Best use:
This is a great brush to go along with the Fun Factory Colore Moi bodypaints, but it can be used with any of your paints, oils, and edible gels. It is long enough so that even a novice can make fun and sensual designs on their lover's skin. It is perfect for writing messages for one other or to play the "guess what I'm writing" game. To play, you write across your partner's back (or somewhere else they can't easily see) then they guess each letter as you go along. It works best if you keep the words short and familiar. The rewards are up to you, just let your imagination lead the way.
Texture / Consistency / Thickness / Viscosity:

The brush is thin, and is easy to hold and manipulate. It can hold a fair amount of product at once, and it is easy to blot and/or scrape off excess product if the need arises. Fun Factory angled the end of the stick on the brush so that you can draw lines or finish the edges of your designs.

Taste / Aroma:

The only odors, aromas or tastes going on with this brush should be from the product you are using it to apply to yourself or your partner. It's solid plastic with a sturdy metal band and a defined tip.

Performance:

This brush is made really well, and it looks like it's going to stand up to the test of time. The fibers are synthetic and the brush feels good on the skin; even better if it's a hot summer night and the product of choice is slightly chilled. The bristles hold together very well, so you can actually make really thin lines if you have the ability to make it that far without ravishing each other.

Other