More a Fashion Show of Intimate Things
While this porn is visually attractive with its gorgeous background setting, luxurious lingerie, and well-lit camera work, I just found myself bored and disappointed. It consists mostly of women putting on lingerie before having sex, which was all the same, and then moaning loudly and without any realism over the nice background music. Just not my thing at all.
Published:
Pros:
Beautiful Settings, Lighting, and Camera Work
Cons:
Loud and Grating Moaning/Talking
Way Too Repetitive
Plot, Content, & Audience
I don't know how very many there are out there compared to other fetishes but if your thing consists of lingerie and watching women put on their underwear, this will
definitely
be for you. There's no plot or dialogue of which to speak and consists entirely of women putting on their 'intimate' apparel and then having sex. I must agree with others who have already commented on this film that it would have benefited from adding an element of voyeurism to give more of a reason behind why the women are getting dressed rather than undressed. I'd also say that the chances are slightly higher that a straight man would enjoy this more than a straight woman would considering a huge chunk of screen time is taken up by a naked woman getting dressed and nothing more.
Cinematography & Acting
The sensuality, beautiful settings, gorgeous outfits, erotic music, clean/bright lighting, and the slow and deliberate camera work all appeal to my feminine tastes. What appeals more to the masculine preferences out there are the unhurried shots of the female form, showcasing the curves, softness, and smooth lines of a woman feeling sexually turned on (not to mention the actual sex). So the cinematography was, in my opinion, quite impressive.
Acting in the sense of a film is not applicable to this one because of a lack of plot. But as it applies to the chemistry between the sexual partners were so-so to me. Some of them I felt were great and others had room for improvement, which I feel is pretty average for porn.
~STARS & SCENES~

Menu & Opening Sequence
For those of you who don't know, I'm a cisgendered woman and pretty feminine and girly. So the gorgeous and artistic opening sequence very much appealed to me. I had pretty high expectations for the artistic and soft sensuality of this film from what I saw in the opening sequence alone. Despite not living up to it, it wasn't an all-together a bad film, just personally disappointing.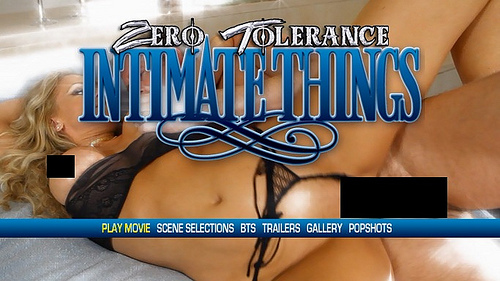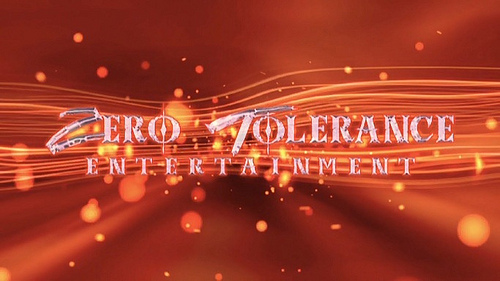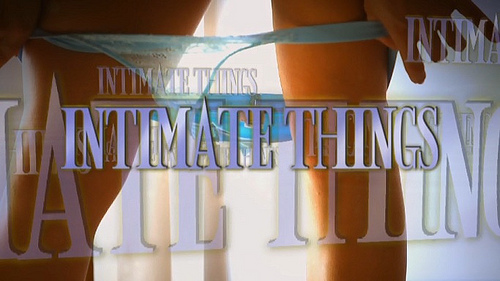 1st – Grace Glam & Chris Johnson
From the very beginning, I love the sensuality, the excellent lighting, the music, and the setting. What snapped me out of the fantasy it encased me in is that the music suddenly dropped in volume and the first thing I hear behind it was a loud and garish moan which cheapened the luxurious and sensual mood into just standard porn sex in a foyer. I felt set up for indulgence and feminine glamor but then was let down with dirty talk of balls and the "do you like it?" typical phrasing. Otherwise, I really did enjoy the positions and suggest turning the volume down to make this scene even better.
2nd – Kagney Linn Karter , Monique Alexander, & Marco Banderas
This scene also begins with a woman putting underwear on. I was starting to think it was a theme in this porn film. Did "Intimate Things" really refer to panties and not sex? And what the beginning of this scene made me want was a shopping trip to buy new bras and didn't quite serve as foreplay for me. But my thought that this would be a scene dedicated to women's pleasure was wrong when suddenly a very tanned (and less refined) man decided to use the women instead. And so began the cliché of one man thinking he can satisfy not one, but two women. I figured the worst part of the scene was the loud, annoying, and highly fake moaning. But then, clear as day, a director is heard over the moaning as he directed the women back into their dual blowjob. This scene didn't do much for me.
3rd – Mariah Milano & Michael Vegas
At this point I was no longer surprised to see yet another woman slowly putting on lingerie. Three times in a row is officially a pattern. I definitely began to wonder why it wasn't about them taking the lingerie off instead. And as beautiful as the bras and lingerie are, sitting there and watching her try three on didn't do anything for me. So by the time the standard sex scene started, I was bored.
4th – Julia Ann & Mark Wood
Again it starts with the woman putting her underwear and bra on. What's different this time? Well, how about she's sitting on a piano bench. That's about as much variety and creativity as you're going to get here. But she doesn't end up having sex anywhere near a piano. Hm. I enjoyed some of this scene, thankfully, but I'm not sure it makes up for the rest.
Experience
5th – Shyla Stylez & Anthony Rosano
Should I even say it anymore? There are three different 'outfits' tried on before the sex, as usual. For this scene, I feel like the blowjob lasts particularly long, but perhaps that's just my perception. This is perhaps my least favorite scene as well so I have less to say about it than the others.

DVD Features and Bonuses
One disc with Feature Film & Bonuses
138 minutes (2 hours & 18 minutes) Run-time
Scene Selection
Behind the Scenes
Trailers
Gallery
Popshots
This product was provided free of charge to the reviewer. This review is in compliance with the FTC guidelines.

Thank you for viewing
Intimate Things
– erotic video review page!