Aneros Helix Syn ~For His Pleasure
My guy really liked the simple design of the Helix Syn. He said it added to his orgasm making it more intense. It was comfortable to insert and easy to clean. I was really pleased with this toy. I think this would be a good investment for someone serious about enjoying prostate massage.
Published:
Pros:
Non-porous design,
Perfect design for prostate massage,
Easy to use and insert
Cons:
Price
This prostate massager is specifically designed to fit well and stimulate the prostate "hands free".
I ordered this toy for review to see what my lover thought of the Aneros brand. We have tried a few different anal toys before but in no way would I say that he is an experienced anal player. (Prostate massage aside I don't think he would let me get near his anus.) In the past we have tried only massagers that vibrate, so I was real curious to see what he would think of a toy that he controls with his sphincter or would need manual control.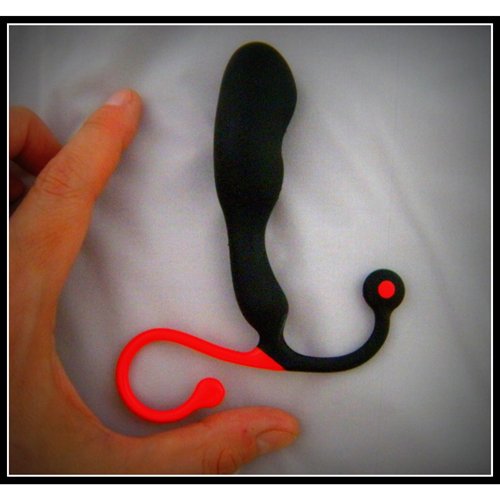 The Helix Syn is 4.75" x 1", 4" being insertable. It has a curved handle design meant for easy retrieval and external prostate (perinuem) massage. It is made of silicone, but the handle feels more like plastic. Either way, this toy is body safe and easy to clean due to its non-porous nature.This toy is completely seamless on the insertion bulb. It has a bulbous shape which aids in stimulating the prostate. Silicone is only compatible with water-based lubrication, no problem since that is all we use. We slathered this toy up smeared some on his hole and he slid it in. The enlarged head is not the easiest thing to insert, but he took his time and it went in after about a minute of trying.
The instructions inside the package give tips for insertion, saying to lie on your side with one leg straight and the top leg hiked up toward the chest. Without me even telling him, that is the position he took when he used it the first time. The shape of this toy makes it slide in easy after getting the first bit in. The instructions also say to take your time and insert only the head of the Peridise into the anal canal. From there you tighten the sphincter a few times to get it the rest of the way in. This toys is great for beginners due to its small size. This toy is not intimidating in size.
Advanced users may find this toy too small for real stimulation, and may find themselves bored with the simple design of this toy. This toy was comfortable to use during sex and would be perfect to add to a masturbation solo session. The handle makes this toy easy to retrieve, even for the user. There is no chance of losing this toy at all.
My lover found that this toy hit his p-spot without needing to be readjusted. My lover really enjoyed this toy. It is designed to keep firm pressure on the prostate. He wore it a few times during sex and reported that it added to his pleasure and increased the strength of his orgasm. He reported that it didn't make him feel too full or overstimulate his prostate as some vibrating toys often do. It provided the right amount of stimulation to add to his pleasure and make this toy something he wants to use often.
The toy came to me packaged in a red magnetically closing box with the Helix Syn encased in a plastic cut out inside. The packaging alone says sophistication. Aneros big claim is right on the insert inside "Anything else is just a toy."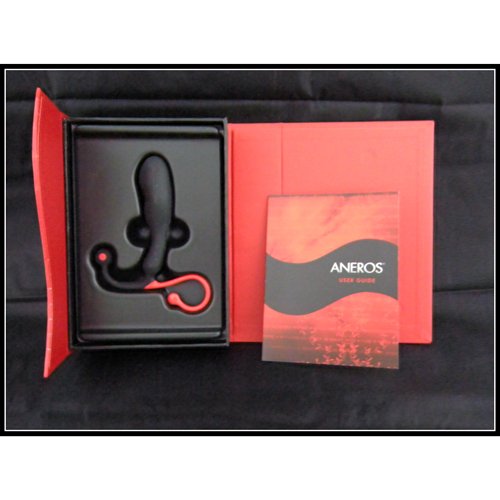 The insert contains instructions for use, and tips for advanced users. The instructions state that for best use, do not manually move this toy, but use the muscles of the anal sphincter to move it for you. My lover was very pleased with the feeling of this toy and simple design. It is designed for his pleasure and it works.
This toy is easy to clean with soap and water or a sex toy cleaner. I keep it stored in its case since it is so deluxe. The package would make a nice gift box for a special man in your life. The box is discreet once you get the paper info sheet off and it works great for storage.
This product was provided free of charge to the reviewer. This review is in compliance with the FTC guidelines.

Thank you for viewing
Helix syn
– prostate massager review page!