So Much Fun It Ought To Be A Syn
The Aneros Helix Syn was Mr. Scotch's maiden voyage into the world of anal play, and let me tell you he couldn't have asked for a better introduction. We really can't say enough about SYN. It's truly amazing. It will change your outlook on pleasure and orgasms for the better.
Published:
Pros:
Shape and size
Silicone
Velvet texture
Cons:
None
Experience mind blowing orgasms, the likes of which have never even been imagined by non-users. Syn is worth every penny you pay for it, hands down. Mr. Scotch says it is easily the best investment he has ever made in his own sexual pleasure.
PACKAGING
Syn comes packaged in a red box. While not completely discreet, it doesn't scream sex toy. There is a sleeve over the box that shows a slightly less than life size Syn and says HELIX SYN on the front.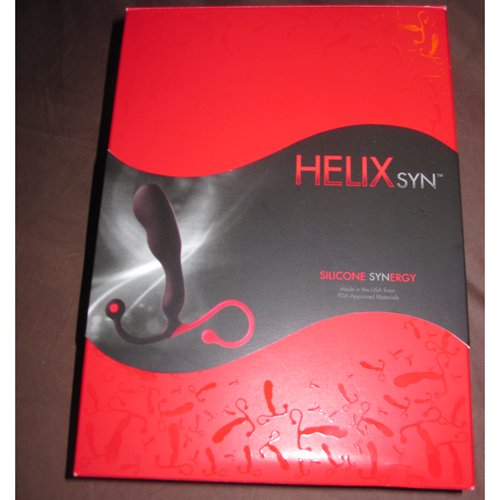 The inner box is 5"x7.5"x2" in size. The front has a wave shaped closure that is held by a magnet. The box is discreet. This box could be left out on a night stand or dresser.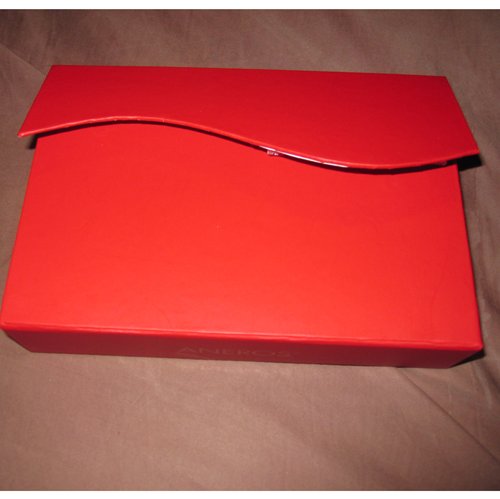 Inside the box is a user guide, instructions and a link to the
Aneros forum
. Aneros does not just provide you the product, it provides you with resources. These include a WIKI and a forum.
Under the user guide, in a black plastic holder, is Syn.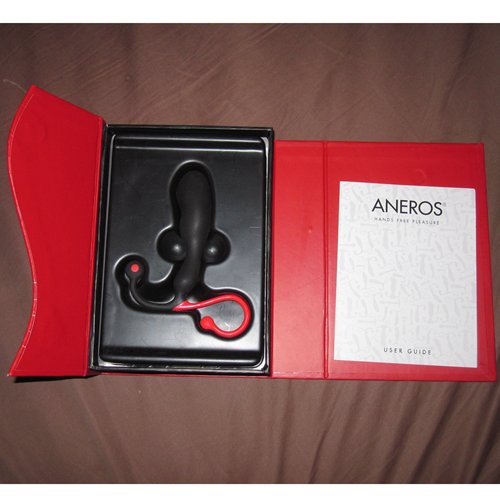 MATERIAL
Syn is made of premium grade silicone over a rigid inner frame. This provides smooth texture and the firmness needed for a great prostate massage. There is drag, but that is easily removed with lube. Syn is made in the USA of FDA approved materials. It is hypo-allergenic, latex free, non-porous and phthalates free. There is no smell to the Syn.
DESIGN/SHAPE/SIZE
Syn is not a large toy, although for inexperienced users it may seem so. It is 1" in diameter at the widest part, and has 4" of insertible length. The tip is rounded which makes for easy insertion. Mr. Scotch had no issues with insertion, and this was his first anal toy ever.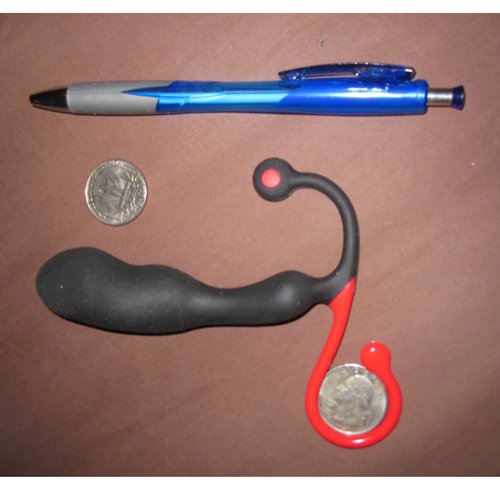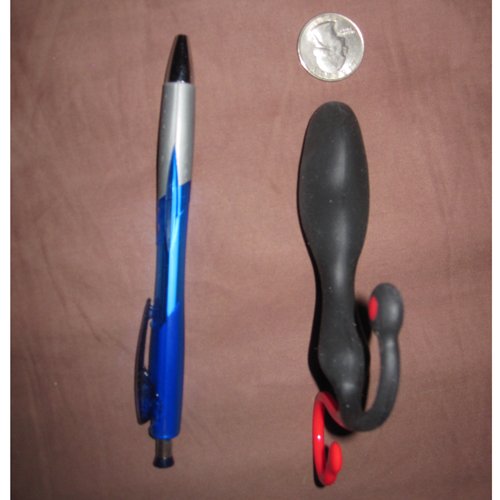 Syn has three parts.
The handle is the only part of Syn that is not covered in silicone. It is used to insert and remove the Syn.
The head and stem are designed to fit gently against your prostate. They are completely covered in silicone. The stem is curved. The top side is smooth, while the underside has two distinct bumps that thin into the stem. This allows Syn to massage along the inside of your anal canal while applying pressure to your prostate.
The P-tab is a silicone padded round tab that is placed against your perineum and acts as a pivot point during the massage. This pivoting allows your prostate to be massaged from inside and out. This results in the most amazing, intense mind blowing orgasms you have ever experienced.
USE
Syn is designed for men. It is not meant to be shared. It could be used anywhere, but Mr. Scotch finds it too intense to use anywhere except the bedroom. It could be worn under clothes around the house.
Syn can be used solo or with a partner. It can be used on its own (without penile stimulation!) or in combination with regular sexual activities to increase the intensity of your orgasm.
Aneros recommends that you apply
silicone free
lube to the head and stem of the syn and to your anus, not to the p-tab. It is also suggested that you insert lube into your anus. This allows for more movement of the Syn. More movement equals more feeling. While Mr. Scotch found the thought of injecting lube a bit off-putting, it is now something he doesn't think twice about. The increase in sensation was exponentially greater.
Next, you insert Syn and pull the p-tab forward, seating it against your spot. You may need to move it so it sits on your sweet spot. Mr. Scotch has found that inserting Syn while standing, with one foot on the bed, is the easiest for him.
After insertion, you lay down, get comfy and flex your PC muscles. The force of the pressure on your prostate is controlled only by the anal sphincter and PC contractions, not by your hands. This is not an "in and out" kind of experience.
As stated, Syn can also be used for added stimulation during regular sexual activity. For these activities, just insert Syn and go.
CARE and MAINTENANCE
The Syn is silicone. It can be washed with soap and water. To sanitize, use an alcohol or 10% bleach solution wipedown. It is recommended that you wash it before and after every use. It will pick up dust, lint, hair and whatever else. These all easily rinse off.
Syn is silicone, so it does not play well with silicone lube or other silicone toys. Use water based lubes and store Syn in the box it comes in, or in a toy bag.
Experience
Syn works by the flexing of your pelvic floor muscles. This moves Syn, pivoting on the p-tab. Once it gets going, you need to relax your contractions and allow the Syn to move on its own. This does take practice, but it is worth it. The reward is multi-orgasmically mind blowing. All of this while focusing strictly on feeling your prostate, and keeping your hands off your penis! DO NOT TOUCH YOUR COCK!

Aneros recommends that you experience the Syn solo the first few times to help you "refocus" on the feelings in the rest of your body and not be distracted. We did not do this. Call us rebels, it's the Scot in us. We do not see it as a strict requirement. Just remember the same rules apply to your partner, HANDS OFF THE COCK!

Syn performed beyond our wildest expectations. Mr. Scotch has regularly had non-ejaculatory orgasms, (yes, orgasms with an -s) while using this product. This has happened from the very first insertion. They come one after the other, after the other. It is like riding an erotic orgasmic pleasure wave. Some peaks are higher, some are lower, but they are all amazing. When using the Syn, if Mrs. Scotch kisses his neck, licks his nipple or blows into his ear, Mr. Scotch goes off into an orgasmic rush the likes of which he can not even explain.

When used during regular sexual activity, Syn not only provides non-ejaculatory orgasms, but it increases the intensity and force of ejaculatory orgasms. Mr. Scotch describes it as ejaculating from your anus, up and through your ass, and then out your cock. Amazing! He can't say it enough.

Syn also had an added benefit; it has turned Mr. Scotch into a multi-orgasmic male, even without it in. Mr. Scotch has learned to separate orgasm from ejaculation. This has caused greater pleasure for all. We had been working with kegels to still experience orgasm, yet stop ejaculation. This worked some of the time. Now it works much more often with less effort. Mrs. Scotch has always been multi-orgasmic, and now Mr Scotch understands that much better. This is because he is now, too!
This content is the opinion of the submitting contributor and is not endorsed by EdenFantasys.com

Thank you for viewing
Helix syn
– prostate massager review page!