Functional and Pretty
For a novice or every once in a while user this is a perfect plug. The base is a touch small for sitting on but it is great for us tighter folks who can't seem to convince our bums to relax and loosen up! Metal is a wonderful medium for anal play as it is non-porous, easy to keep really clean, and offers temperature play like no other material I have tried! It's small, cute and conducts electricity and vibrations amazingly well. A definite plus in any toybox as a warm-up toy or the main course.
Published:
Pros:
Really pretty, completely non-porous, hygienic
Cons:
Just a touch small for experienced users, base is a touch small as well
The Aluminum Mini by Cal Exotics is a pretty brushed aluminum plug with a blue jewel in the handle.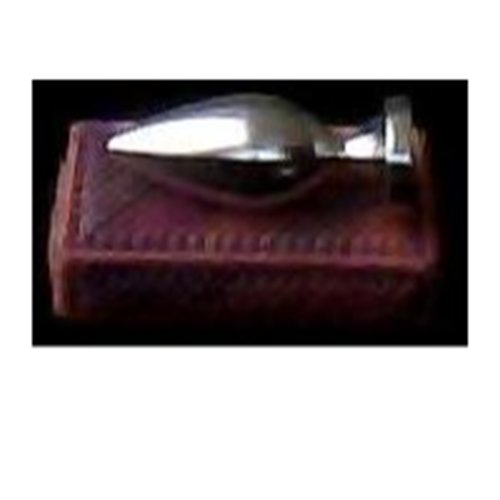 This is the 3.50 inch size on the box lid I made for the toy. As you can see it is tapered from the tip and has a nice break after the widest point so that the plug sits comfortably and the sphincter has something to hold on to.
The toy does, indeed measure 3.50 inches in total length but only about 3 inches are insertable. The base measures just around 3.25 inches across at it's widest point. If you are much more advanced than I am and your bum is greedy or used to longer plugs you might want to tie a retreival cord around the base just for complete safety and ease of mind. You could alsopop th entire toy into a condom and then hold the base of the condom if you wish.
Around the widest point the plug measures about 4.25 inches so it's substantial enough to be felt but not so big that novice anuses will refuse it. The tapering is very gradual and with just minimal preparation my scared little backside accepted it with ease by just going very slowly.
The brushed aluminum gives the toy a very smooth finish that is pretty to look at but more practically it doesn't pick up 'dirt' easily and a touch of lube goes a very long way. The reader will want to remember this less it become a guided missile during orgasm! I didn't find that it slipped out easily but Sigel, who is much more advanced than I am, found he had to use very little lube or it shot out. The metal also allowed him to play with electro-stim easily and it has been a favorite toy of his for quite some time now.
The toy weighs in at .3 lbs making it hefty compared to other smaller toys made of jelly, plastic or rubber but it is lighter than my other silicone toys of similar size. It seems to be right between silicone and glass for weight. The user is aware of the plug but it's easy to hold inside if you are up walking around or shifting position during sex.
The base of the toy is round and fits easily between the cheeks making it actually fairly comfortable for moving around while wearing it but sitting on it nearly forced it into my rectum completely so I don't recommend it for prolonged sitting.
The base has a lovely blue jewel in the handle adding a touch of femininity and interest.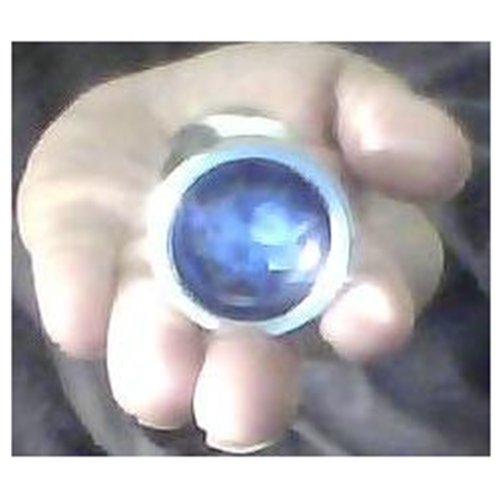 If the user likes to play with temperature this toy is a perfect fit! It can be cooled off easily in a glass of ice water and it will hold it's temperature for far longer than I thought it would! You could freeze it, I suppose, but I am wary about shoving cold metal against warm mucous membranes. I recommend sticking to ice water baths to cool the toy down.
Warmer temperatures can be achieved by running it under hot tap water, and again the toy will hold it's temperature for quite a long and pleasurable time! Since hot metal is actually more dangerous to the delicate lining of the anal passage use caution and test the heat in the crook of your elbow before inserting the toy. I took the toy into the bathtub and ran it under some hot tap water before inserting it and then settling into the tub of warm water and it was totally amazing!
This is such a small toy that storing it is as easy as tossing it into a bedside table drawer or hiding it in the sock drawer. The jewel in the base isn't stuck in there vry well and may pop out but I found just a touch of super glue did the trick.
This toy can be boiled, wased down with a commercial cleaner or 10% bleach and water solution, or simply washed with hot water and soap. It is completely non-porous and perfectly smooth so it is fine for sharing so long as it is cleaned between users.
Experience
As far as it goes this toy works great for it's intended purpose, and it will conduct electricity (thank you Sigel!) but it really is too short to be a good vaginal toy. It is almost too short to properly stimulate the prostate unless yours is oversized or very easily found. Keep in mind I have not tried the larger size of the toy so if your prostate is a shy or smaller one you might want to start with the 4.50 inch.
If it is iced down or even heated up it makes a great little teasing toy for nipples and all over the genitals. It will conduct vibrations actually quite well so inserting the toy and applying a bullet or egg is fun.

In my exploration of all things anal I have tried rubber, plastic (both matte and smooth), silicone (both matte and smooth), glass and now metal! While there are definite pros and cons to each type of product I have to say that I think I like firmer, smoother materials when playing anally. They seem to slide in easier and with less effort and take much less lube that textured or matte finished silicone. This is why meatl plugs are sitting at the top of my like list currently!
Follow-up commentary
10 months after original review
Smooth and small enough to sit in my bedside table. This toy cleans up like a dream and has never pulled a disappearing act on me despite the smallness of the base of the toy.
This is still one of our favorite toys.
This content is the opinion of the submitting contributor and is not endorsed by EdenFantasys.com

Thank you for viewing
Aluminum mini
– butt plug review page!