Interesting, but far too expensive
This is a toy that would be useful for those new to anal exploration. The high price is certainly a downfall. Stimulation is hard to achieve without a great deal of practice. A number of toys for anal beginners can be had for less. It may be useful to some, though I would expect that pool of men to be limited in number.
Published:
Pros:
Looks medical, easy to clean
Cons:
Rigid, cannot be modfied, very specific use
Uses
The intended use of the Aneros is as a prostate massager/stimulator. The toy can be inserted anally with little lubrication. Due to the design, it must be inserted directionally so that the directed tip comes in contact with the prostate. As per the design (and brief instruction sheet), the user needs to practice controlling muscle movement in order to provide stimulation. The instructions suggest this is a hands free design and that the actual stimulation should not involve hand motion (outside of insertion).
This toy can be used alone or with a partner since it is hand free, though the protruding area makes any sitting position uncomfortable.
Packaging
The packaging for the Aneros is the semi hard plastic split clamshell design. For a toy at this price, I am rather disappointed. I like to see toys in sealed packaging so that I know I am the only one who has touched it (outside the factory). There is a small instruction leaflet/booklet, but not one that is as descriptive as one might like. I would suggest a Google search to get more detailed instructions.
Shape/Size/Texture
The Aneros is apparently designed specifically to stimulate the prostate. As in the picture, it is an inverted T design with a smooth insertion section, though a rather rough flared area. At the widest point, it is about 1 inch in diameter. The insertion portion is very smooth, however, the flare base is a little rough. Insertable length is approaching 4 inches and the flare is equally wide.
Material
The Aneros is hard plastic that appears to be non-porous. Water based lubricants are recommended as per manufacturer. There is very little flex in the flare base and no flex in the insertion portion of the toy.
Appearance
The toy is white plastic and has the air of a medical device. I would not call it pretty or anything you would want to leave out in the open.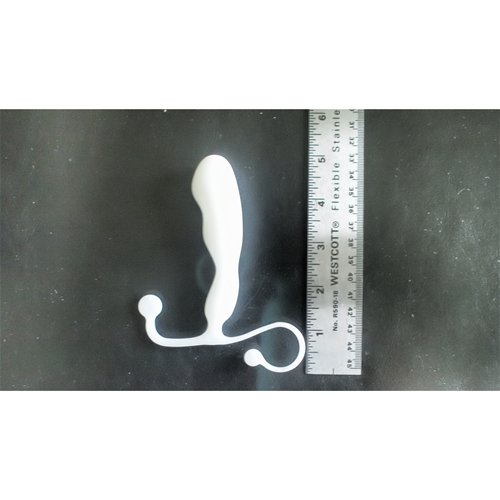 Cleaning
Soap and water are then an appropriate antibacterial sex toy cleaner. Little detail is given beyond this in the information leaflet. I would avoid boiling as there is no information in this regard provided by the manufacturer.
Experience
I first tried the Aneros several years ago as an alternative to more traditional butt plugs and other anal toys. For those new to anal stimulation, it is a less intimidating place to start. As someone more versed in this area now, I very rarely use this toy. Though it does provide prostate stimulation, I did spend much time learning how to use it hands free. In fact, it was several times before I learned this. Would I buy it again? No. Maybe? No. It is far too expensive for what it is and I have a number of toys that are far more stimulating that this item. Also, due to the hard plastic construction, there is no way to easily modify the toy in a more personal way. In this, I mean that the prostate is different in all men and having a toy that cannot be bent or twisted means it will be useful to very few. Personally, I find more stimulation while using in conjunction with my hands since the flare does not allow enough depth of penetration for me. Unless you are sure this will fit you, I would consider other options.
This content is the opinion of the submitting contributor and is not endorsed by EdenFantasys.com

Thank you for viewing
Helix
– sex toy review page!