Mood Uncertain
The Mood Naughty is an excellent, non-intimidating introduction to the world of butt plugs and anal play. It's inexpensive but is still made from one of the safest materials you can get! This toy is easy to clean, easy to store, and is travel friendly. It is a little difficult to insert and is probably too small for someone more experienced in anal play, but overall, would make an excellent choice to a beginner.
Published:
Pros:
-Beginner Friendly
-Material Safety
-Cute, non-intimidating design
-Inexpensive
-Easy to clean
Cons:
-Hard to insert
-Might be too small for some
Use
Mood Naughty small plug by Doc Johnson is made to be used anally. Since this is such a small plug, that's the only suitable use I've found for this toy.
Because of it's small, non-intimidating size, it's perfect for someone who's just starting to become interested in anal play. If you've used plugs before, you may find this one to be much to small for you, but if you have very little anal experience, this is the plug to start with.
This toy is gender friendly and can be used as a warm up toy, during masturbation, or by either partner during intercourse. This plug can be worn anywhere, including the shower and tub, and is very travel friendly and easy to hide.
Material / Texture
Mood Naughty plugs are made from 100% silicone which rates a 10/10 on the Eden material safety scale. It's made from food-grade material, is hypo-allergenic, non-porous, and is latex, and phthalates free; making it extremely safe to use. There's also no weird smell to this toy.
The plug itself has no texture to it. You can see a thin seam on the toy, but it cannot be felt. Because it's made from silicone, this plug is a total lint magnet! Be sure to wash your toy before use to make sure you get all the little dust and fuzzies off from your plug.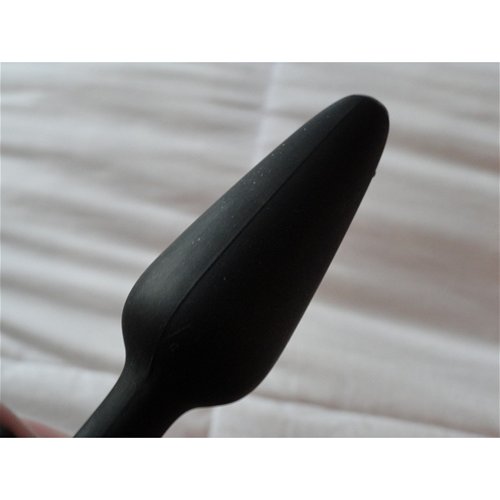 The silicone has a small amount of give to it, but not a lot. The insertable end doesn't bend very well, but the thinner base bends very easily.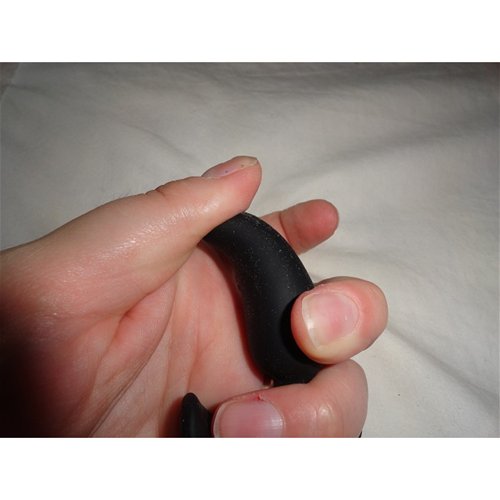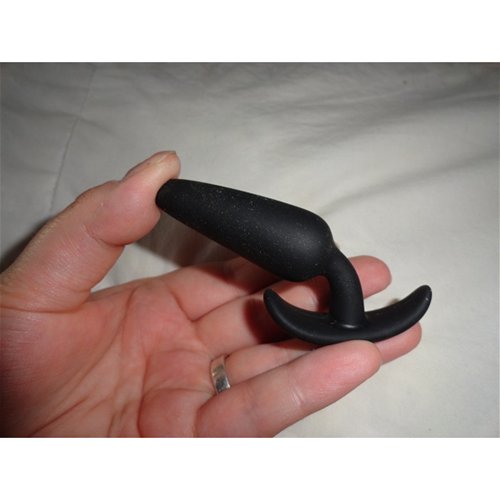 Design / Shape / Size
This small plug comes in two different colors; pink and black, and the Mood Naughty plugs come in three different sizes; small, medium, and large. The small is for sure a beginner plug or made for someone who prefers using a smaller anal toy. It's tapered design makes for easier insertion, and the thin area that connects to the end helps to keep the toy in place, no matter what you're doing.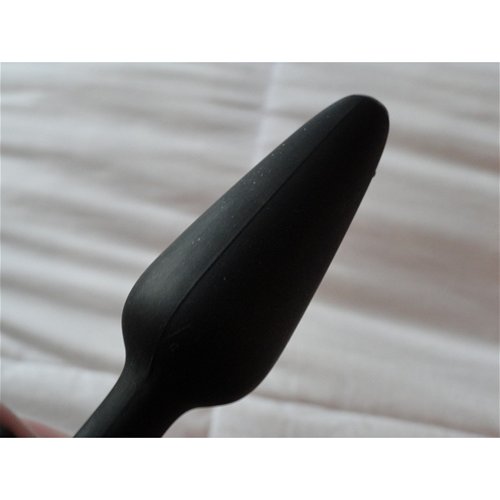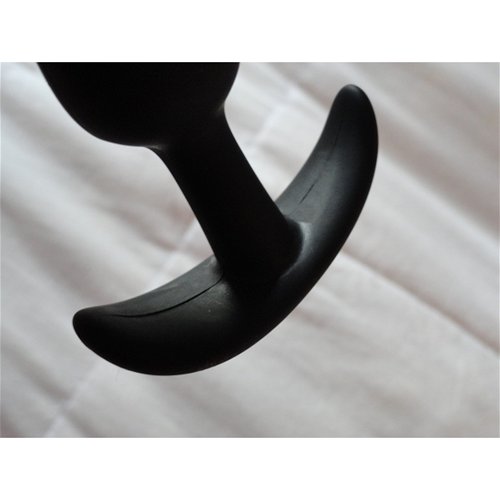 The base of the toy is made so that there's no concern about the toy getting lost inside of you. It very comfortably tucks between your butt cheeks and even when butt naked, can't be seen when standing or laying down normally. The bottom of the base has the company name on it, and is the only marking on the toy.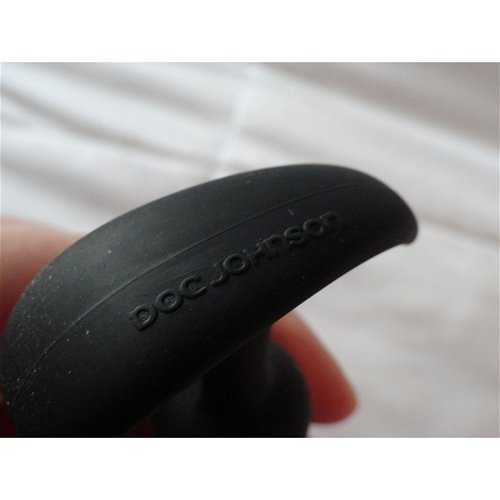 Because this toy is so small, it can easily and discreetly be tucked anywhere, it's so small it fits in the palm of your hand. It is travel friendly, but if anyone sees it, they will know what it's for.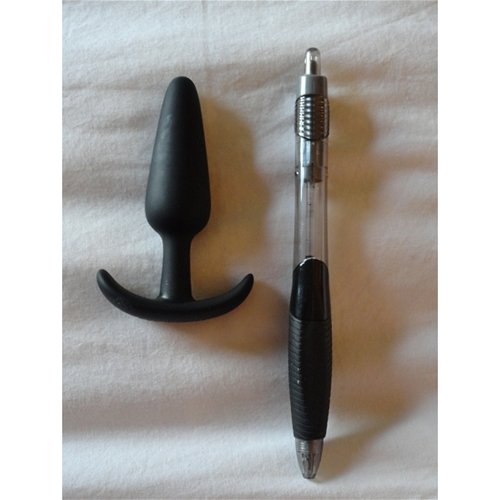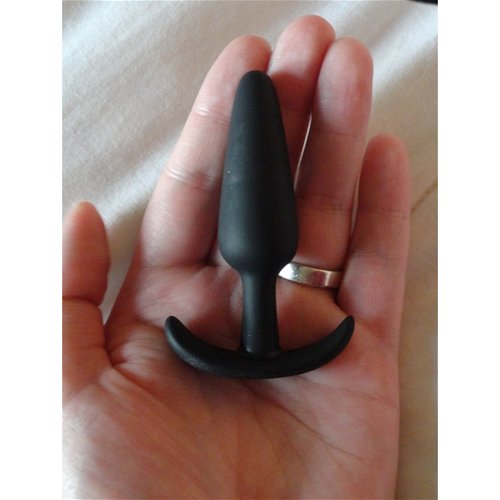 Length: 3 1/4"
Insertable Length: 3"
Circumference at Widest Part: 2 3/4"
Circumference at Thinnest Part (where it inserts): 1 3/4"
Length of Base: 2 3/4"
Care and Maintenance
Make sure to clean this plug before and after each use with antibacterial soap and warm water, or your favorite sex toy cleaner. Because this toy is made from silicone, you can also sterilize it if you're planning on sharing with another person or feel the need to give it a deep clean. You can boil it for up to 3 minutes, use a 10% bleach solution, or toss it on the top rack of your dishwasher.
Silicone is compatible with water based lubricant. I would recommend using either a medium or thick density since this toy is for anal use.
Make sure you store this toy away from others that are made of similar materials as they don't play well together. I put mine in a sandwich bag, but you can put yours in any small pouch or container, it doesn't take up very much space at all!
Packaging
Mood Naughty small plug comes in a very trendy looking package. The outside is mostly black with bright colored words and the inside has multi-colored dots on a white background. The cut of the box makes it very easy to see the toy.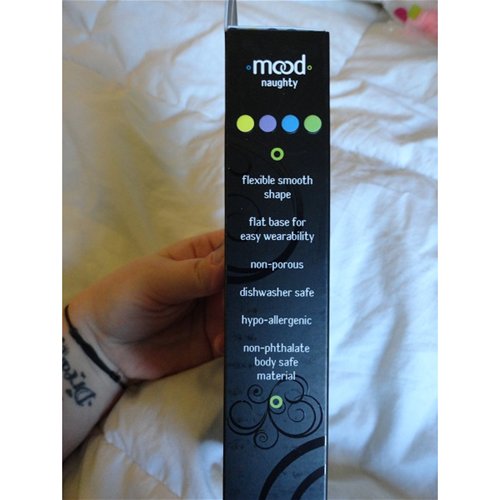 The toy is nestled inside of a plastic box that fits the toy well. When you slide out the plastic piece, the toy is exposed on the back and should be opened with the front of the box face down so that your toy doesn't fall out.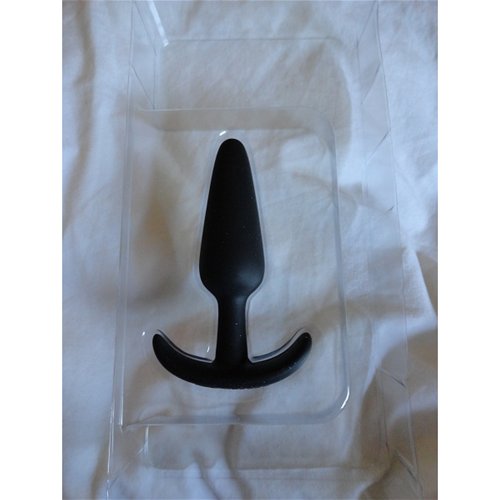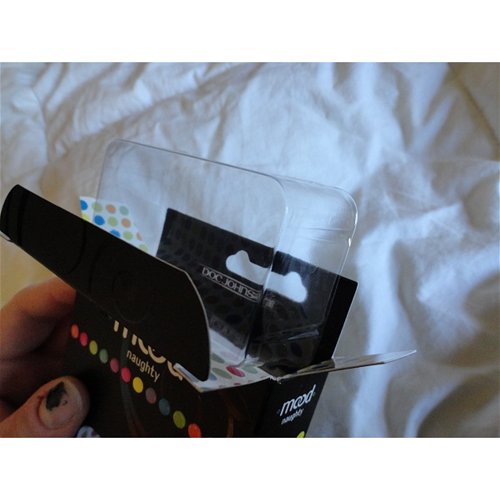 The back of the package is very informative. It tells you everything you need to know about the toy, in a very eye catching manner.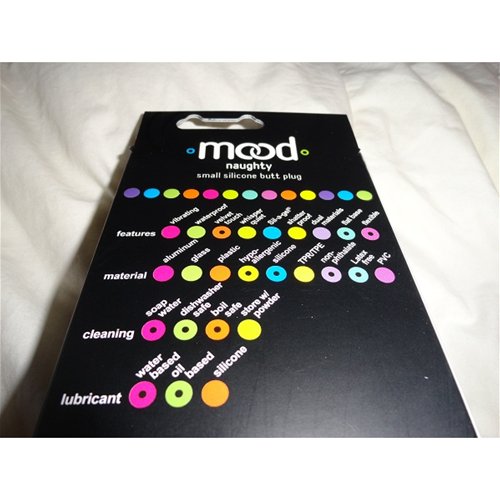 This box does not work well for storage since it doesn't seem like it would hold up to extended use and is so much larger than the actual toy itself.
Experience
I have a confession: I don't like anal play. I don't like anal sex, I don't like anything going anywhere in or near by butt hole. This is just the way I am. I don't know what it is about it, but it's not something that I'm comfortable with. My husband, on the other hand, very much enjoys us having anal sex. So as a treat, he gets it, even though I don't like it. I purchased this plug to try to get used to the feeling of something in my butt.

I was very surprised with how small this toy was when it arrived! I thought to myself that maybe I should have gotten the medium because this didn't look like it was going to feel like anything to me, especially since I'm used to having a large dick inside me there (when I let him). Even still, I applied a large amount of lube to the plug and forced myself to relax.

I found it very difficult to insert because the silicone near the base was bending too easily. I thought I could just push on the base and it would slide in. So, it took me a minute to get the darn thing in, which was rather annoying. Once the plug was in place I was impressed by how hidden it was. I got up, walked around for a little bit with it in and no one would have ever known it was there thanks to the way it hides between your cheeks.

The plug felt annoying when it was in, but that's coming from someone who, again, doesn't enjoy anal play. I left it in for about 30 minutes, and was still able to enjoy my solo time, though the plug didn't enhance it at all.

The plug came out easily by just pulling on the base. I felt funny in my ass for about an hour and a half after I removed it, but that didn't surprise me.

I'm rating this 4 stars based on the product, not my extreme dislike for all things anal (unless I'm the one on the giving end!), because the flexibility makes it much more difficult to insert than I thought it would or should.
Follow-up commentary
2 months after original review
Without fault going to the toy itself, I just can't bring myself to enjoy this toy. The product is very well made and holds up well over time, but it's just not my taste. I could see this being something I could have enjoyed had I liked anal play in the first place, but I still don't!
This content is the opinion of the submitting contributor and is not endorsed by EdenFantasys.com

Thank you for viewing
Mood naughty small plug
– butt plug review page!