My Tushie's New Best Friend
This is a really comfortable plug, great for anal play or hour-long wear. It's beginner friendly, the smallest of a three plug set. Firm yet giving, you'll know this is up your rear without the fear of discomfort or sliding.
Published:
Pros:
Comfortable, Nice Size, Smooth Plush Material, 100% Silicone, Hypoallergenic, Phthalates Free
Cons:
Split-ring doesn't help with removal
I'm relatively new to anal, experimenting with sizes and textures and such. I found this plug and immediately showed my partner. "What do you think?" I asked, "It seems rather small". I'd been looking at the comparison of the plug against a chap stick that I happen to own. "Get it; it'll be the perfect size for you", he said. So I sent away for it. What an amazing buy!
The plug comes in a clear plastic box with a plastic holding sleeve inside. The box boldly states what the product is, and even if someone can't read, just a glance would tell you that you've got a plug. The back of the box has a description of the product then lists the pros of the product in several languages.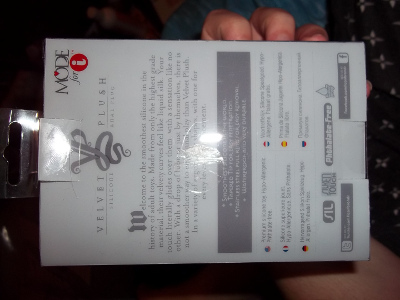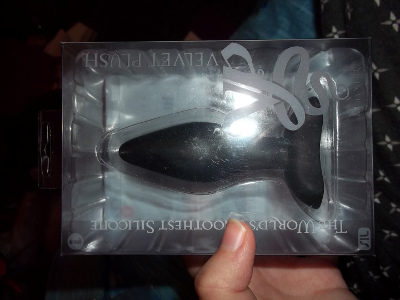 The plug is a wonderfully soft silicone, smooth and seamless. If you squish it in your fingers, there would be very little give, however the plug is still soft and comfortable. The plug has a nice flexibility to it, from the tip all the way down to the base. There is a split-ring in the base, but there is a place where it rests so you don't have any unevenness when sitting or walking or playing. You can use the ring to help remove the plug, or simply grip the base and give a pull. Due to the smoothness of the silicone, this plug goes in and out very easily. The tapered tip is nice; it allows you to ease the plug into your anus without being too much too soon.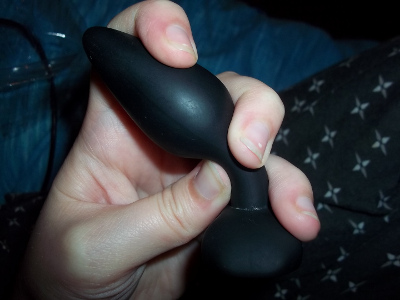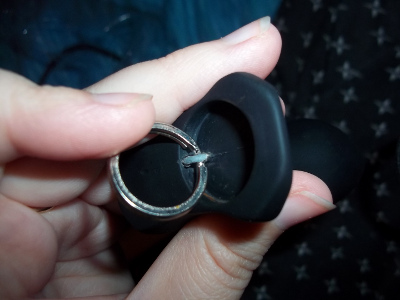 The plug is three and a half inches long, with an insertable length of three inches. At the widest point, the plug is one inch thick. The base of the plug is two inches wide. The split-ring is just under one inch in width (so be careful of getting your fingers stuck). The plug is odorless and tasteless. The plug is made of high quality silicone, hypoallergenic and phthalates free. You can use this in water, as the water tends to just bead and slide cleanly away. This is safe to use with any lubricant except silicone based lubes (I use water based lubes, myself), and you don't need a lot for this plug.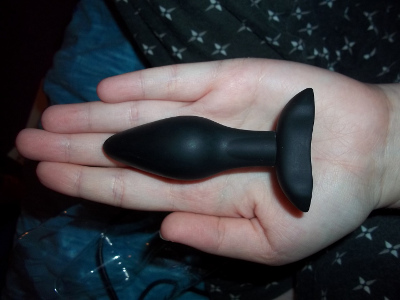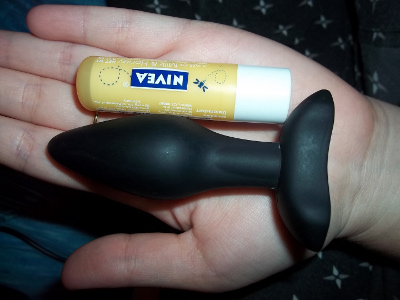 The plug is small, which is great for travel or to keep hidden away. This is good for couples or solo play. You can wear the plug during the day, or you can use it to stimulate your anus when you want to get off. The plug sits comfortably inside of your anus without slipping or sliding, and (for me) the size was easy to adjust to having inside. So far, the plug hasn't gathered any lint or dirt from sitting around. This is simple to store; you can keep it in a drawer, purse, toy box, or the package it came in.
This plug is easy to clean. You can use soap and water, a toy cleaner, or a wipe. As this plug is silicone, you can boil it for sterilization, and it is dishwasher safe.
This plug is perfect for beginners, whether it's your first plug or your first anal toy. It's small enough that it won't be daunting, giving enough that it will be a smooth insertion, and versatile enough that you can use it for thrusting or as a plug. While more advanced users might enjoy this for a warm up toy, if size matters, they should go and check out the
Pleaser
.
Experience
I got this plug to wear throughout the day, as well as to use during sex. So far, this has been one of my best purchases yet.

The plug is very comfortable to wear - I can feel it enough that it makes me blush and look around, wondering if anyone else can guess my secret, but it doesn't hinder my movements in any way. I can wear this for a couple of hours before I begin to get any discomfort. I like to wear it out when I go to the store or to work. The base of the plug sits nicely up and down the crack of my anus, so there is no discomfort when sitting. When walking, there is no slipping, sliding, or shifting of the plug.

I also enjoy using this during sex and masturbation. The width of the plug gives that nice stretch that gets me to the edge of pleasure when I use it to thrust in and out of myself. The base of the plug is perfect to grip for thrusting. It fits well to use during sex; it doesn't make any uncomfortable bulges that inhibit vaginal penetration the way I've found some other toys do.

There is a split-ring at the bottom of the plug, which should make it easier to remove the plug from your anus. I, however, did not find it easier, and instead found it uncomfortable when trying to use the ring. It's much easier to simply use the base of the plug to remove it, as there is more area to hold, and the tugging is more even during removal. I've also found that, despite the ring being stainless steel, there appears to be rust along the middle indent of the ring.

This plug is nice for travel, very easy to conceal. I wore it out to a restaurant, and when I began to get uncomfortable, I went to the restroom with my purse, took it out, gave it a wipe with a wet towel, then stuck it in my purse and returned to my table. Nobody was the wiser. This plug is so comfortable, I am planning to wear it during a flight I'm taking next week- just some naughty fun for a solo flier.

Personally, I store my plug in a sandwich bag. That might seem silly, but it keeps it protected, and I can just stick the bag into my purse if I plan to use the plug outside of my house.
Follow-up commentary
2 months after original review
I use this plug more than any other toy in my toy bag. The more I use it, the more I enjoy it. I really do recommend this plug for others. It's very comfortable and easy to use. It is possibly my favorite toy thus far.
This content is the opinion of the submitting contributor and is not endorsed by EdenFantasys.com

Thank you for viewing
Velvet plush teaser
– butt plug review page!