Not sure if it's the best, but it's 'right up there'!
Boasting the same high quality as Njoy's other stainless steel products, the Pfun Plug is sure to please both men and women (although it's obviously geared towards the former). The surprising amount of comfort means that this is something you'd want to wear for hours - unfortunately the plug wants to slip out each time I stand up.
Published:
Pros:
High quality; Comfortable; Heavy; Will last a lifetime; Storage box; Use any lube; Easy clean
Cons:
No give; Doesn't stay in place easily
To say we bought Njoy's Pfun Plug on a whim would be an exaggeration but we didn't really have to do too much research. Since we already owned the Pure Plug Medium and Pure Wand, we had a good idea as to what to expect. It turns out those expectations were only part right as you will see...
Measuring 4 3/4" including handle, the Pfun has an insertable length of 3 1/2". That might not sound like much to those who don't routinely slip things where the sun doesn't shine, but it's actually plenty and just enough to stay comfortable for prolonged periods. Even though I'm now getting used to small-to-medium anal toys, this looked a little bigger than I expected when I opened the box. Maybe that's because I'm used to my current favourite plug, the Pure Plug Medium, which despite having the same sized head as the Pfun is some 1 1/4" shorter overall.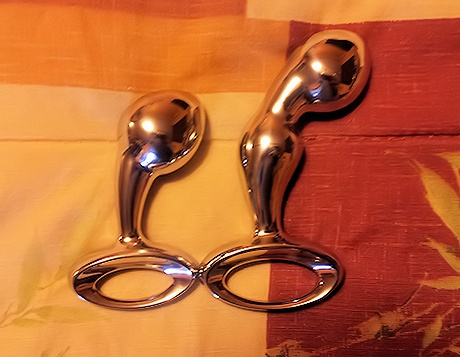 Side by side with the Pure Plug Medium. Note the same sized head on both plugs
Being our third Njoy item, this has much in common with the other two. All are extremely high quality Stainless Steel, measuring 10 on EF's
Safety Scale
. Steel is something we'd generally avoided in the past, preferring to stick with silicone, but are now definitely hooked. If you're like us, your first experience with 'no give' toys was likely glass, but steel takes things to a whole new level. The first time you take a steel toy out of its packaging (more on that shortly) you just
know
you've got a toy that's going to last a lifetime. It's actually a shame these are sex toys, because if you treated them as a work of art they're easily something you'd want to leave to your loved ones in your will (well, perhaps not...). Bear in mind though that those with any sort of allergies to Nickel and/or Chrome and related compounds should steer clear of these toys, since they're used to make Stainless Steel. Also like the other two Njoy items, the Pfun comes in a 'fitted' presentation/storage box. It may not be the highest quality, but it's a nice enough place for storage and adds to the expensive feel. Ours was also lined in a different shade of red satin to the other boxes we'd previously received.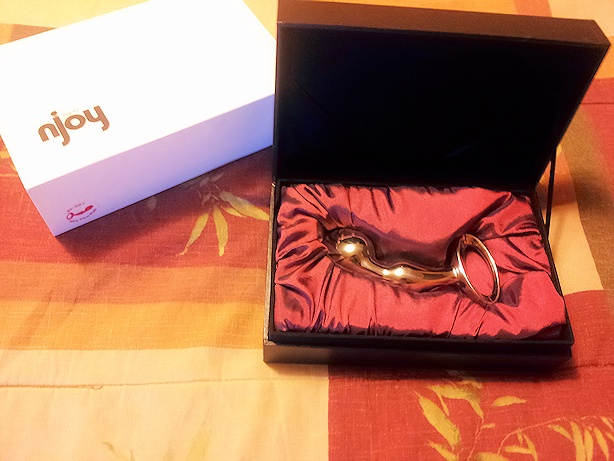 Once I was done admiring this, I
really
couldn't wait to try it out (or should that be in?) for size. I've said in other reviews, that despite my wife and I occasionally dabbling with pegging, I'm still pretty tight back there. I also know though that steel requires a fraction of the amount of lube that other toys do, so once I'd run the Pfun under warm water for a few minutes (experience told me NOT to put it up there cold - this would be amazing for temperature play, but it's just not my thing), I applied a little lube (
Probe Thick and Rich
since you asked) and slowly but surely slipped it in place.
Experience
The head of this plug is phallic-shaped and this helps with insertion. Don't let the 1 1/4" diameter put you off - the plug eases in with little work, and the real trick is learning to push back as you push it in. Once you're past the head the rest naturally follows and it's not long before the whole insertable length is inside your eager bum. However, this is where the problem arises. You see, unlike the Pure Plug, the Pfun wants to come straight back out. There isn't even much of a fight. Those who read our reviews will know that we own other anal toys, notably the
Aneros Tempo
, and with that you're constantly playing tug o' war with the little fella, using your anal muscles to pull it in and let its weight slip out a little. But the Pfun is a different beast entirely, and the first you know about it wanting to slide out is when it does. And slide out it will, unless you're wearing some very tight underwear and have a sphincter of steel. In fact I've got VERY good muscle control back there and even I can't hold the Pfun in place for any length of time without walking like a penguin.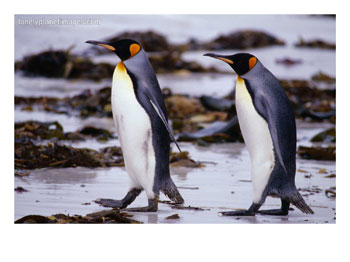 These little legs are annoying, aren't they?
What little legs? I'm trying to keep my butt plug in!
Sitting down is a whole other matter. If you can make it to a chair with this plug in place then you're set. It's hands down THE most comfortable plug I own (and I own a lot). The handle is so comfortable as to be almost non-existent when in place and the shape & weight make this feel like it was almost made to measure. It doesn't
quite
reach my P-spot (although I've yet to find a hands-free toy that does, even the likes of the Janus falls a little short), but it just feels so right that the lack of laser-guided prostate stimulation isn't really a problem. With enough lube and a little grinding motion into your chair there's just enough space left around this plug to give you a nice little internal massage, leading to more of a caress than out and out pressure. Speaking of the lube, despite us liking both the Thick & Rich or
Sassy Booty
for anal play, I think water-based lubes fall short when using steel toys anally. There's a real tendency to dry out, which isn't such a huge problem if you're not going to keep this in, but if you want extended wear I suggest either silicone (our current fave is
Wicked Ultra
) or oil-based lube. Water-based lube tends to make the toy feel as though it's dragging a little and soon stops feeling comfortable (besides, it can be a literal pain in the ass when you're taking it out and the lube has all but dried)
Once you're done, clean up is fast and easy and can be done with either soap and warm water (don't forget these conduct heat so careful if you're using hot water), a 10% bleach solution or toy cleaners and/or wipes. Just be sure not to use anything abrasive as this will not only allow bacteria to grow but will shorten the lifespan of your plug.
Follow-up commentary
29 days after original review
Well the Pfun plug is still going strong but really why wouldn't it? It's only been a couple of months and this thing's got years and years left in it. It's really difficult deciding whether this is the best plug we own now, not because this isn't wonderful but because we've got several and each of them have their own selling points. This one is probably best when I'm wanting something that's going to roughly target my prostate, although I do sometimes switch to the Pure Plug Medium when I want something that's 'just' a comfortable plug.

All in all it's still been a great purchase and one that we'd buy again. Just bear in mind that the Pure plugs might give most people a better all-around experience, while the Pfun could be a little too specialised for some.
This content is the opinion of the submitting contributor and is not endorsed by EdenFantasys.com

Thank you for viewing
Pfun plug
– butt plug review page!