Pcuz its Pfun
The Pfun is a great addition to my Prostate toy collection. Great stimulation and the weight feels just awesome during use. The price might seem high but this toy can last until you can not use it any more, it will not break, rust or be damaged from storing it next to a jelly toy. It will provide a lifetime of pleasure and firm stimulation to you Prostate or G-spot.
Published:
Pros:
Will last forever, good size for beginners, temp play and it is Stainless!
Cons:
Handle is uncomfortable to hold, I would like the insertable section to be an inch longer.
They say that beauty is in the eye of the beholder, well...
Behold the Pfun from Njoy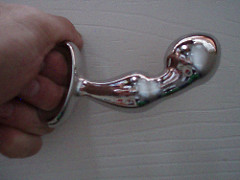 Just look at the mirror like polishing, the finely crafted exquisiteness, and magnificence that is the Pfun. Kind of makes you drool, eh? Many of you know that metal is in my blood, I am on a mission to own most of the Njoy line. Yes, they are on the higher end price wise but when you stop and think that these toys will be around forever, the toy is well worth the price.
Like all of the Njoy line, the Pfun is made from
Stainless Steel
. This tells the toy junkie that this toy is; hard, smooth, nonporous and can be used with any type of lube you may have. That also means that you can clean or sterilize it fully; boiling, toy cleaner or even just soap and water will get it clean.
One thing I love about my Stainless toys is after use they are so hot, you could take your temperature from the toy, amazing how Stainless hold the heat. So this means that Stainless is the best for temperature stimulation. At room temperature, it is quite cold and feels oh so good, warm it up in a bowl of hot water and it will warm your inners. Just check the temperature against the inner elbow when you are using hot water. Can you think how much it hurt to have a burned ass, ah, not fun.
Speaking of pain, great care should be used when you are using it on a partner, as I said, it is hard.
Bruising the inner tissues of you ass or vagina could bring almost as much pain as burning. Oh ya, this toy weighs a pound and a half, drop it on your foot and you will know pain as well. OK enough about pain lets talk pleasure, shall we?
While the Pfun looks like some plugs, its main specialty is Prostate stimulation. It does work for a plug but for me it does not stay all the way in. When I am walking around the house, it will slide out until only the tear shaped ball at the end is inside. Now this is somewhat nice for exercising the Sphincter muscles (Kegals), but I am always worried it will fall out, not that it has, but still.
No my friends this toy is best used for firm pressure and massaging the Prostate. The angled form, pronounced bulbous head and second bulge makes it so easy to reach the P-spot; just sliding it in will provide great pleasure. You can stroke it in and out or turn the handle right to left. The oval shaped handle makes all of this easy to do.
My only complaint is the handle, the hole in the handle is somewhat small, in the picture up above, my fingers are in as far as they will go. When I am using it on myself, this is not a big deal but it was not very comfortable for the wife to use it on me. The edges along the handle are very abrupt, that is they are somewhat sharp. They will not cut you or anything like that but they make it very uncomfortable to hold. I find that I have to switch hands every couple of minuets or so. After I do a video, I will remedy this problem with a grinder. I hate to knock this toy a star but if I have to modify a toy to use it, a star it is.
I highly recommend this toy to all users, The 1 1/4" diameter should be good for beginners used vaginally, (I think that this toy can be used for G-spot stimulation but the wife would not try it.) and for anal users that can take two fingers. The Stainless is very slippery when lubed and slides right in with just a bit of pressure, so nice. I find that after properly lubing my ass, no lube is needed on the toy. Nice, eh?
As with the other Njoy toys, the Pfun comes in a very nice hard sided box. On the out side is the Njoy logo, so it can be stored in plain sight with little worries.
Inside you will see this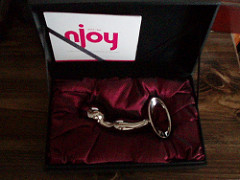 There is a small pamphlet showcasing all the Njoy line and care instructions. I love the color of the silk like material, the Pfun looks very inviting nestled in it's home.
Experience
After many uses I find that I Njoy it more in the tub with Silicone lube, as the toy cools to body temperature I can pull it out and the bath water warms it back up for a nice warm feeling on the P-spot. Furthermore a cup of cold water to put the Pfun in is also a nice change when the bath is hot. Cold usually is not the best for anal play, the cold makes my ass pucker up some, but with proper lube it is done with ease. Ah, playing with the temperature is so nice!

For partner play, the wife had some trouble holding it, due to the handle, while trying to insert it. The weight of the toy requires a firm grip to keep the angle right. Once it is in the problems mostly go away, then the only problem is keeping a good grip without your fingers becoming sore. The wife just changes hands often to remedy this.

Aside from the handle, I wish it was about an inch longer. This would help to reach the top of the Prostate and give some more room for thrusting. Still the Pfun is, well, Pfun!
Follow-up commentary
5 months after original review
Pfun is still so much pfun. I find it works better with the wife at the controls during some oral. Used in this way it does not take me long come. I have worn it around the house with the help of some tight underwear but it is not the best for that. I think it is more of a hands on toy.

Even after all the washings and drying it still retains it chrome like shine. The storage box is so nice, it stays right on the shelf with none the wiser.

I never did get around to smoothing out the handle, it just does not seem like it needs it.
This product was provided at a discounted price in exchange for an unbiased review. This review is in compliance with the FTC guidelines.

Thank you for viewing
Pfun plug
– butt plug review page!