Surprising Freebie
This had been a toy slated to be gifted to a friend in the hopes she would decide to join me in reviewing for this site. However, the unusual nature of the shape of the toy caught my eye. When I read the materials and realized that this was just the sort of toy I was looking for, The Pulse Probe quickly became a favorite of mine. Sorry guys!
Published:
Pros:
Great quality materials,
Good solid vibrations,
Amazing tip
Cons:
Hideous color choice!
Vibrations are muted somewhat,
Not anal insertion safe
I will admit that when I saw this vibe being offered as a free promotional I got it without even reading the description because I often pass out free promotional items to my friends in an effort to get them all fired up about reviewing. When I got the Pulse Probe by NMC Ltd I was taken aback! I expected an inexpensive little toy that would whet the appetite for more and what I discovered was a toy that filled a niche in my own toy box that was empty.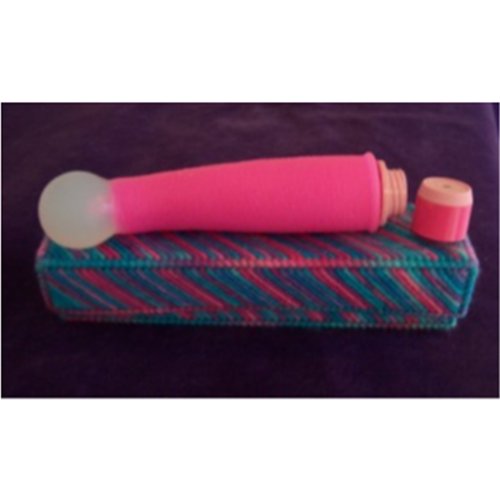 The Pulse Probe is very unassuming. It looks like, and is, a traditional dial based vibrator. It is a hideous pink color, picks up lint, and looks kind of cheap at first glance. The thing is, this toy is made of food-grade silicone, and it is hypo-allergenic,latex free, non-porous, and phthalates free. There are a few hard plastic bits on the toy but we won't hold that against it! The hard plastic is the dial that screws off the toy to reveal the battery compartment which demands 2 AAA batteries. The top screws back on and you are ready to play.
The body of the Probe is ribbed slightly, I cannot feel the ribbing but it does make for a great texture to prevent the toy from slipping out of lube slick fingers. The toy measures about 7.50 inches from the base of the dial to the tip of the toy. The shaft gradually thickens to nearly 5 inches at it's widest point near the base of the toy. The neck just under the most noticeable feature is graceful and curving to allow some G spotting provided the user doesn't need pinpoint pressure for arousal of that area.
Now the most prominent feature of the toy is the clear silicone ball that comprises the tip of the toy. It is fairly large, measuring in at 4.5 inches around. It is large enough to be easily felt and provide that "popping" sensation when inserted but not so large that the average vagina will need to be "warmed up". In fact it really satisfied my size queen lady bits! In use the large tip was about all I could concentrate on, and that is not a detraction for the toy. The end is blunt so it won't batter your insides even if you decide to get quite rough. It allows my partners to use the toy without having to be overly concerned with hurting me. As far as G spotting is concerned it does satisfy my overly eager spot nicely but I could imagine that if our spot wants some more pointed or flat pressure this is just going to leave you frustrated. It's certainly large enough and long enough to reach even the shyest spot but it is rounded and blunt.
The large knob on the end of the toy was the real attraction for me but the vibrations the toy puts out aren't lacking even if they are more moderate than power lovers will appreciate. From the beginning it starts out fairly vigorous though buzzy and the vibrations are most easily felt in the tip of the toy. The silicone mutes the power of the vibrations a tiny bit but carries them down the shaft nicely and evenly. This is not a toy that will numb any but the most sensitive clit or make your hands hurt after use. At the highest level the vibrations aren't jackhammer intense but are pretty pleasant and easily felt. They were just enough to get me off as a clitoral stimulator but this shines as an insertable toy. The vibrations felt quite pleasant on my G spot and I was able to angle the head of the toy just right to actually orgasm this way.
This isn't a particularly loud toy but you can hear the batteries rattling around just a touch if the angle is just right. Certainly this isn't a toy that will wake the baby in another room but it might alert a room mate or partner sleeping in the same room.
This is a waterproof toy and didn't have an trouble in the shower or tub. I had trouble in the shower as it really is exactly what I love in an insertable toy, apparently, and my knees threatened to buckle while using it!
Experience
This isn't really a toy I would recommend for anal insertion or body massage. There is no flared base and the toy can get rather slick despite the ribbing effect on the shaft. As a body massager it just doesn't have the juice to relax muscles, now it does have the ability to tease nipples, scrotum, penis or taint. As an adjunct to a blowjob this can create quite a stir, wink wink!

This is a silicone toy so it will pick up lint and require a rinse off before use. It is non-porous so it's safe for sharing though a condom placed over the toy will save time and cleaning between players. Hot water and soap or a commercial toy cleaner work well to clean it off.
Spot test your new toy if you prefer to use silicone lube or a silicone blend type lube. I haven't found a lube that causes any reaction with this toy but a spot test never hurts, right? As always water based lube is entirely safe to use.

I apologize to my friends and students but I'll be keeping this freebie. I urge you all to think about getting one for yourself, it's totally worth it!
Follow-up commentary
8 months after original review
I love the bulb end on this toy! It's held up to mild use and never has shown a reaction to silicone lube. Definitely was a great little freebie!
This content is the opinion of the submitting contributor and is not endorsed by EdenFantasys.com

Thank you for viewing
Pulse probe
– g-spot vibrator review page!