The Most Njoyable Plug I Own!
Small enough to be comfortable, but big enough to be stimulating, the Njoy Pure Plug is a must have for those that like anal stimulation.
Published:
Pros:
Small
Smooth
Stainless Steel
Lubricant friendly
Cons:
May be too small for advanced users
I'll admit it: this is one of those toys that I just have to say "wow" to. It had been on my wish list for such a long time, and I spent a few months going back and forth as to whether or not I truly wanted to try it. My past experience with plugs has been hit or miss. Finally, I decided that I had nothing to lose by at least trying this one.
Let's start with the packaging. I really can't say enough good things here, and I've firmly believed for a while that a good toy will have good packaging. For the Njoy small Pure Plug, the package is a black, heavy duty box with sliver lettering that says "njoy" in large letters, and "pure/fun" in small letters above it. Although the box is cardboard, it is so stiff it feels almost like wood, but lighter. You could drop it, kick it, throw it around and I doubt you'd damage it much more than a scuff and a bent corner. It will definitely protect the item inside. Looking beyond it's tough exterior, we find a padded inside with a shaped recess that the plug fits in. Styrofoam covered in fabric in a color that is somewhere between pink and fuschia holds the plug in place and protects it from scratches or damage. The lid (which is also padded, but in black), hinges open, and an informational booklet is tucked behind two black ribbons in the lid. Since there is no sort of closure that holds the box shut, there is a white cardboard sleeve that fits over the whole box, keeping it closed so you can just toss it in your toy box without fear that you'll lose the contents.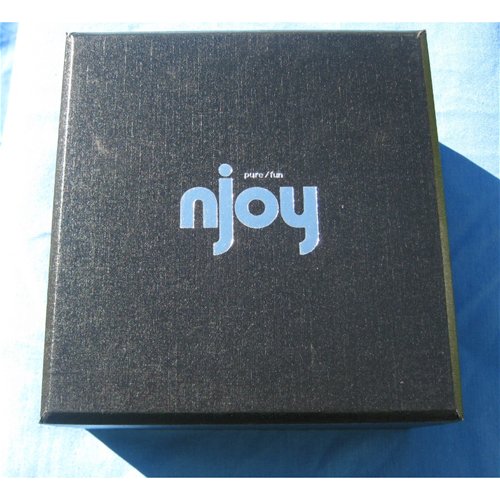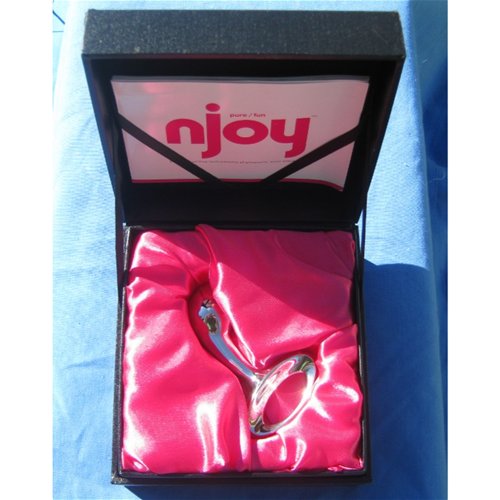 The Njoy small Pure Plug is smooth, nonporous, and made of stainless steel. The Njoy company recommends cleaning with soap and water, then drying and polishing with a soft cloth. You can also sterilize it with a 10% bleach solution if you make sure you remove all the bleach afterward, or boiling it. Any lubricant can be used with it, which I love, since I much prefer silicone lubricant for anal play.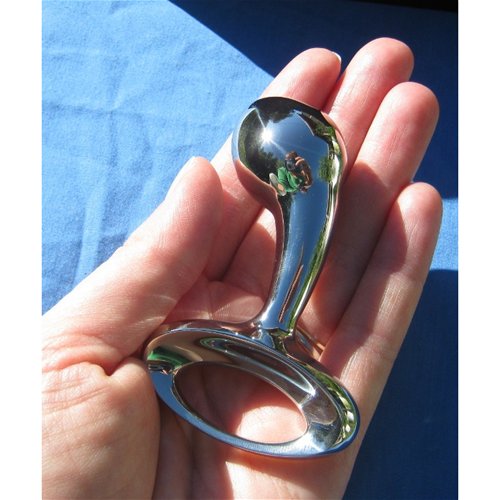 The size of the pure plug is just about perfect for me. It weighs about one pound, is three inches from the tip to the base of the handle with roughly 2 inches being insertable, and about 3 inches in circumference around the head of the plug. I want to note the shape of the head. It is shaped roughly like a teardrop that has been pressed out slightly, so that it's not really round, but more like an oval.
Experience
I really love this plug for several reasons. First, you need very little lubricant. In the past, any anal toy I've used, no matter how small, have needed tons of lubricant, making it a rather messy business and one of the reasons I shied away from anal play. With this, it is so smooth, just a little bit works. Note that I did not say no lubricant, just less than what I am accustomed to.

The size is wonderful. It is small enough that insertion and removal is easy and comfortable, but large and heavy enough that there is a fair amount of stimulation, despite it being almost a miniature version of other plugs.

I've seen other reviewers talk about the sensation of weight. I was very worried that I was going to feel a heavy tugging, but it wasn't like that at all. It's more of full feeling than a pulling, but it's definitely a different type of full than other lighter plugs give. It's hard to describe what it's like, because it is unlike any other toy that I've had.

I've also seen other reviewers talk about how easily you can move around and sit with the plug. I was very skeptical, but I gave it a try. I am delighted to say that walking around is not uncomfortable or difficult at all and changing sex positions is very easy. When I sit with it in, although the act of sitting does cause it to move a little, it is not painful or uncomfortable.

Now, I bought this to wear during sex, just for a change in the normal sensations. The pure plug gave just enough anal stimulation to know that it's there, but not so much that it was the main event, so to speak. It did not drown out vaginal or clitoral stimulation, but instead complimented it and almost seemed to make all my sexual nerves more sensitive. As far as sex positions go, the plug did not get in the way no matter who was on top. As an added bonus, it made my vagina feel tighter both to me and to my husband, which was pleasurable for both of us.
Follow-up commentary
2 months after original review
I still love this plug, but I've found that it is actually as smidge too small. It sometimes falls out at rather embarrassing sexy times. That being said, I love the material and shape. I believe I'll be getting the next size up.
This product was provided at a discounted price in exchange for an unbiased review. This review is in compliance with the FTC guidelines.

Thank you for viewing
Pure plug small
– butt plug review page!