Too Slender to Satisfy
This toy won't be your favorite if you need firm or pinpoint g-spot stimulation, like a feeling of fullness or you enjoy texture when it comes to dildos. But if you enjoy a slimmer dildo that is easy to hold, and smooth enough for a nice glide during thrusting, this little guy might become your new best friend!
Published:
Pros:
--Slim and Flexible (Great for Some)
--Safe Material
Cons:
--Too Slim for Some
--Too Flexible for Pinpoint Stimulation
--Too Smooth for Some
The Slender is a basic but useful dildo. On the smaller side, it won't satisfy those who look for a lot of girth. As a smooth toy, it won't work for those who enjoy a lot of texture. But if you enjoy a smaller toy with a smooth surface, this little guy might just be Mr. Right.
The Slender could be use to tease externally, but as it doesn't have a vibrator or texture this probably won't amaze most users. It's intended purpose is insertion. It can be used vaginally or anally. Because it is slim, I would say that this little dildo could be used by anyone, even those new to penetration. It won't intimidate new toy users, but even experienced toy users could find that they enjoy it. The flex of the neck doesn't allow for pinpoint for firm pressure stimulation, so the best it can manage is a light pressure on your g-spot, if you can make this toy reach yours.
If you are looking for a dildo to try pegging, this one may work for that as well. It is slim and flexible, so it is forgiving as far as angle is concerned, and that may help while you're figuring things out in that area. Because of it's flexible slim shaft, it can be a bit tricky to get it inserted. It tends to fold over itself instead of easing inside. Once you get the bulb at the end inserted, you have no problem thrusting the shaft of the toy. But a full in and out thrust is nearly impossible with this toy, as the shaft isn't rigid enough to allow it.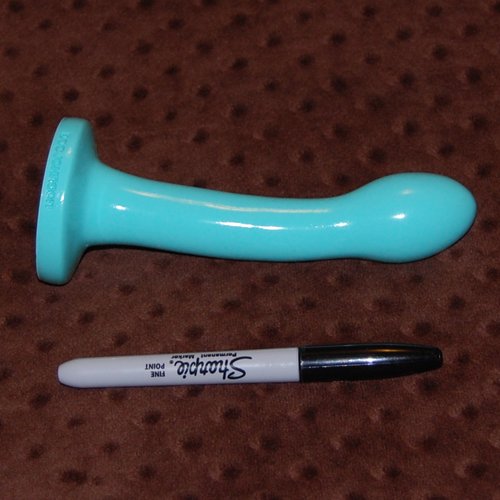 The design of the Slender is very simple. It is 6.5" in overall length, with a 5.75" insertable length. There is an oval bulb at the tip, followed by a smooth slender shaft. The bulb measures 1.25" in diameter and 2" in length. The shaft is 1" in diameter and 3.75" in length. The surface of the entire toy is smooth with no texture or ribbing. The entire shaft is a uniform diameter from the bulb to the base. There is a slight curve to the entire toy, to enable it to aim toward your g/p spot. It is very flexible and bendy, and can easily be bent in half. The silicone itself is difficult to squish, but because the shaft isn't terribly thick, it remains pliable.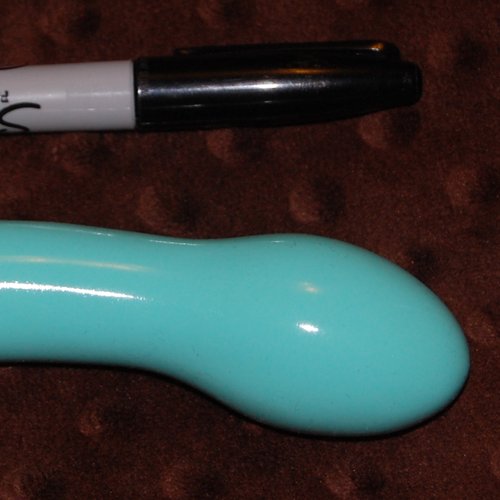 The base of the Slender is a disc measuring just shy of 2.5" in diameter. It could be used in a harness, and is O-ring compatible. The base is certainly large enough to ensure that the toy could be used anally without fear. If you don't wish to use it in a harness, you can simply hold on to the base and use the toy that way. I find the base comfortable to hold for longer periods of time, and it allows you to thrust the toy with ease.
The Slender is made of silicone, so it should avoid using silicone lubes. Please use only water based lubes with this toy. It can be cleaned with soap and water, or your favorite toy cleaner. If you wish to sterilize Slender, you can boil it for three minutes or put it through a cycle on the top rack of the dishwasher. You could also wipe it down with a 10% bleach solution. The toy itself has very little smell, and no taste. It doesn't collect a lot of lint, but it will hold onto some, so be sure you check it before use. If if has a bit of hair or lint just give it a quick rinse. The Slender comes in a standard clam shell package. There is basic information about care and cleaning on the paper insert, and the toy is clearly visible through the clear plastic. You could choose to use it for storage, but it does take up a bit more room than the toy itself. However you choose to store it, be sure it does not come in contact with other silicone toys, as they will damage each other. I wouldn't call the package good for gifting, so if this is being purchased for someone else you may want to wrap it first.
Experience
Add this to the list of well made, just fine toys that don't do it for me. There is nothing negative to say about the toy fundamentally; it's simply a matter of finding what works for you. And this toy? It doesn't do anything at all for me.

We started with some teasing and other play, and I was really heated up. My husband knew I was writing this review and reached for the Slender. I was ready and waiting and then...nothing. The thrusting, the angles, different paces and movements all yielded the same thing. And that thing? It was a whole lot of nothing. For me personally, the Slender is just too skinny and too smooth. I don't need a ton of girth if a toy has texture. I don't need a ton of texture if a toy gives me a nice feeling of fullness. But in this case, there was no texture and there was no fullness. Therefore, there was no pleasure. There was laughing and joking, because it was like putting on the brakes. It was like climbing that hill on a roller coaster, full of anticipation and excitement, and then switching to the tram that takes you to your car in the parking lot.

The bulb at the tip is supposed to provide g-spot stimulation, but I don't see how it can unless you have a very sensitive g-spot and don't need a lot of pressure. I really only felt a very slight sensation from it, and it was not nearly enough to get me off. It wasn't even close.

This toy is a tricky one. There are no malfunctioning motors, no faulty seals or loud motors to complain about. It's a quality toy that just didn't work for me. I can only say that you should get to know your body, and toy shop accordingly. If the features of the Slender work for your body, you may end up loving it. For me, it was a fail.
Follow-up commentary
6 months after original review
I wish there was an option to pick that was "there is still nothing wrong with this toy, but it doesn't work for me", as that is what I would pick. This one just sits in the toy box, but I can't really blame it.
This content is the opinion of the submitting contributor and is not endorsed by EdenFantasys.com

Thank you for viewing
The slender
– g-spot dildo review page!