Curves in the Right Places!
The slim, slightly-curved shaft and enlarged tip of The Slender work wondrously for me! I get the G-spot stimulation without too much friction at the entrance. Add the wide base and the body-safe material, and it's pretty close to perfection.
Published:
Pros:
Flexible silicone; Harness-compatible; G- and P-spot-friendly shape
Cons:
Odd colors
Basics
The Slender
is a tulip-shaped silicone dildo, made in America by Doc Johnson. (Yes, Doc Johnson does make silicone toys now!) This little honey is quite versatile: she can be used for vaginal penetration and G-spot stimulation, or for anal penetration and prostate stimulation (if you and/or your partner own a prostate--if not, you can still use her anally). The wide base makes her safe for anal use, harness-compatible, and easy to grasp for solo expeditions. There is no suction cup or bullet-vibe opening in the base, but the solid silicone transmits vibrations well with a small vibrator held against the base.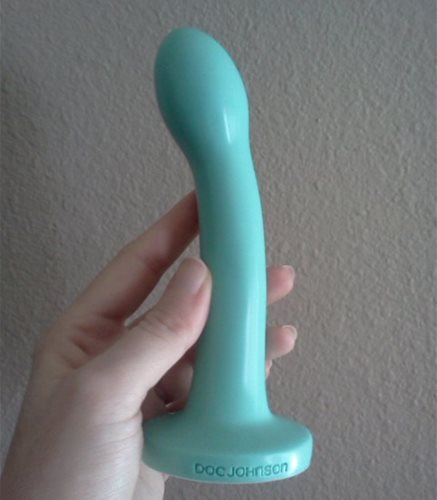 Look & Feel
I ordered this toy in Green (it is also available in Purple). The color is completely opaque and flat; there is no shimmer or translucence to this silicone. In person, it has less of a blue tint than the product image shows, and is more of a pastel mint green. I'm neutral about this color; it doesn't wow me with its beauty, but it doesn't turn me off or hurt my eyeballs, either. The Slender's shape, however, is one which I find quite attractive. She's simple and well-proportioned, has a slightly tapered tip, and brings to mind springtime flower buds just about to bloom.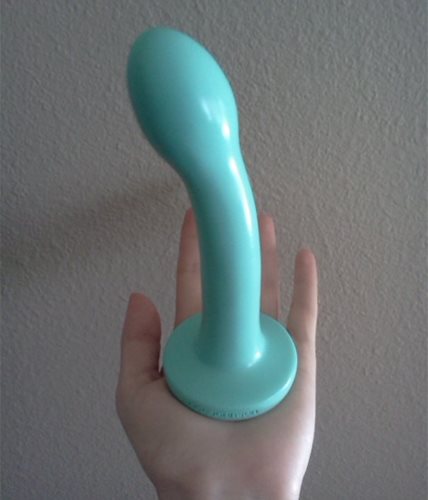 The Slender's silicone feels pretty close to natural rubber. She's firm, slightly squishable, and fairly flexible--it isn't too difficult to bend the tip down to touch the base. This flexibility means greater comfort for hard thrusting, but also less-intense pressure on the G-spot.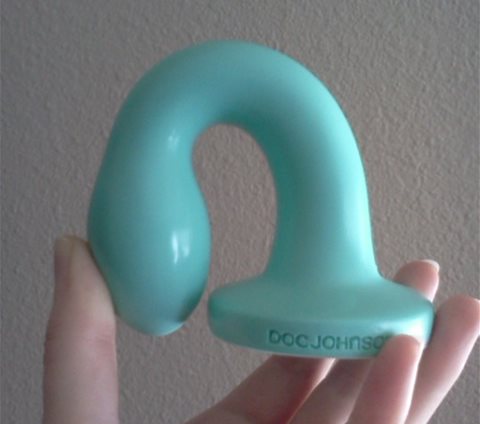 Her surface texture is smooth and reflective, with a lot of drag to the touch when dry. It holds lubrication well, though, and a quality water-based lubricant will cause that drag to nearly disappear. The only exception to this smooth surface is the "DOC JOHNSON" logo, which is molded deeply into the side of the base.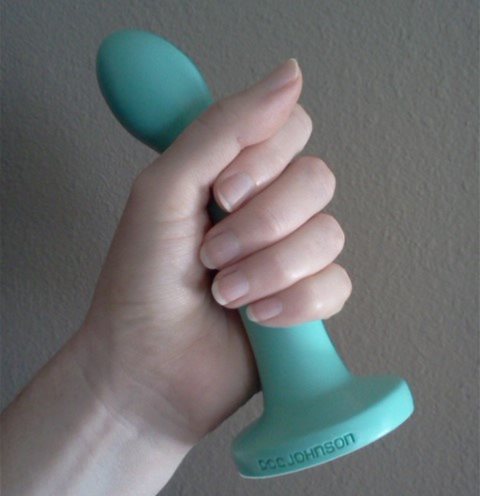 This toy, like others made of silicone, tends to possess a bit of static electricity even after washing. This will attract some fuzz and lint while you're squeezing her in your hand and waving her around, but after a quick rinse she'll be ready for intimate play once again.
There doesn't seem to be any smell to the toy on her own, but she does retain the scent (and a hint of the flavor) of the soap she's washed with for quite some time--at least 24 hours. If this bothers you, use an unscented soap or toy cleaner for normal washing (for sterilization, see below).
Size & Stats
Okay, let's talk numbers. The Slender is indeed well-named: her very thickest measurement is just 4 1/8" around and 1 3/8" across, at the center of the bulbed tip. Her shaft is a mere 3" in circumference (7/8" diameter) at its narrowest, just under the bulb, and widens slightly to 3 1/4" around (1" diameter) near the base. Once the tip is inserted past the pubococcygeus (PC) or sphincter muscles, this small shaft helps to decrease any potentially uncomfortable friction from thrusting. The Slender's base is a respectable 2 1/2" wide and 3/8" thick, adding stability and control to harness play as well as providing a nice thrusting handle.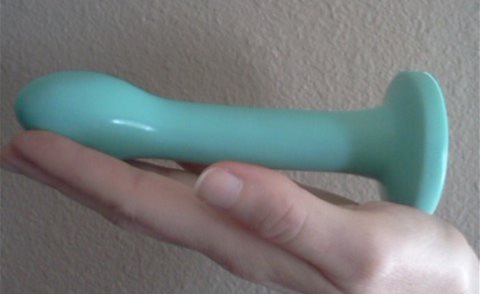 Material & Care
As previously mentioned, Miss Slender here is made of 100% "platinum-grade premium silicone". Silicone is the absolute safest material for sex toys, for several reasons: it's non-porous, which means that unlike with some other "real-feel" materials, there are no microscopic hiding spots for bacteria; it's free of harmful chemical emissions such as phthalates (the stuff that makes "jel-lee" toys squishy and strongly-scented); and it's durable enough to be sterilizable by boiling for ten minutes, washing on the top rack of your dishwasher (without soap), or soaking in a 10% bleach solution for ten minutes. This means you can safely share your silicone toys with others--and use them for both vaginal and anal play--without the need for a condom, as long as you sterilize between partners and orifices. (For solo play, you need to sterilize--or change condoms--before switching from anal use to vaginal use, but you don't have to sterilize when moving from vaginal play to sliding it up your ass.)
Packaging
The Slender is presented in a long, rectangular blister-style package in hard, clear plastic. A paper insert, with a pretty pattern of gray swirls on a background shading from black to purple to pink, adds a little feminine elegance to the very basic design.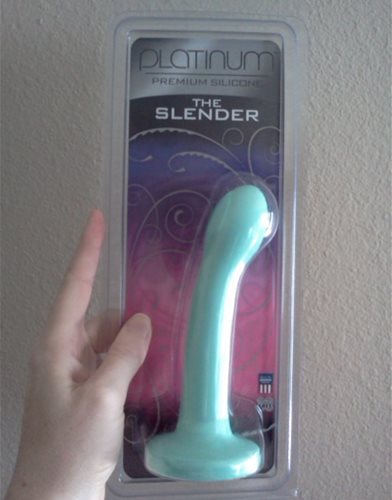 The back of the insert offers a number of informative points regarding this toy in particular and silicone in general, mostly in magenta lettering on a black background.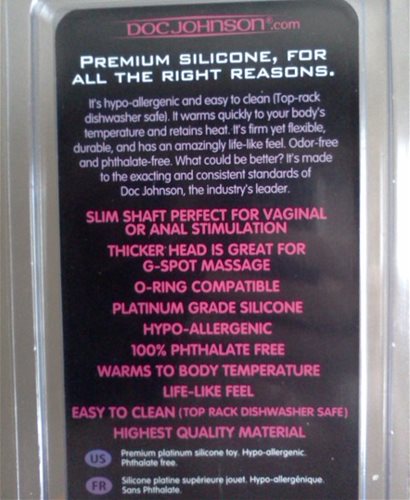 This package is neither discreet nor ideal for gift-giving, though it wouldn't be too difficult to gift-wrap. Both the plastic and the paper insert can be recycled.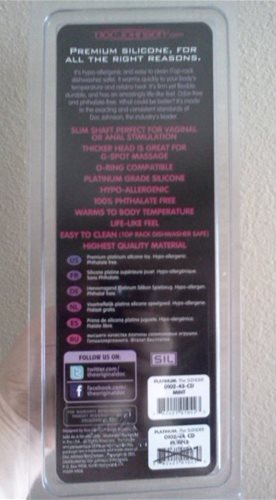 Experience
I must say that this little toy has exceeded my expectations. I tend to like my dildoes to be on the smaller, squishier side, such as the
Vixen VixSkin Spur
(though I've found that if I work my way up from my smallest to my largest toys in size order, the bigger ones are more comfortable). With The Slender, I like to warm up with my two smaller toys first, and then I have to relax, breathe out, and slowly ease that thicker end in--this is made easier by the tapering at the tip. Once the thickest part gets past my PC muscles, the rest of the bulb is drawn in as the muscles contract around it. After that, I have no discomfort at all from the sleek little shaft while thrusting, and the voluptuous tip provides a more filling sensation inside and massages my G-spot delightfully. I've greatly enjoyed a couple of self-pleasuring sessions with her, and am excited about surprising my partner with her and giving The Slender a good wild ride in the
RodeoH
!
Follow-up commentary
2 months after original review
I got the chance to try this toy out with my partner over the weekend! She wore it in her RodeoH brief-style harness, and we used the Satin personal moisturizer by Sliquid for lubrication. The Slender held the lube well, and didn't need much after insertion due to the small shaft diameter. The larger tip was VERY stimulating to my G-spot, though, and took me over the edge several times before I became too sensitive! What a fabulous shape for a dildo. Now, if only it came in a prettier color...
This product was provided at a discounted price in exchange for an unbiased review. This review is in compliance with the FTC guidelines.

Thank you for viewing
The slender
– g-spot dildo review page!