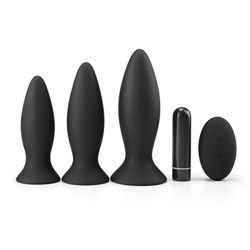 Train of delight
Anal training kit
by EdenFantasys
What I wish we had when I introduced, my now, wife to anal play
These are outstanding vibrating butt plugs to ease you or your partner into anal play. I really do wish I had these as an option for my wife a few years ago when I introduced her to anal play as I think she would have enjoyed them more than our non-vibrating plugs.
Published:
Pros:
Gradual size increase
Silicone
USB Rechargeable
Cons:
Difficult insertion w/out bullet
Shallow flare
Difficult to remove the bullet
So it was nearly 4 years ago, shortly after my wife and I started dating that got her to consider anal play and was looking for toys to ease her slowly into getting used to having objects inserted anally. At the time I got a series of anal plugs of increasing size starting with the smallest I've found to date, the Sinclair Institue Select Anal Silicone Explorers: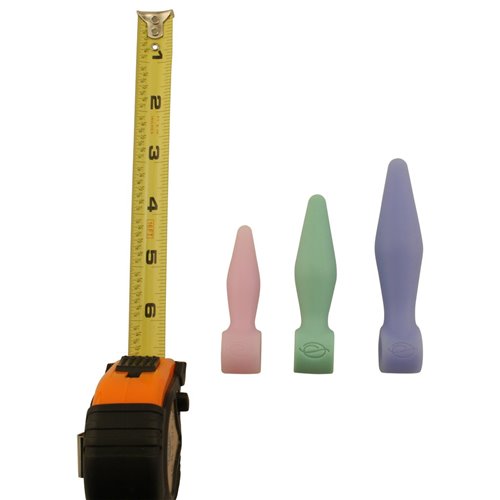 These are great as they offer a very very slow start into anal play, the smallest of them is maybe the thickness of my pinky. For comparison here's a picture of the largest one in comparison with the smallest plug in this set, and the smallest plug in a set of larger graduated plugs we got at the same time to continue the slow ramp up.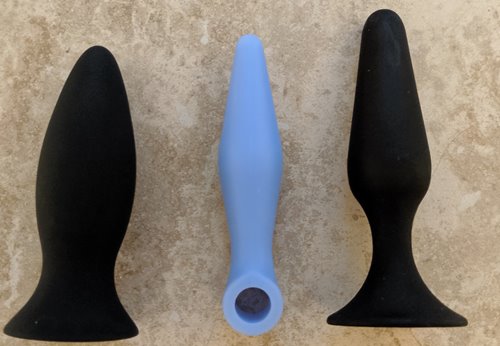 This other set was from a competitor and was called the Booty Boot Camp Training Kit it looks nearly identical to the
Edenfantasys Booty explorer silicone set – anal training kit
to the point they may be the same product effectively. All of them like this product are silicone, which is my preferred toy material when it's being used for anal play. We've also used glass, but when you are just starting out, silicone is the way to go as it's durable, sterilizable, and smooth. Silicone is non-porous and can be sterilized before/after use, it also tends to be reasonably easy to clean. You should only use silicone toys with water-based lubricants, and never silicone-based ones.
What this toy offers, is the next set of slowly increasing plug and why I think it really stands apart from the EF/Alternative company training kits, is the vibration aspect. This toy has a USB rechargeable vibration bullet that is capable of being remotely controlled. My experience with my wife is she's found vibrating anal toys like the ones we've reviewed in the past like the
backdoor arouser
,
Loki
, or
Escapade vibrating anal beads
to help her relax and better enjoy the anal play/sensations. And this set of plugs offers that along with the slow gradual increase in plug size as you work your way up into getting used to anal play.
The things that really bothers me is it's difficult to insert or use the plugs without the bullet inserted, the bullet is slightly tricky to remove after inserted, and I feel like the flare at the base isn't wide enough so more at risk than the alternative plugs. For comparison here's all the plugs side by side: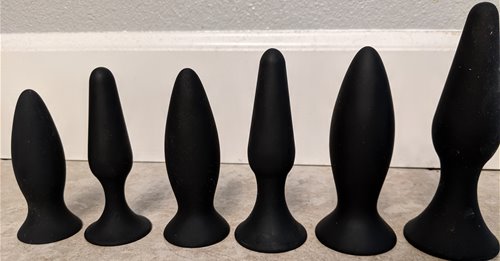 The ones on the right are this set, and on the left are the non-vibrating set we got when I introduced my wife to anal play. You can see there is more of a difference in the flare at the base with the non-vibrating plugs. I haven't had any issues but is a concern for me.
Experience
So been unable to use the toy with my wife at this point, thankfully with it being silicone, we can both use the toy as long as we sterilize before the other uses it. I was excited by the prospect of another USB rechargeable anal plug to use. I really have started to enjoy our
Lelo Hugo
toy, which initially upon getting 2 years ago I enjoyed less than she did (even though it's made for men to use for prostate play). And was excited by the aspect of the smaller plugs as an alternative since they aren't as intense, which can be good sometimes.
I found them tricky to insert without the bullet inside. The vibrations were pleasant but not as rumbly/intense as the Hugo, which makes sense as it has a lot more power behind it. But I've had quite a few mind-shattering orgasms with these plugs inserted and them vibrating. I will say my most recent use of them the bullet did run out of juice near the end... but I think I had it vibrating for over an hour straight at that point.
This product was provided free of charge to the reviewer. This review is in compliance with the FTC guidelines.

Thank you for viewing
Train of delight
– beginner anal kit review page!