A safe way to start restraint
These Love Cuffs are an affordable addition to any bondage collection. From beginner to advanced you will find a place in your sex life for these. The soft, plushy cover and quick-release function make them a fun and safe introductory lesson in the world of bondage while the metal nature and ability to tighten around any wearer makes them a perfect accessory even for the more advanced.
Published:
Pros:
Nickel-Free, Quick Release, Affordable
Cons:
Fabric bunches up
This is my second pair of these cuffs, not because they broke but because I lost the first ones in a move. While I have experience with more substantial cuffs, I like to keep these around for lighter play, foreplay, and for the partner that "isn't so sure he wants to tie me up".
Before getting into any sort of bondage or restraint during sexual activity you should have a conversation with your partner. However, an easy way to see if it maybe something that will work for your sex life is to use cuffs like these. "Da Cuffs" as these pink fuzzy wonders are called are made exclusively for Edenfantasys.com so you KNOW you are getting a good product.
These cuffs are made from nickel-free metal and pink faux fur and are design for light play, sex and super introductory bondage. This is not a product that you should ever consider hanging yourself from the ceiling in as that will not lead to a happy ending. However, if you respect that you can have some amazing play either with your hands cuffed together or using 2-sets to attach yourself to a bed you will be in for some fun times.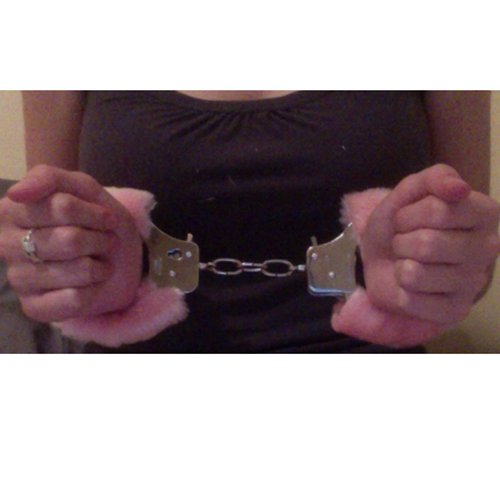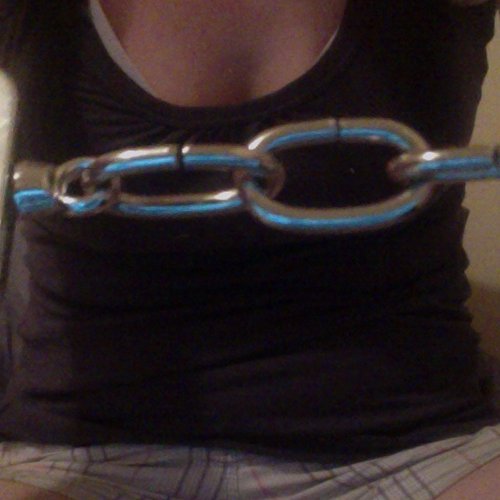 There are several reasons I specifically recommend these cuffs to beginners. (but for $10, or free with any order which is how I got them this time, you really cannot go wrong in adding these to a growing collection)
1: They are self release. You are never REALLY at the mercy of someone else. It is entirely possible to release yourself from the cuffs when you are cuffed to yourself or release yourself from an object that you are cuffed to.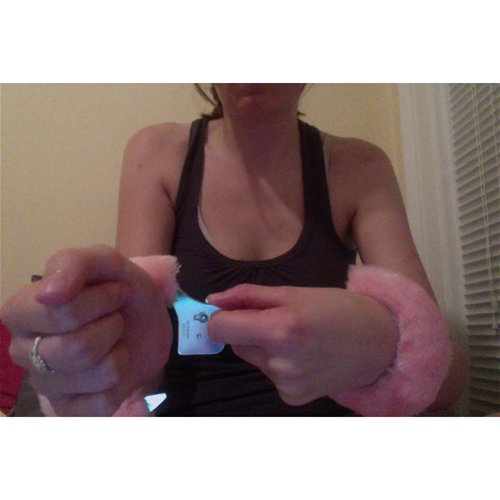 2: Ease of movement. The links between the cuffs allow the wearer to still function while wearing the cuffs. For example I am wearing them as I am typing this review and while the noise of the metal against my computer is a bit annoying I am able to type without much of a problem
3: They are Soft. The Pink faux fur that surrounds the metal cuff itself is plush enough to be comfortable but not so much that you forget you are wearing them at all. Those of us that really do enjoy being restrained like to know that we are being restrained.
4: Easy to clean. The faux fur can be slipped off and hand washed in a bowl of warm water and soap and laid flat to dry while the metal can simply be wiped down with a rag.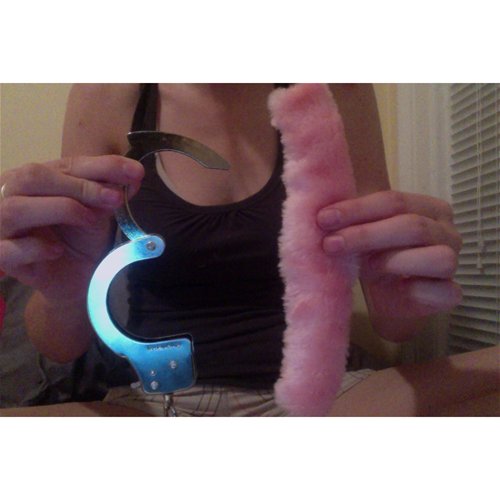 5: They adjust. If you fall within normal range,you should not have an issue getting these to fit, no matter what. I have child-like small wrists (4.5 inches) and there is still 1 click left before it won't go any tighter on me. I exist in a 2 click range and there are 5 that are too big for me.
The only downside to this product is if you "fight back" during sex the fur has a tendency to move and bunch all on one side. Also they are metal, so they can clink, this is why I gave them 2bees
Follow-up commentary
3 months after original review
I can't believe its been 2 months, but I just got my reminder to do my follow up so here it is...

I have used these as frequently as I have been able to. Sadly my life hasn't been allowing that to be all that often, but when I use them they continue to serve there purpose and after a weekend of pretty much consistent usage they are still holding on strong.

When I got them, I was worried that they would not last much longer than 1 or 2 uses, but after 2 months even with lighter to medium amounts of usages, I am impressed and pleased to say that they are still like new.

I have washed the fuzzy part once in cold water with a little detergent and allowed them to air dry (with a little help from my blow dryer) and they have not lost their fuzziness that I love about them.

The quick release is still in tact and working as it is sussed to, though I rarely use it. Over all considering i got them as a free gift I am very pleased with what they have been able to achieve.

PEACE
This content is the opinion of the submitting contributor and is not endorsed by EdenFantasys.com

Thank you for viewing
Love cuffs
– handcuffs review page!