Fluffy Thump
I bought it in pink and I fell in love with it despite my aversion to all things pink. My girly side came out and I hung it on the wall just because I liked to look at it. The added benefit is the amazing way it feels in use. This flogger will age gently and not fall apart with use. It is a medium length flogger with some heft. This is a must have as far as this reviewer is concerned...even for the super hardcore player.
Published:
Pros:
Sensual
Well made
GORGEOUS
Cons:
none
I waffled, I wavered, and then I finally just hit the enter button and bought the Fluffy Flogger, in pink of all colors. Now some of you don't know how much I really hate pink toys. I'm not sure why but pink toys just don't do it for me...pink floggers, however, are really, really cool!

This is not the small and cuddly flogger I had pictured and I realize now why they price is in the medium range for bedroom enthusiast BDSM. The fluffy falls are Wider than I thought they would be measuring in at a full inch wide. They are a really cheerful bright pink and they are heavy rather than light and flyaway.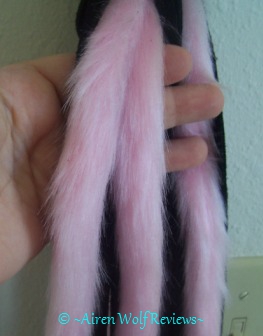 The flat suede falls are grouped around the fluffy faux fur falls and they are about a quarter inch wide. This flogger creates a solid thump with a slight stinging finish.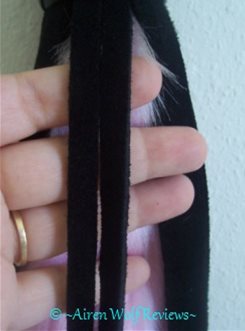 I should have known a Ruff Doggie Styles flogger would be substantial and super well made. Once again I am astonished at the lovely look, feel and heft of the flogger.
Right, so brass tacks: The flogger begins with a braided black and pink leather handle that is long enough to hang the flogger so that the falls continue to lay straight or use as a wrist strap during play. The handle begins with a "knot" that is a flat piece of wood wrapped in black leather and completely finishes the handle for gorgeous eye appeal. The tang of the flogger is created out of a 3 inch wooden dowel wrapped in braided black and pink leather creating a checkerboard effect. The handle is finished with another substantial knot. The length and girth of the handle counterbalance the weight of the falls and allow for good targeting.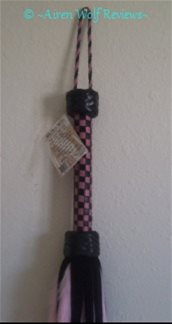 The falls make up 21 inches of the 35 inches of the entire length of the toy so be sure that you have plenty of room to swing the flogger. Take some time to practice before using on another person, though to be fair as long as you start off slow and light and then slowly ratchet up the pressure you will be fine. This isn't the type of flogger that will cause injury if it accidentally lands somewhere it shouldn't. It does land with a solid thump and is fucking amazing when the skin is sensitized for sensual play. Run the fluffy over her skin and watch the goosebumps form!
I would be careful not to get the fluffy wet, and since it's not a barb wire flogger it's unlikely to break the skin so it shouldn't be too difficult to keep dry. Suede and faux fur doesn't wash easily so some care should be taken. Store with the flogger falls hanging straight. This flogger looks great hanging on a wall or on the back of the door.
Experience
I have wanted this darn flogger since it first became available here at EF. I was unwilling to spend the money for what I thought was a novelty item, however, so I missed out. It's almost never in stock and now I know why! It's a really great toy for nights when you are feeling more sensual or you need something less stingy and more...ummm massaging (?) I think that's a good way to describe the sensation. It can deliver quite a solid flogging and when your skin is all tingly and highly sensitised the fluffy falls caress the skin and send you into overdrive. As a starter or a finisher this flogger is top notch and for bedroom enthusiasts who want some kink but not hardcore pain it's damn near perfect.

If you are like me and thinking this flogger is just for show, do yourself a favor and order the damn thing. I know you can find SOME use for it!
This product was provided at a discounted price in exchange for an unbiased review. This review is in compliance with the FTC guidelines.

Thank you for viewing
Fluffy flogger
– flogging toy review page!