Three Cheers for Fluffy Spankings
Fluffy Flogger is great for BDSM players of all levels- light players, heavy players, and the newly curious. It's attractive and very well made. The faux fur and suede deliver soft and sensuous spankings. It's good by itself as erotic sensory play or as a warm up or cool down for heavier play.
Published:
Pros:
Durable Construction
Attractive
Mild & Erotic Spankings
Cons:
None
Fluffy Flogger is cute and harmless. I fell in love with it the first time I saw it and just had to have it. It fits right in with our fun and flirty spankings.

Materials and Construction
Fluffy is made of 3 materials- leather, suede, and faux fur. The leather is weaved into a checker board pattern on the handle. It has the unmistaken aroma of leather. The leather is wrapped around a dowel. It reminds me of an exercise dumbbell. The ends are pure black, but still have the braided pattern. The handle itself is a beautiful black and white. At the top is a wrist strap in the same black and white leather.

The inner layer of the falls is the faux fur. Each piece is about an inch wide and it's also pretty thick. That gives the flogger some bulk. It really is quite fluffy as opposed to the usual slim floggers. On the outside of the fur lies the suede falls. They cascade down from the handle. They are smaller than the fur at just about a half inch wide. They don't have the extra bulk the fur does either.

It's best to avoid getting Fluffy wet. Leather, suede, and fur do not do well with fluids. Use it before getting lubes or massage oils out. If it does get soiled, wipe it with a damp cloth. Prevention is the best way to keep the flogger looking new.

Dimensions:
Total Length- 34 inches
Wrist Strap- 4.5 inches
Handle- 8.5 inches
Falls- 21 inches

Uses
The Fluffy Flogger is for fluffy spankings. Bend your partner over, swing, hit target, repeat...often. Being so fluffy it can't really do much damage. It's unlikely to leave any marks or bruising. Although I did read a review that said snapping it like a towel produces a sting. We haven't tried that particular method. Those who enjoy more of a sting might give that a whirl. It's best suited for mild spankings. It actually has more in common with a massage or sensory play than a painful spanking. The suede would be capable of more, but all that fur just dulls it out. Those who enjoy heavier play might like this for a warm up or a cool down. It would be great for beginners or those who enjoy light play.
Experience
I like the fluffy flogger, but I haven't used it as much as I thought I would. We have a small collection of short floggers that get much more use. Shorter floggers can be used in bed while in close proximity. The longer the flogger the more distance you need to use. Our style of light erotic spankings works better with shorter floggers. Fluffy is great, but you have to be farther back to spank. It's not our favorite style of play. Here is a comparison picture with some of our other floggers. From left to right is Fluffy Flogger, Icicles #38, Black Rose Whipping Willow, Red Rope Flogger, and Sensua suede whip.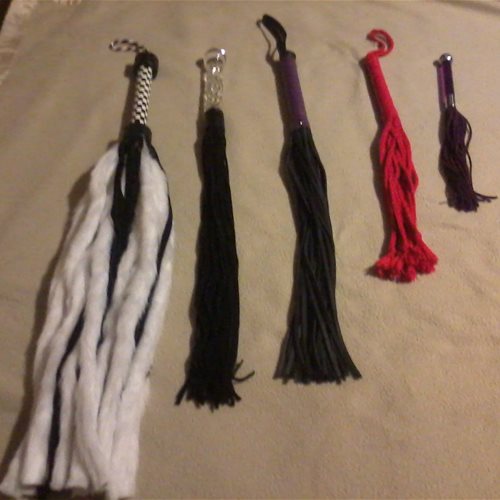 When we are in the mood, Fluffy is great. I love the mild hits. Sometimes he will use it to trace down my body. That always fun. It's been a great addition to our toy box.
This content is the opinion of the submitting contributor and is not endorsed by EdenFantasys.com

Thank you for viewing
Fluffy flogger
– flogging toy review page!