Huge Sensory Play Flogger
This is a great toy for the right purposes. This is not for real flogging or serious impact play, but what it is great for is sensory play, warm ups for BDSM, or for playing the Dom/Domme without inflicting pain. It makes a nice sound, but gives only a slight sting when swung with full force. I like rubbing it up and down my partner and giving some smacks. One con is the nearly 2 foot length of the falls; you need some room to swing this.
Published:
Pros:
Braided Leather handle & wrist strap
Great for sensory play
Cons:
Falls are very long
Not for impact play
My Hunny and I love sensory play. Neither my partner nor I like serious pain. This was very pretty, and I love pretty. I have a number of pink and black outfits and I love to match. Faux fur and suede sounded great, and like they would meet our needs. As far as meeting all the checks on the list, the Fluffy Flogger got them all.
I put this on my wish list because we like to use a wide variety of different textures when we are playing. We did not have any fur or faux fur in the rotation, so in went the order.
Design
To be honest, this purchase was motivated more by looks for me. It was 'pretty in pink.'
The falls were much longer than I expected. I had read the measurements, but it must not have registered just how long they were.
The handle and wrist strap are made of braided black and pink leather.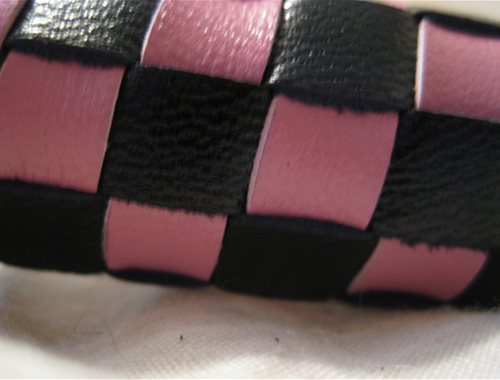 The falls are made of black suede and pink faux fur. The suede is around the outside and the fur is on the inside. The handle is made of pink and black leather. The handle is a checker board pattern and the wrist strap is braided. The handle is substantial and will be easy to use for both small and large hands.
Materials & Care
This is not vegan friendly. The fur is faux, but that is as far as it goes.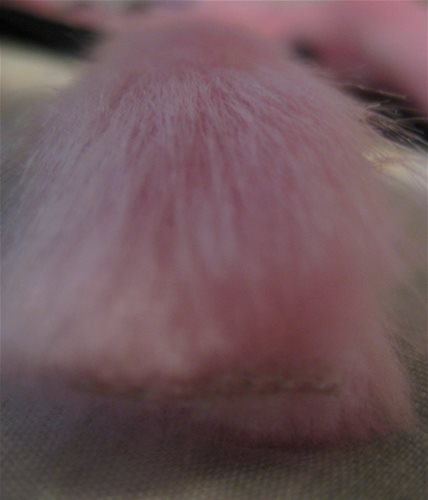 The handle is made of leather and the black falls are suede. Suede is soft but hard to care for. You will want to avoid exposure to fluids or other substances that can cause stains. According to EF's product page, it is "not washable, it must instead be cleaned carefully with special suede cleaners". The faux fur is quite the opposite, being machine washable and somewhat stain resistant. Of course, you will not be able to machine wash the faux fur as it is not detachable from the whip. The leather handle can be cleaned with a damp cloth if necessary. There is a light leather smell to the suede falls and leather handle. I did not detect any odor to the faux fur.
The wrist strap will fit most small to medium sized wrists. It is a very pretty braided style.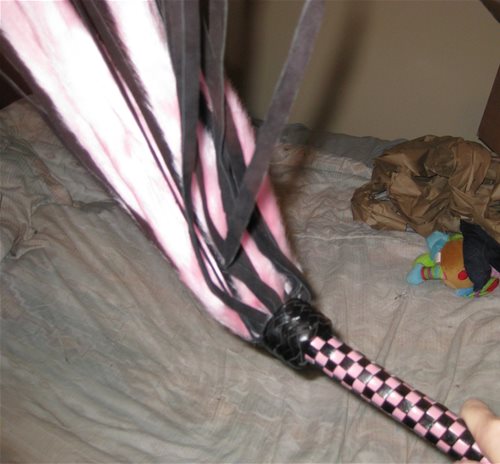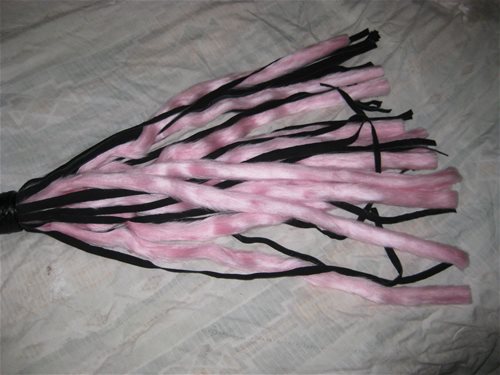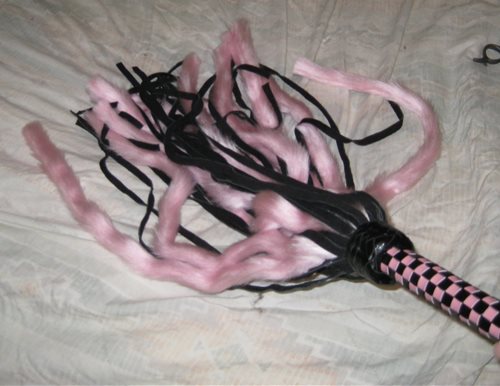 Packaging
This comes in a long, clear, plastic sleeve. It is see-through, so it is not very discreet. For gift giving, I would suggest snagging a free EF bag to put it in. There is a small hang tag attached to the strap. It indicates that it is the Fluffy Flog-her by Ruff Lust in Leather. There is a picture of the flogger being held by a woman. The flogger is in full color and the woman is in sepia.
There are no instructions, but who needs instructions with a whip? Pull out of package, find someone willing to be flogged, pull back whip, hit partner with whip, and repeat as requested.
If someone sees your flogger in the packaging they may not know what it is right off, but it is so big and unusual looking that you are sure to get asked if you leave it out.
Size
The total length of the flogger is 30" and the falls are 21". The flogger is not "weighted", so it does not sit flat on your hand. The long, heavy falls make it much heavier on that end. The wrist strap is 10" around. I have very small wrists and this stayed on my wrist well but did tend to move around a bit and rub my skin. The braided leather is a bit rough, so it may cause irritation if not tight on your wrist.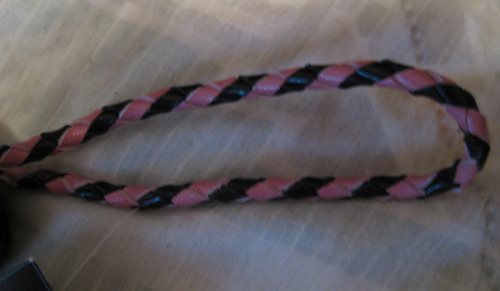 Experience
I eagerly opened my plain, brown EF box and pulled out the flogger. In the south we refer to a large fellow as a big ol' boy. In the world of floggers, this is a big ol' boy. I have the Sensua Suede Whip, which must be one of the smallest floggers. Now I have the other end of the flogger spectrum. I read the length in other reviews, but I was still a bit amazed when it arrived. This is a long flogger. At nearly three feet long, you will be taken seriously when you whip this out... That is, until you start wielding it. After the first hit, your sub will no longer have fear in their heart. This is a big fluffy marshmallow in the world of floggers. I like a good marshmallow at the campfire, but not for dinner. This is good for a treat, but not for a main course.

With nearly two feet to swing, you need to have some space or you will be knocking things over or smacking into walls. Never holding anything of this length, I was a bit of a hot mess the first few times I tried it out for the review. When I swung it back, I did not notice that my dog had come up behind me, and she got smacked in the face. Luckily, this has absolutely no way of inflicting any pain. She was surprised and gave me her 'what was that for?' look, but she was unharmed. It took some getting used to, as this does not offer a specific, concentrated blow. It offers a smack on a large area. This distributes the force. Even when this is used with as much force as possible, you will only feel a slight sting. I bruise easily and this did not leave so much as a red mark on my skin.

When I put this on the bed for pictures, my little dog developed the obsession for the pink faux fur. I had to keep moving her out of the frame so I could take the pictures. She then rubbed on it. She is quite fluffy, so I do not know if she saw this as a new friend or what.

The flogger feels very nice when rubbed up and down the body. The suede and faux fur are a nice combination against the skin. It is great for sensory play.

I would have loved this flogger if the length was shorter and it was easier to swing. Overall, I really do like this flogger and it works well for our needs. I would definitely purchase it again. If it was a bit shorter, it would be perfect.
Follow-up commentary
7 months after original review
We still like this. It is a bit longer than I would like, but it is still a fun toy. This will never inflict any serious pain, but is more for sensory play, warm up or for those who like light flogging. The handle is easy to grip and doesn't slip in your hand. Overall, a fun purchase.
This product was provided at a discounted price in exchange for an unbiased review. This review is in compliance with the FTC guidelines.

Thank you for viewing
Fluffy flogger
– whip review page!